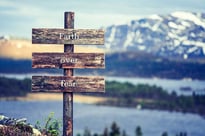 Faith or fear: Which will you choose?
Mar 24, 2023
Reading time: 5 Minutes
Yvette Outler
Faith and fear are enormously powerful. Darkness versus The Light. Good versus evil. Both can change the trajectory of your life. Both can bend your today and break your tomorrow. Fear and faith won't operate in the same space. You must let one go for the other one to be activated.