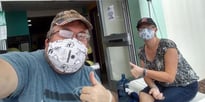 Want to Build Unity on Your Team? Serve Together!
Feb 18, 2022
Reading time: 3 Minutes
Eric Mellert
Over the years I have been involved in many leadership and team-building activities. In most of them I have learned some great principles and made some strong connections. One of my favorites was through a local college that brought your team to its outdoor obstacle course where you had to work together to solve problems and complete tasks.