Thanksgiving is a major American holiday focused on family, friends, and, of course, delicious food. In the commotion of football, family games, and all of the yummy food in between, it is easy to lose focus on the real meaning of the holiday.
As Christians, we should remember the importance of taking the time to thank our Lord and Savior Jesus Christ around the dinner table. In fact, we should do this not just around the Thanksgiving dinner table but every dinner table. Whether it's a family meal or a holiday extravaganza, we should always show our thanks and gratitude to Christ.
In this article, we'll provide 19 scriptures perfect for celebrating not only the Thanksgiving holiday but gratitude for the Lord any day of the year.
Displaying gratitude to our Lord
Gratitude plays a major factor in our thanksgiving and appreciation for the Lord. We show our gratitude for Jesus Christ in many ways, such as through prayer, our devotion, and our love. What better way to show our gratitude than by reading from the Bible with our friends and loved ones at the dinner table?
Here are five Bible verses perfect for displaying gratitude to our Lord:
"It is good to praise the Lord and make music to your name, O Most High, proclaiming your love in the morning and your faithfulness at night, to the music of the ten-stringed lyre and the melody of the harp" (Psalm 92:1-3).
"Let them give thanks to the Lord for his unfailing love and his wonderful deeds for mankind, for he satisfies the thirsty and fills the hungry with good things" (Psalm 107:8-9).
"Give thanks to the Lord, for he is good; his love endures forever" (1 Chronicles 16:34).
"Let the peace of Christ rule in your hearts, since as members of one body you were called to peace. And be thankful" (Colossians 3:15).
"Rejoice always, pray continually, give thanks in all circumstances; for this is God's will for you in Christ Jesus" (1 Thessalonians 5:16-18).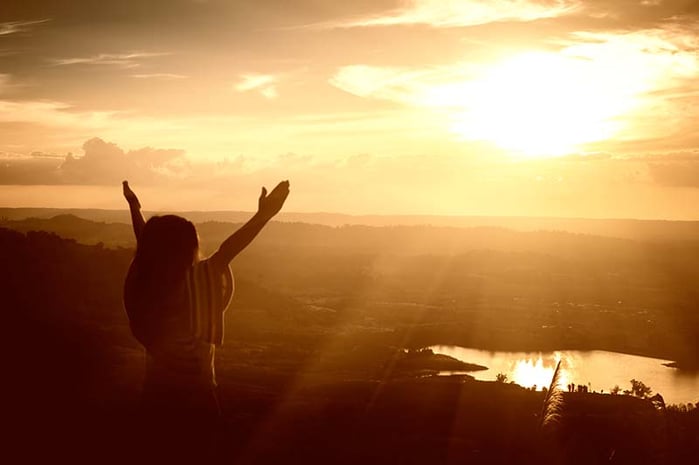 Praise the Lord's love
Sing praise to the Lord and to His glorious name! As Christians, we should not shy away from praising our Lord. There is no need for embarrassment when embracing Him and His words. Jesus saved us from hell and has set a place for us at His table in the eternal house of the Lord. What a wonderful gift and a fantastic reason to praise His holy name.
We should recite His words, sing of His accomplishments, and praise His works. Jesus Christ is our strength and our comfort, and this should make our hearts swell with happiness and joy. Praise His name through song, prayer, and scripture.
Here are six scriptures perfect for praising the Lord:
"Through him then let us continually offer up a sacrifice of praise to God, that is, the fruit of lips that acknowledge his name" (Hebrews 13:15).
"The Lord is my strength and my shield; my heart trusts in him, and he helps me. My heart leaps for joy, and with my song I praise him" (Psalm 28:7).
"In God, whose word I praise—in God I trust and am not afraid. What can mere mortals do to me?" (Psalm 56:4).
"I will sing of the Lord's great love forever; with my mouth I will make your faithfulness known through all generations. I will declare that your love stands firm forever, that you have established your faithfulness in heaven itself." (Psalm 89:1-2).
"Enter his gates with thanksgiving and his courts with praise; give thanks to him and praise his name" (Psalm 100:4).
"But I, with shouts of grateful praise, will sacrifice to you. What I have vowed I will make good. I will say, 'Salvation comes from the Lord'" (Jonah 2:9).
Thankfulness to God
Besides Bible verses pertaining to gratitude and praise for our Lord, we can also look at the verses that mention thanksgiving specifically. Rejoicing in our thanksgiving of the Lord is a recurring theme in the Bible. We are His children, and He deserves our appreciation, love, and thanksgiving every day we are on this Earth.
Let us embrace these four Bible verses about thanksgiving:
"Oh come, let us sing to the Lord; let us make a joyful noise to the rock of our salvation! Let us come into his presence with thanksgiving; let us make a joyful noise to him with songs of praise! For the Lord is a great God, and a great King above all gods" (Psalm 95:1-3).
"I will praise the name of God with a song; I will magnify him with thanksgiving" (Psalm 69:30).
"For everything God created is good, and nothing is to be rejected if it is received with thanksgiving, because it is consecrated by the word of God and prayer" (1 Timothy 4:4-5).
"Do not be anxious about anything, but in every situation, by prayer and petition, with thanksgiving, present your requests to God. And the peace of God, which transcends all understanding, will guard your hearts and your minds in Christ Jesus" (Philippians 4:6-7).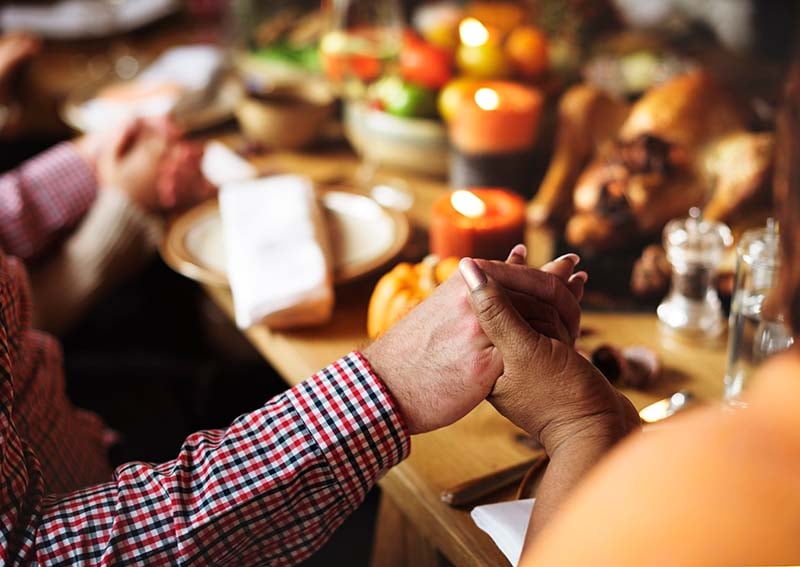 Harvest Thanksgiving
If you are searching for the perfect Bible verses for that special holiday meal, there are scriptures that apply to sharing our bountiful harvests around the table. These words encourage us to share when we can and to act on kindness.
Let us explore four Thanksgiving Bible verses.
"The earth has yielded its produce; God, our God, blesses us" (Psalm 67:6).
"From the fruit of their mouths people's stomachs are filled; with the harvest of their lips, they are satisfied" (Psalm 18:20).
"Surely, he says this for us, doesn't he? Yes, this was written for us, because when farmers plow and thresh, they should be able to do so in the hope of sharing in the harvest" (1 Corinthians 9:10).
"Now he who supplies seed to the sower and bread for food will also supply and increase your store of seed and will enlarge the harvest of your righteousness" (2 Corinthians 9:10).
Conclusion
Share these verses with family and friends this Thanksgiving. Let them encourage your hearts this holiday season.
"Let the word of Christ dwell in you richly in all wisdom, teaching and admonishing one another in psalms and hymns and spiritual songs, singing with grace in your hearts to the Lord" (Colossians 3:16).
What other scriptures have you found that help your heart feel thankful and grateful? Share in the comments!