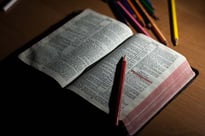 Why should I study my Bible?
Feb 16, 2023
Reading time: 3 Minutes
Cindi Killen
I love those times I open my Bible and everything I read seems so clear and breathes life into my day. It is a satisfyingly peaceful feeling, kind of like being with an old friend who, despite having known you on your worst of days, finds no uncomfortable barrier but only pleasure in your friendship.