Whether it's cold and flu season or seasonal allergies are taking hold of you, you'll want to take advantage of this amazing service:
It's 10 p.m. on a Friday night. Your throat is sore and you have a stuffy nose. You feel a cold coming on. "Just perfect," you think to yourself as you sink back into the couch and pull the blanket over your head.
Your doctor's office is closed for the weekend, and you don't have the energy to drive yourself to an urgent care facility (even if you could find one open 24 hours) or, God forbid, the Emergency Room.
"It's just the sniffles," you reason. "I'll drink plenty of fluids and be fine by tomorrow."
But Saturday comes and goes with no relief. All the over the counter meds in the world can't seem to save you. Now it's 8 a.m. Sunday and you feel like your head is going to implode and all you want to do is breathe, and sleep. But who can sleep when you have to breathe through your mouth all night?
Is today the day? Do you go to the ER and sit in a waiting room full of… sick people… Ugh, you shudder at the thought. Not to mention the cost!
Telehealth: The alternative to ERs and Urgent Care
Why spend extra time and money when the convenience of "telehealth" is right at your fingertips, often at less than the cost of an in-office visit? Just hop on your smart-phone, tablet, or computer for a quick "visit" with a doctor, and get a diagnosis and even a prescription (if needed) in minutes!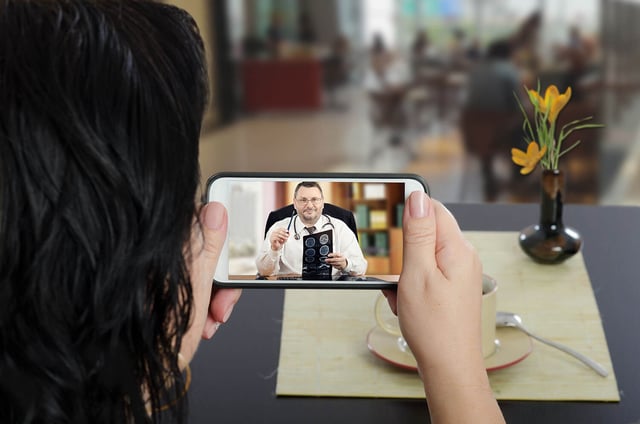 Though telehealth has been around for over a decade, it has really taken off recently with a projected seven million people using telehealth services in 2018.
In a study by HealthAffairs.org, the average telehealth visit costs about $79. That's a small price to pay for the convenience of not having to leave your house or your pajamas. But what if you could schedule a telehealth visit for FREE?
You can! Medi-Share members have access to MDLive, a FREE 24-hour telehealth service giving you virtual care anytime, anywhere.
As a Medi-Share member, you can save time AND money when you're feeling under the weather. MDLive's board-certified physicians are able to diagnose a number of conditions including but not limited to allergies, cold & flu, ear infections, insect bites, rashes, sinus infections, and more, all at NO COST.
"Just used MDLive for the first time!!! Amazing!!!" exclaimed Mitzi, a Medi-Share member. "Had a virtual doctor appointment for both my daughter and myself in less than three minutes from the time I requested it. Got our prescriptions called in and it cost me ZERO dollars to use this service because it is free with Medi-Share (that I only pay $200 per month for my family of 5!!!) So glad I found another option besides health insurance!!"
Telehealth is one of the many perks of Medi-Share membership. For an overview on the Medi-Share program, download our free Sharing Summary now!
Questions About Medi-Share?
We'll be happy to answer any questions you have about telehealth or anything else health sharing related, just call us at (800) 772-5623.