Discover the Not-so-hidden Benefits!
If you're a Medi-Share member, you already know that a major advantage of membership is that in addition to having access to quality health care through a network of more than 900,000 providers and facilities, you are part of a Christian community that supports one another in prayer.
However, there are numerous, not-so-hidden perks that come with membership. Make sure you know about all the following Medi-Share "extras" so you can take advantage and save more!
Telehealth
Do you ever feel like you don't have time to go to the doctor for a cold that is just hanging on? Maybe you have kids at home and scheduling childcare while you visit the doctor for yourself seems overwhelming. Well, you're in luck!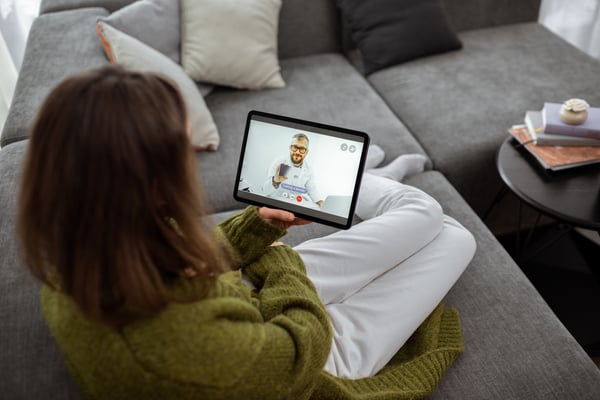 Through Medi-Share's partnership with MDLive, you can visit a Board-certified physician for non-emergency issues right from the comfort of your own home 24/7 at no additional cost to you! After you set up your account, you can schedule a telehealth visit for a specific time or wait for the next available appointment. See an MDLive physician for any of the following non-emergent conditions:
Allergies
Asthma
Bronchitis
Cold & Flu
Ear Aches
Fever
Headache
Insect Bites
Respiratory Infections
Sinus Infections
Sore Throat
And More!
For the busy professional or the spread-thin parent, telehealth is a major advantage you'll want to keep in mind. Consider setting up your account today before you need it! Go to your Member Center and select "See a Doctor Now" on the left-hand menu to get started.
Mental Health Counseling (via phone)
In recent years, mental health has been a topic of national conversation. When the COVID-19 pandemic hit and with it the necessity to quarantine and social distance, mental health dipped even further. One interesting byproduct of stress linked to the pandemic is the rise of reported insomnia rates.
In 2020, members voted to include Telemental Health Counseling visits in the Medi-Share membership. Members can now schedule mental health calls lasting up to 30-minutes long. During the scheduling process, members may also request an appointment with a registered Christian counselor. Multiple people can participate in one call for marriage and family counseling type sessions.
All counseling calls are strictly confidential and Medi-Share will not receive any knowledge of the content or subject matter of each call.
Although the mental health counselors available to members are not able to prescribe medication, the member may request to speak to a psychiatrist who can. However, the member would have to pay the provider a fee (which is not eligible for sharing) for the psychiatrist counseling session.
We aren't made to go through hard things alone. Galatians 6:2 instructs Christians to "Carry each other's burdens, and in this way you will fulfill the law of Christ." As Medi-Share members, we often are not in the same physical room as each other, but the members have voted to support one another through providing mental health counseling. If you or an immediate family member could benefit from a counseling session, don't delay! Call 877-603-2100 or request an appointment online today, and if you're struggling with sleep, check out our top 4 sleep tips in the meantime.
Navitus Pharmacy Program
In 2020, Medi-Share partnered with Navitus Health Solutions to bring members more savings on prescription medications. In addition to savings, you have access to a team of pharmacy professionals available to take your call 24/7 at 1.833.837.4306. Once you've set up a profile on the Navitus portal, you will be able to:
Search for participating pharmacies
Make cost comparisons at different pharmacies in your area
Research known common drug side effects and interactions
View your medication history
View your formulary (or preferred drug list) to see what drugs are shareable under your plan
And more!
Just remember, specialty medications for certain complex and rare diseases, including cancer, do require pre-notification to Navitus at 1.833.837.4306. This includes injections/infusions given at home or in your doctor's office.
Save on Dental, Vision, and More!
Along with your green membership card, you received an orange "Select Savings Card" which provides significant discounts on Dental, Vision, and more through Careington, a discount plan network. Through the Careington website, you can search for providers in the Careington network before you schedule an appointment.
Dental Care
How long has it been since you visited the dentist? Do you have a tooth that's bothering you but you can't stomach the cost of dental work? With your Select Savings Card, you can access deep dental discounts with Careington that on average range from 20%-60%. Use the provider search tool on the Careington website to find a dental provider. Check out the table below to view a sample list of savings: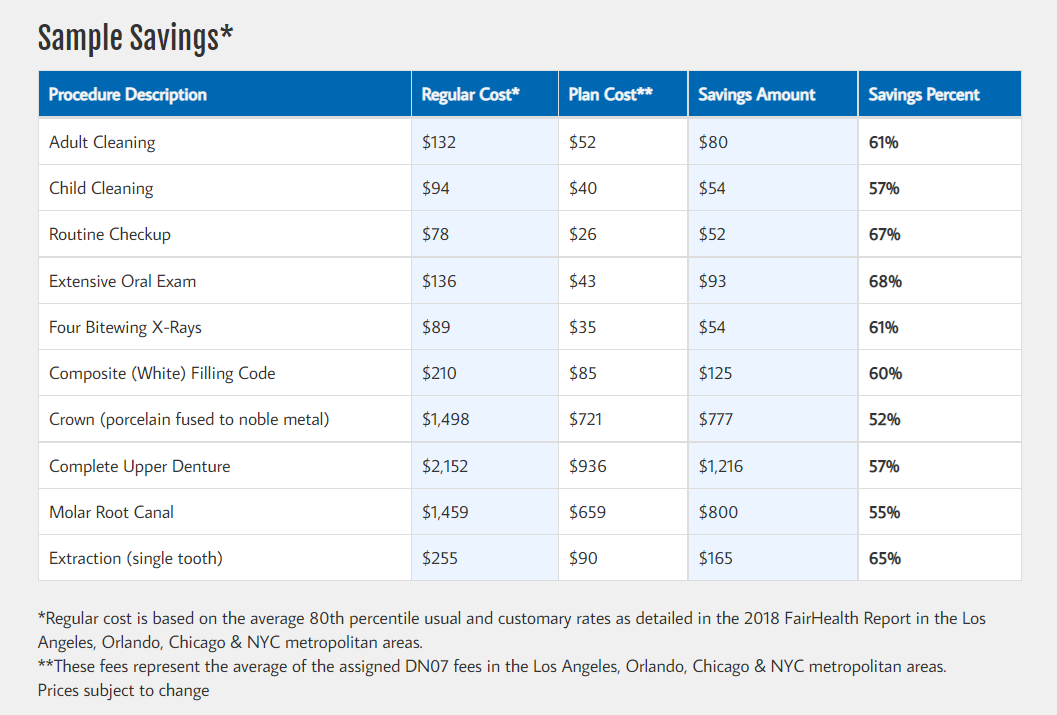 Vision Care & Lasik Surgery
The eyes are said to be the "window to the soul" but they may also give a look into your overall health! Eye doctors sometimes discover health issues unrelated to the eyes including diabetes, high cholesterol, hypertension, heart and vascular diseases, and some forms of cancer. Is it time to order a new set of contacts, but you need to renew your prescription first? Or maybe those street signs aren't as clear as they should be? Don't delay setting up an appointment. Your Select Savings Card offers discounts for vision care... including Lasik Surgery! Savings for vision care include exams, eyeglasses, and contact lenses. As for Lasik surgery, members may receive 40-50% savings off the national average cost for traditional Lasik surgery, and may also receive significant savings for all laser (bladeless) Lasik. To see some sample savings on vision care, check out the table below: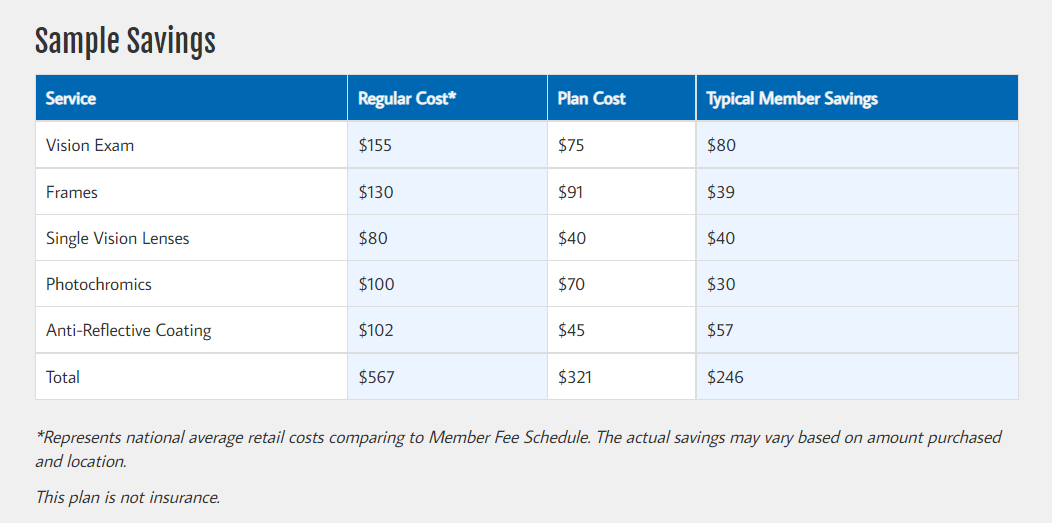 Hearing Care
Did you know mild hearing loss doubles your risk for dementia? If you have moderate and severe hearing loss, your risk increases by 3 times and 5 times respectively. Although there are numerous objections to hearing care, many individuals put off much needed care due to the overwhelming expense of hearing aids. With your Select Savings Card, Medi-Share helps ease the burden of hearing care. Through the Careington network, members can save from 30-60% on hearing aids. In addition, members have a 45-day, no-obligation trial period on products purchased. If you are unsatisfied with your hearing aid within that time, you may return it and get a refund (less a "Clinic Fee" for professional services.)
Diabetic Care Supplies
Do you have a chronic condition? Our Select Savings card offers discounts on healthcare products and services, from medical appliances and supplies to home medical equipment. Check out some of the values provided:
Free shipping and choice of free gift with first order
Durable Medical Equipment—20% to 30% off of retail price
Disposable Medical Supplies—20% to 40% off of retail price
Nutritional Supplements and Daily Living Aids—20% to 25% off of retail price
No shipping charges for orders that are $100 or more. Shipping is a flat $7.95 for orders under $100
BLN ships up to a 90-day supply and the BLN care coordinators send a replacement notification before the supplies run out
No complicated forms to fill out and no inconvenient trips to the pharmacy
Conclusion
Being a Medi-Share member doesn't just provide you (and your family) with incredible, biblical health care, there are many not-so-hidden savings that come along with your membership. From virtual doctor visits to deep discounts, you will want to maximize your membership by making the most of these "extras."