"I feel so much more complete, so much more equipped by the Lord to do His work."
As Christie, a Medi-Share member from the West Coast, shares these words, emotions cause her voice to wobble just a bit. Christie is a graduate of the Health Partnership Program, which provides a framework for Medi-Share members to set and achieve healthy lifestyle goals.
"This journey encompasses all aspects of wellness," she adds. "If I had not been invited and had not been willing to try, I would've missed out on what God had in store for me. He is working in and through Medi-Share, because it was ultimately Him calling me into this journey."
When Christie applied to Medi-Share in 2017, she had a pituitary microadenoma (which in layman's terms is a tumor in the gland closest to the brain), and that condition was deemed pre-existing. In addition, she says that her weight-to-height ratio was high at the time.
Those two things led to a conversation about joining the Health Partnership Program through Medi-Share. For those unfamiliar with the program, here are some details:
How Health Partnership Works
The Health Partnership Program is a comprehensive program designed to help Medi-Share members achieve health goals by offering resources and support through a Biblical lens. Health partners enjoy the following perks:
Certified Health Coach: Christian health coaches with expertise in nutrition, behavior, and fitness come alongside the health partnership member to offer encouragement, insight, and personalized plans.
Health Portal: Education is essential when it comes to making lifestyle changes. The Health Portal answers the "why" and "how" questions that may be holding members back from a long-term transformation in their health.
Goal Setting: Members usually come into the Health Partnership Program with a big goal in mind, but experts recognize that it's best to break that up into progressively attainable steps.
Meal Planning: The age-old question, "What's for dinner," gets easier with inspiration for nutritious, delicious meals.
Accountability: With a network of other partners and a personal Health Coach, the journey toward healthy lifestyles becomes collaborative. Members have a safe space to get real about struggles and share the joy in achievements.
Fitness Challenges: Members who are motivated by metrics and competition can participate in fitness challenges. Partners are given fitness bands to log progress and can compare stats in a group by choice.
How it Worked for Christie
After that initial conversation, Christie thought, "You know what? It's time. It's time to see what will happen if I really commit to something." She filled out the forms with day-one measurements, full of anticipation for what could happen.
Up to that point, Christie says she tried many gimmicks, trends, and even Bible studies that were focused on weight loss. Each prior effort was focused on shedding pounds or obtaining a different dress size. Each prior effort failed.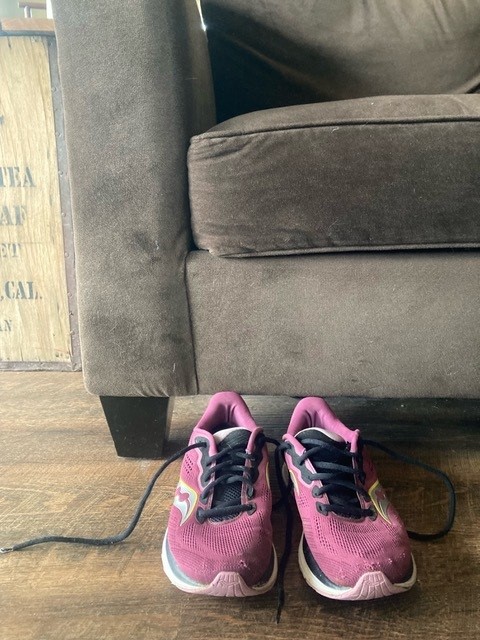 But the Health Partnership Program felt different, right from the get-go. She recognized, "Okay, Christie, all of your horizontal ways have been exhausted. There's only one way, and that's up."
As she got started with the program, Christie says there were two main things that really made a difference to her: her health coach and the health portal.
Coach Karen from the Health Partnership Program called Christie regularly to check in on her progress and offer encouragement. Christie says those scheduled calls were huge for her. "There was an important appointment on my calendar when someone was speaking truth to me, whether I wanted to hear it or not. She was cheering me on, and I'd never met her. That's a beautiful thing."
In between coaching sessions, the Health Portal became Christie's main resource. Her first strength training exercise was a 14-minute activity taken directly from the portal. "It's there for the taking," she says. "It's been a wealth of knowledge for me, and it's based in truth. It's remembering Who made us and that my body is His."
She also enjoyed video testimonials from program graduates who offered tips on what worked best for them. "I watched the video [about creating a health vision] over and over and over again. It was by someone who had seen it through, and that was important to me."
How the Work Continues
Meeting with her coach and utilizing the Health Portal were just the beginning for Christie. Over time, she was able to figure out which positive aspects of the program were working for her and implement them into her life in other ways.
For example, she started putting "cardio appointments" on her calendar — a way to schedule in exercise, just like she scheduled time with her coach. She set herself up for success by laying out her workout clothes and shoes beforehand. "I called them my GOMB shoes (pronounced like 'comb')," she says. "It means Get Off My Behind!"
She also found that she craved accountability, so she set up additional check-ins with a local friend. "We would text each other every night. I'd say, 'The kitchen is closed; the movement has been done for the day.' Those two things. And I needed that. It was like the cherry on top."
Christie graduated from the Health Partnership Program with monumental successes in every area. Perhaps most notable was the update on her tumor. "Praise the Lord," she says. "The last brain MRI I had, they didn't even detect anything. They said it was either too small or completely gone."
But that's not the end of the story by any means. Christie knows now that health and wellness are an ongoing process, one that takes time. In fact, she's grateful for that new long-term perspective, an outlook that came in smaller, manageable milestones throughout her Health Partnership journey.
"It wasn't an overnight success thing," she says. "I'm thankful it took time. Because every time I logged on, I learned something new. God was building up my knowledge tools for the long-term, and it's like my toolbox was filled over time."
She continues by reflecting on the ongoing process. "All of the healing, all of the strengthening, all of the nourishing. The whole process is full of 'ings', but thank God it's not just me doing them. I think that's why I failed so many times before, because I put all of the focus on me and my 'ings' — cooking, exercising, sleeping, establishing goals."
God continues to remind Christie to trust Him for each new step. "I had no idea that this invitation to be a part of the Health Partnership was the beginning of a beautiful journey that continues. It continues way past graduation, and I am so blessed and privileged to be invited," she says. And her voice wobbles again as she adds, "If I didn't rise to that invitation, I'd be having cardio appointments of a different kind. I'm really thankful."
If you're inspired by Christie's story and would like to learn more about the Health Partnership Program, please follow this link and reach out to a Health Coach today. As Christie discovered, wellness is a lifelong journey; one that's better taken together.