[As appeared on Star Tribune] It's the perfect time of year to fire up the backyard grill and enjoy some fun summer cookouts with family and friends! It's also the time of year for active family vacations, pool days, and sand volleyball… so you definitely want to eat healthy and stay fit so you can keep up with all the fun activities summer has to offer.
Can backyard BBQs and "healthy diet" go in the same sentence? Absolutely! There are plenty of healthy options to put on the grill if you know what to look for and how to decipher a food label.
Burger palooza!
Let's begin with the most frequent flyer on the grill: the hamburger. The burger aisle has expanded over the past year from organic grass-fed beef to the plant-based Impossible Burger and everything in-between. Choosing a burger these days can be quite overwhelming!
First, determine what you are trying to get from your burger (nutritionally speaking) and what you want to limit. You want protein, vitamins, and minerals like iron, zinc, and B-vitamins. You do not want a high amount of saturated fat, trans fat, sodium, cholesterol, or additives (a long ingredient list is typically NOT a good sign).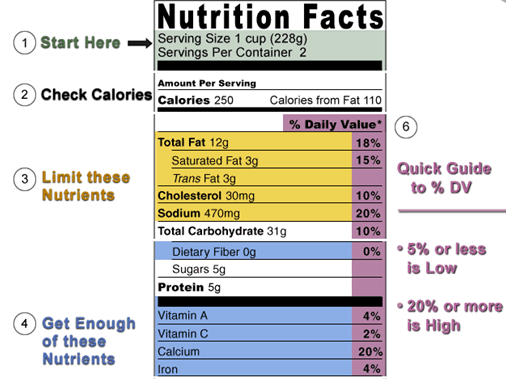 When interpreting a food label, the first thing you need to look at is the serving size. All of the following information is only accurate when that specific serving size is eaten. If you eat two servings, then you have to multiply all the listed nutrient amounts by two as well. This is a common mistake!
Typical BBQ meats tend to be high in saturated fat, so key in on this line of the food label next. Ideally, the saturated fat would be less than 3 grams per serving. Saturated fat is a good line to compare when choosing between two burger options in the store. Again, be sure you are comparing "apples to apples" by adjusting for the suggested serving size on the top of the food label.
Other areas of comparison may be sodium, cholesterol, trans fat, and sugar—less is best (and trans fat should be zero). Then take a glance at protein—since this is our main protein source for the meal, at least 14 grams would be good.
Which Burger Is Best?
1. Beef:
If you decide to stick with the traditional beef burger, here are a few tips to make it more nutritious.
Choose extra-lean ground beef (90% lean or higher)—the pre-made burgers are typically not lean, so you may need to buy the beef and shape your own patties (and you can shape smaller patties if you do it yourself as well)
Look for all-natural or organic beef
Choose grass-fed for its slightly higher omega-3 fat content
Try adding in finely diced mushrooms and onions for added nutrition and to lower the calories per burger—sort of a "veggie-beef burger combo!"
Be sure to cook the burgers to a center temperature of 165 degrees F
Top your burger with lots of healthy vegetables like spinach, tomatoes, mushrooms, onions, avocado, chopped green chilies, or kimchi
2. Plant-based:
How do the newly popular plant-based burgers, like the
Impossible Burger
rank?
Many of the imitation meats are highly processed, so be sure to take a look at the actual ingredient list and see what is inside
Look at the saturated fat, as many of these have just as much as beef (or more than lean beef)
Eye the sodium, some are very high
Not all plant-based burgers are created equal, some are more natural than others, so compare labels carefully
The best bet is to make your own homemade veggie burgers—these can be nutritional powerhouses with all of the good stuff and none of the bad!
A grilled Portobello mushroom could stand in for a "burger" all by itself! Punch up the protein by serving a three-bean salad along with it.
3. Turkey:
A lean ground turkey burger may be the leanest meat option there is.
Opt for all-natural white meat
Add flavor with sautéed onions, garlic, and herbs versus salt
Turkey burgers pair wonderfully with sliced avocado and fresh tomatoes on top
Use whole-wheat buns
4. Salmon:
Salmon stands out nutritionally because it's not only an excellent source of protein but one of the rare sources of heart-healthy omega-3 fat as well.
Fresh baked, canned, or vacuum-packed cooked salmon work well
Try mixing the salmon with an egg white and a teaspoon of mustard to help form a patty
Fresh herbs like dill, parsley, and cilantro pair well with salmon
Top with vinegar-based cabbage slaw or a flavorful mango salsa
Substitute large lettuce leaves for the bun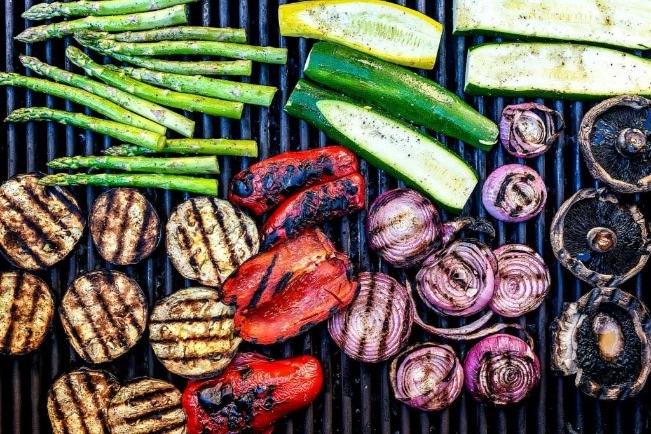 Don't Forget the Sides!
While the meat at the backyard BBQ seems to get all the attention, filling the majority of your plate with lower-calorie, nutrient-rich foods can make all the difference! So next time you are planning to grill, don't forget to throw on some healthy sides too. These grill really well:
Portobello mushrooms
Sliced zucchini and yellow squash
Asparagus
Corn on the cob
Vegetable kabobs with bell peppers, cherry tomatoes, and purple onions
Fresh thick pineapple slices or fresh peach halves


Relax and enjoy!
It turns out summer backyard BBQ's don't have to sabotage your healthy eating plans! By simply taking extra time to read the food labels in the grocery store as you search for your protein options and side dishes, you can eat well while grilling outdoors. So relax and enjoy the summer sunshine, and feel great as you take care of your body with all the healthy, nutritious foods God has given us!