[As seen on CharismaMag.com] I knew the moment was coming soon. I had awaited hopefully, but not necessarily patiently, for the day the love of my life would propose. So, of course it makes sense for me to be thinking about the question "what is love?" Instead of relying on a world full of people influencing and telling you what love is. let's go back to the foundation.
We search our whole lives to find a perfect love but the only one who can provide that for us is Jesus. The google definition of love is, "an intense feeling of deep affection." While this is just one element of what love is, there is so much more to this small but powerful word.
Love first is sacrificial. It's patient, kind, not boastful or proud. It doesn't dishonor, it's not self-seeking or easily angered and keeps no records of wrongs. Love rejoices in truth, protects, trusts, hopes, and always perseveres (1 Corinthians 13:4-8).
There are some common questions on love when it comes to young adults who are dating that I want to talk about based off my own personal experiences and the things I've learned and continue to learn!
How to prepare yourself for love in a season of singleness?
As someone who didn't have their first relationship until they were 21, I felt the singleness season and yearned for the relationship season. I wanted a relationship earlier, but the growth I experienced throughout my high school years and even early college was needed! I matured so much during this time and although I desired a relationship, I am glad the Lord had different plans for me.
Instead, I accepted singleness in our small little town of Melbourne, Florida. I am going to be honest; it was hard and emotional at times. So, I took this time to be the best version of myself I could be. It became such a dedicated season of praying for my future spouse and preparing my heart for him as well. I remember long commutes to UCF that were just worship music, tears, and long-drawn-out prayers. Little did I know that my now significant other was going through during that time of divine prayers and how the Lord was working in both of our lives in these very moments. This was my strongest season of growth spiritually, physically, and mentally, knowing that the someone I was preparing for deserved my very best and so I would strive to prepare my heart and mind for just that.
How do you know if it's the right person?
I had known "my" Joey for a long time, but our paths were never quite in sync. We went to the same high school, had similar classes and both had a lot of maturing to do. We both went through seasons of change and growth. And isn't it funny how everything comes full circle, and the Lord puts that person back in your life at just the right time? I always wondered if "my person" would be someone I've already known or a completely new face I've never met. Here we were, perfect timing and the pieces just all fell into place.
To answer the question of "how do you know if it's the right person?", the Lord truly just works out all the details. The inner workings and details the Lord had lined up were nothing of my doing. I think the biggest thing was the peace that I felt from the very beginning. I can't quite describe it, but it's like Philippians 4:6 says, "And the peace that surpasses all understanding…" I truly believe when the Lord puts that person on your heart and you're aligned with His Word, you just know.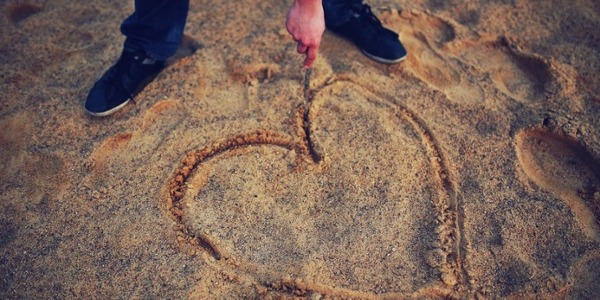 How do you know if you share the same values?
This one is HUGE, and I think something a lot of people skip over in hopes to change that person later on down the road or to avoid addressing the subject all together. It's easy when you're getting along and your personalities are great together and everything seems picture perfect in the moment, until you get to the heart of things and the harder conversations. Shared values is a foundation that you have to address early on. When your values are the same and the Lord is right at the center of your relationship, it's a whole different ball game. There will be trials and difficult seasons and hard conversations, but you're united and on the same foundation. When we're united in Jesus - love, joy, peace, patience and so on will follow. You might have to work on some of those qualities more than others, but when He's at the center, He is your solid rock to keep you from wavering and to continue to build that love.
How do I know if I am in love?
Love is a big word. Saying it for the first time to your significant other is such a beautiful moment so it's so important to know the meaning behind this word. A lot of people may just say it on a whim or based off of a feeling. As I mentioned earlier, love is more than just a feeling or deep affection. It's a sacrifice and putting in the extra work to be more patient and understanding with your person. It's commitment to someone else, someone who you're going to become "one" with. When I first said these words, I went to 1 Corinthians 13:4-8 to see what the Bible says about love. I wanted to make sure that I was committing to be all those attributes for my significant other as they were when they said "I love you" back to me. We of course will fall short, but that person deserves your commitment to give your all every day whether you fall short or not.
Why is sacrifice important in love?
Sacrifice: a word that is a bit "triggering" to our society today. Everything that consumes our mind in the media and in the world around us is "self-focused." It's, "how can I better myself?" or "how will this benefit me?" Surprise! I am here to burst your bubble…this doesn't work in a relationship.
You of course will continue to grow yourself and pour into your well-being but now you also have the privilege to do the same for your significant other! Did you catch that? I said "privilege" because it is truly an honor! You're there to build them up, encourage, love and be gracious with them as they model the same for you. You become more humbled and recognize that you aren't the center of attention all the time. You sacrifice things you love for things they love and you learn to love those things together. Jesus was the ultimate example of this for us on the cross. Ephesians 5:2 says, "And walk in the way of love, just as Christ loved us and gave himself up for us as a fragrant offering and sacrifice to God."
Love is learning to walk in grace and humbling yourself everyday just as Jesus did. It won't look perfect; it might look pretty messy at times. However, It's truly the most beautiful experience to grow together in Jesus with your best friend for the rest of your life!
Conclusion
Just like that, the day I awaited was here! "My" Joey proposed on 10/4/2021! After celebrating a day of what felt like a first date and the most Christ-centered love, he got down on one knee and the rest was happy tears! He knew how special words of affirmation are to me, so he had all my family members and himself write beautiful letters of love celebrating this very moment, and it's one I will cherish forever – a dream come true!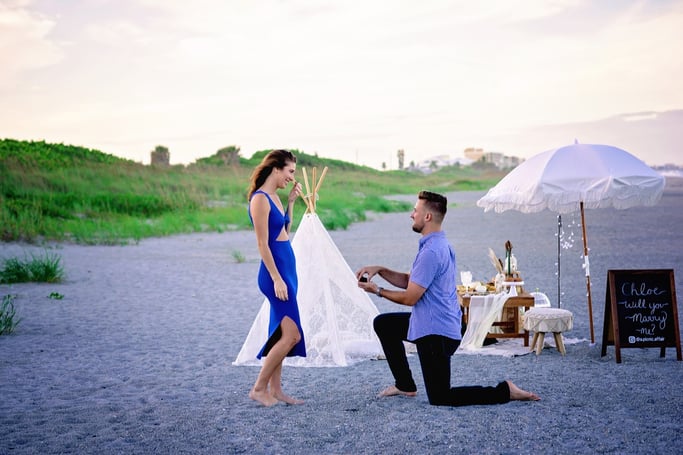 And so we know and rely on the love God has for us. God is love. Whoever lives in love lives in God, and God in them. 1 John 4:16