Sometimes a single verse of the Bible jumps out of the page with perfect clarity. Even stripped of its context, its meaning is clear. These are the verses we often carry in our hearts. "For God so loved the world…"
There are other times, however, when we must follow the richly woven tapestry of the story to understand the full meaning of all that happened.
One such story is of David and his first wife - King Saul's daughter, Michal.
Many of us are familiar with the account of David, an Israelite, and his ability to use a sling to kill a giant. We have heard of how, after making the Philistine army run away in fear, he captured the hearts of the Israelites and the respect and jealous ire of his King, Saul.
That very King summoned David to join his full-time personal staff where David caught the eye of the King's youngest daughter, Michal. "David succeeded in everything he did, for the Lord was with him. When Saul recognized this, he stood in fearful awe of the anointed young man." 1 Sam. 18:14-15.
Saul's daughter Michal grew to love David and Saul was pleased because he saw it as a way to orchestrate David's demise. Saul offered David the opportunity to marry Michal and become his son-in-law but first, David would have to kill a hundred of the enemy Philistines and provide their foreskins as proof. David provided two hundred.
David and Michal married and lived close to King Saul who, because of his growing jealousy and fear, became creative in thinking of ways to assassinate David. Because Michal desired her husband, she protected David, and in one final evening together, helped him escape yet another of her father's plans to take David's life.
I can't help but wonder about their exchange of words as David climbed his way out the princess's window. Did they profess their love for one another? Did David vow to come back to claim her? Did they long for and fitfully dream about each other in those first days apart?
We do know that several years went by, and David was unable to return to Michal. Instead, he hid from Saul in dirty caves and traveled with a band of discontented men. In a practice common for the time, he married other women.
King Saul continued searching for David with growing hatred and intent to kill. Michal probably heard her father speak of David with hatred, perhaps every day. As time passed, the king went as far as to give Michal to another man in marriage.
Saul died on his own sword to escape pagan torture. On the same day, the Philistine army killed his three sons. Despite the attempts on his life, David wept for their loss.
After fighting to gain the kingdom, David demanded his wife, Michal, to be returned to him. She came, but we're not told anything about her until later when we see, by her actions, she was far from in-love with her husband, the anointed King David.
"While all of Jerusalem celebrated the return of the Ark of the Lord, Michal remained upstairs, looking out from her window. When she saw King David rejoicing and dancing before the Lord, she was filled with contempt for him."
Contempt can be defined as disdain, disrespect, or the feeling that a person or a thing is beneath consideration, worthless, or deserving scorn.
What happened? How did the story go from deep-felt love to contempt?
We may not know every detail, but the story is a familiar one to this day. Seeds of bitterness are planted when he does something she doesn't like. Things don't turn out as planned, and blame plants additional seeds. Hardship comes and a garden of bitterness is cultivated:
Her family never liked him. He doesn't make a good living. He doesn't dress, talk, or dance like a king. Finally, a couple that began together in love reaps a harvest of contempt.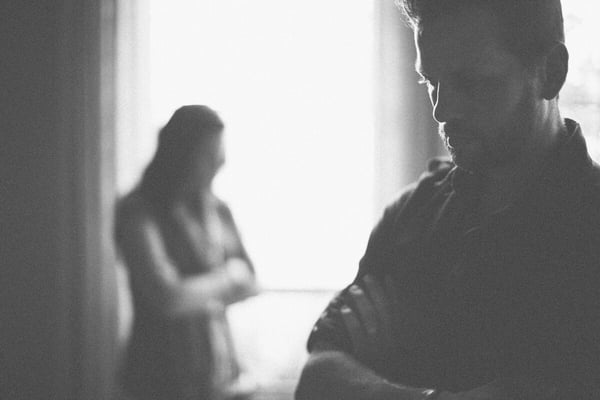 It's important to note that contempt is different from anger. It is possible to be angry with someone while still loving and respecting that person. Anger is passionate emotion, while contempt is cold.
When we feel contempt, we roll our eyes, sneer, and walk away. We may stop feeling angry or fighting all together, because contempt teaches us that the people we love are no longer worth it and so we simply lose words to express our love.
In 2 Samuel 6, we can almost feel Michal's reaction to David as he returned home to bless his household. "Michal daughter of Saul came out to meet him and said, 'How the king of Israel has distinguished himself today, disrobing in the sight of the slave girls of his servants as any vulgar fellow would!'"
So, there it was.
If it sounds familiar, is all hope lost? What do we do when contempt begins to enter into one of our relationships?
We're given an antidote in one simple scripture: "Love keeps no record of wrongs."
The Bible isn't telling us to pretend the tough times never happened. It's not God's desire that we overlook sin or never talk about issues that cause us to disagree.
Keeping no record of wrongs means remembering God's gift of forgiveness for us. It allows us to acknowledge that we each make mistakes. It means searching our own hearts for ways we can change instead of focusing on the faults of others.
God asks us to abandon contempt so that we can finally begin to be honest. "Is it really all his fault?" "Is it true that she's entirely to blame for everything that went wrong?" "What can I do to make this okay?"
When we let go of contempt, we can agree to carry on together. Etching the faults of a loved one into the stone of discontent will never result in reconciliation or peace. What is love? Keeping no record of wrongs, which allows us to break through hard ground, planting truth, faithfulness, and nurturing a willing heart.
4 Love is patient, love is kind. It does not envy, it does not boast, it is not proud. 5 It does not dishonor others, it is not self-seeking, it is not easily angered, it keeps no record of wrongs. 6 Love does not delight in evil but rejoices with the truth. 7 It always protects, always trusts, always hopes, always perseveres. 8 Love never fails. 1 Corinthians 13:4-8
Look at the person you love. Are you keeping score? If so, you're probably looking at a dancing fool. If you break the record, your view might improve, and you may begin to see royalty. Remember, love is an action, so go charge of how you're choosing to love today!