By Dr. Alesia Greene
It's been a few weeks since COVID-19 has commanded the headlines, but as we head into the 4th of July holiday weekend, our national attention is refocused on required wearing of masks and fears surrounding the increasing infection rates of coronavirus since mid-June.
CDC data this week shows an overall 1.1% increase in positive COVID test results―the second week in a row of increased positive test results. It seems that now is a good time to reflect on what we know in context to other pandemics from the past and, most importantly, what we can do as individuals to help keep ourselves, our families, and our communities safe.
Infectious disease has ravaged humanity since Bible times. Parasites, bacteria, and viruses are spread sometimes by animals and sometimes from person to person as is the case in coronavirus, which causes COVID-19.
Periodically experts will discuss the R0 factor ("R Not") which is a measure of how easily an infection passes from person to person. In the case of coronavirus, it is more infectious than the typical flu, but relative to other common viruses, it is in the middle of the pack. When the R0 falls to less than 1, an infection usually dies out.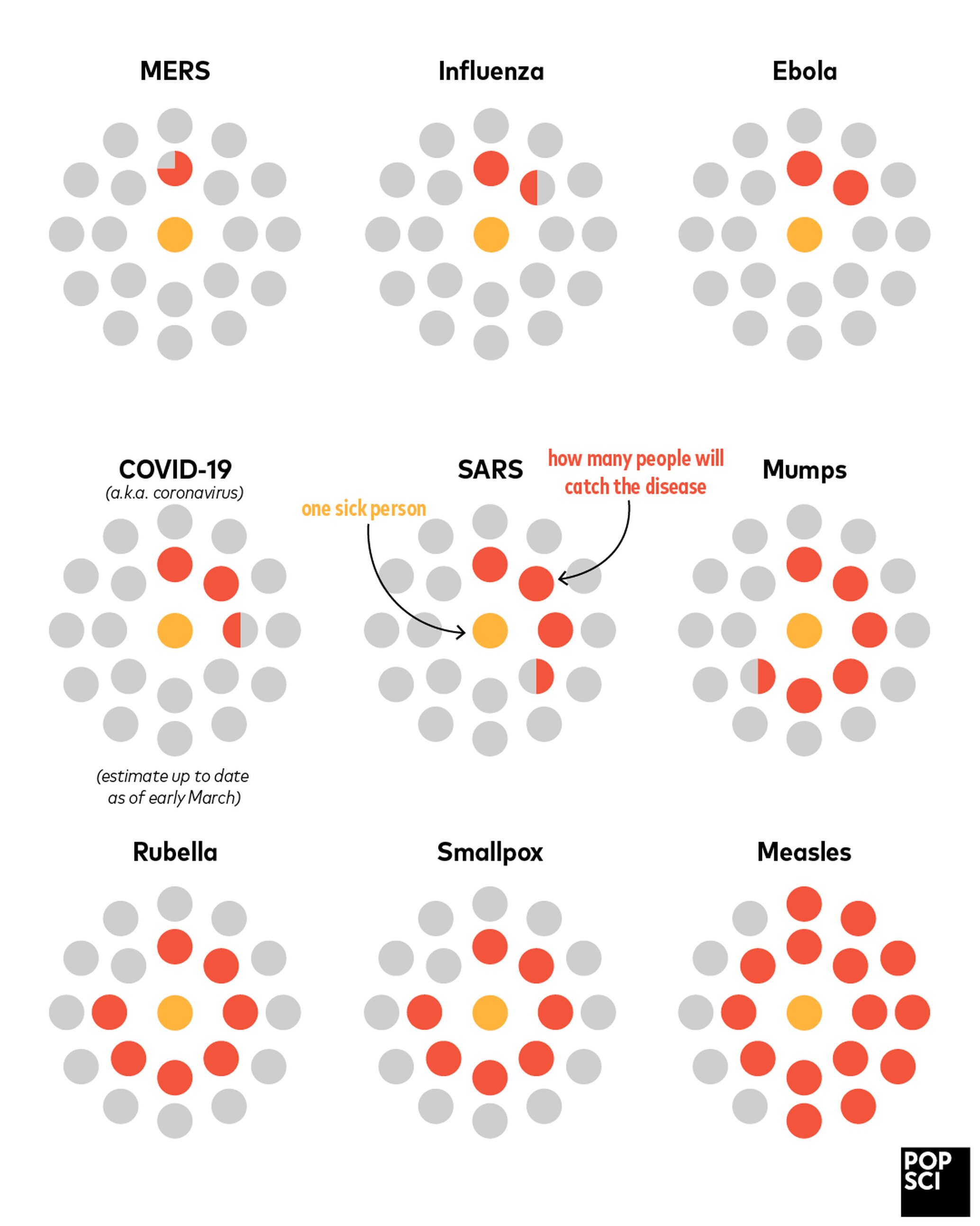 Source: Popular Science, Feb 2020, https://www.popsci.com/story/health/how-diseases-spread/
,
Experts predict that in the case of COVID a population immunity of approximately 70% will be needed to decrease the R0. However, it is important to emphasize that several variables will impact these conclusions. First, how long antibody immunity lasts; and second, whether significant viral mutation will occur, which may mean antibodies will not provide long lasting protection. Answers to these questions will affect long term public health strategies.
Another perspective to re-visit is the predictability of the stages of a pandemic and the public health strategies that align with each stage. Regardless of medical advances in treatment or vaccinations, public health strategies are vital to combating the coronavirus and will remain so until this infection dies out (R0=<1) or the infection becomes one that is managed over the long term.
Historically, pandemics typically last 1-3 years. However, some never really die out and measures are put in place to "live with the virus."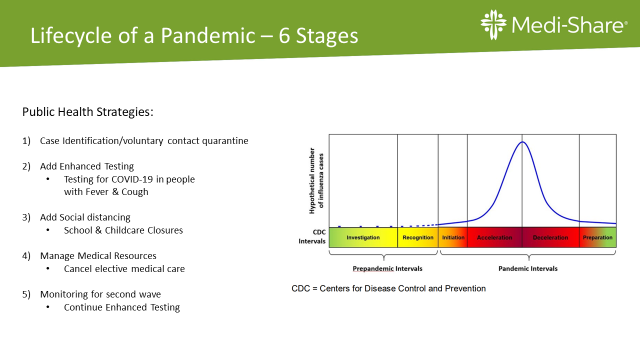 Each numbered strategy is added to the previous one. For example, Case identification/voluntary quarantine would be used in all 6 stages.
As noted in #1 and #2, case identification/testing and voluntary quarantine are the cornerstones. People who are ill should stay home and stay away from other people. Testing is certainly more readily available, but as treatment is still supportive, testing is not necessary unless you need to know your COVID status so you know whether to quarantine.
Perhaps you are trying to differentiate between allergies and COVID, for example. Anyone who is having difficulty breathing should go to the hospital. People who have close contact with someone who is COVID-19 positive should quarantine.
What is close contact? According to the CDC, someone you've been <6 feet from for longer than 15 minutes up to 48 hours before they were sick. If this is you, quarantine for 14 days. You don't need to get tested, just quarantine. This is why social distancing is so important. Maintaining distance from people outside of your household decreases your risk and your family's risk.
The topic of the face mask is now a frequent news and social media focus. While it can be helpful, and certainly is a small sacrifice, it is not more important than washing your hands, staying home when you are ill or in contact with someone who is COVID positive, and social distancing. In fact, for some, the constant touching of the mask as they pull it over their mouth, under their nose, on and off without hand washing may have the opposite result.
In places where you cannot sustain 6-feet of distance, face masks make sense. Put it on, then wash or disinfect your hands and leave it alone until you leave the environment and can take it off. If the mask is wet from your breath when you remove it, put it away and wash your hands. Wash and dry your mask frequently.
While headlines can be scary, it is important to keep them in context. Diagnosed COVID case rates in the US are going up by about 10 per 100,000 people per day. This is a reminder for all of us to pay more attention to those public health cornerstones and a simple way to avoid the need to go back to more drastic distancing measures.
Stay safe. Stay healthy.
"And let the peace of God rule in your hearts," Colossians 3:15a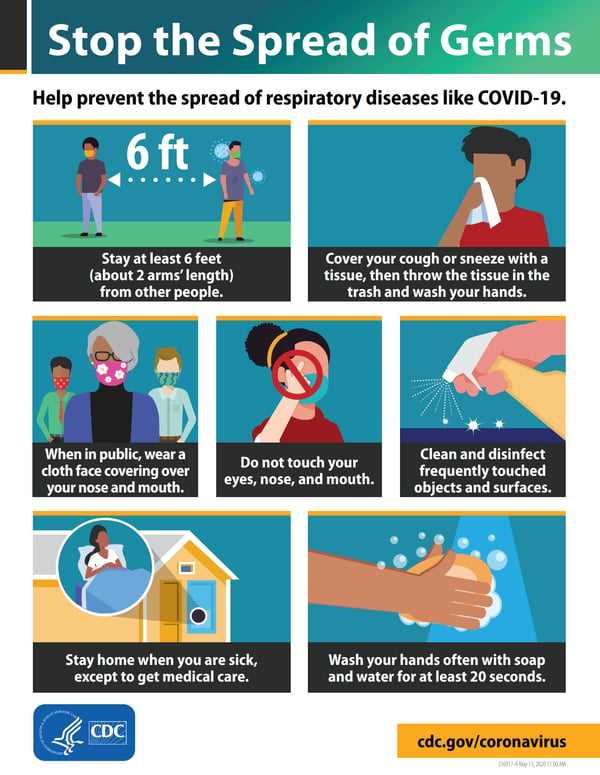 Source:https://www.cdc.gov/coronavirus/2019-ncov/index.html?CDC_AA_refVal=https%3A%2F%2Fwww.cdc.gov%2Fcoronavirus%2Findex.html