Medi-Share is all about the wellness of our members as well as employees. We encourage our members to live a healthy lifestyle to glorify God so they have the physical means to serve God in the work He has called them to do. To help our members who struggle with their health, our Health and Wellness department has a team of Health Coaches.

Each of our Health Coaches works directly with all of our Health Partners (those who are predisposed to or are struggling with heart disease, diabetes, obesity, etc.). Coaches call to check in with the Partners on a regular basis to see how their health journey is going – helping to set or reach their provider's health goals, offering encouragement, and suggesting management strategies.
Read what some of our members have said about our coaches:
"I highly recommend the Health Partner program. I know working with Emily and the changes I have made in my diet have given me a much healthier body to serve God and the family he has given to me. Thank you Emily so much for all you did for me and your very perceptive prayers for me."

-Kathy N.

"I have been working with my health coach Angela Dodson for the last three years, and what an amazing and helpful journey it has been! I have gotten so much support and knowledge from her insights and guidance. Her energy is also infectious! Not only has she touched my life in such a positive way, I have passed her knowledge on to many of my friends and family. I feel so very blessed that God has sought to put her in my life!"

-Diana W.
We see our coaches us health heroes – working in the background, so to speak. However, we want to bring them into the spotlight! We are going to let you get to know them a bit and hear some helpful tips they have for all of us. We will be asking them a question each month and providing several of their answers regarding general health and wellness. In fact, if you have a question of your own, feel free to drop it in the comments and we may just feature it next time!
This month's question is, "Since it's spring, what are some of your favorite 'green' foods?"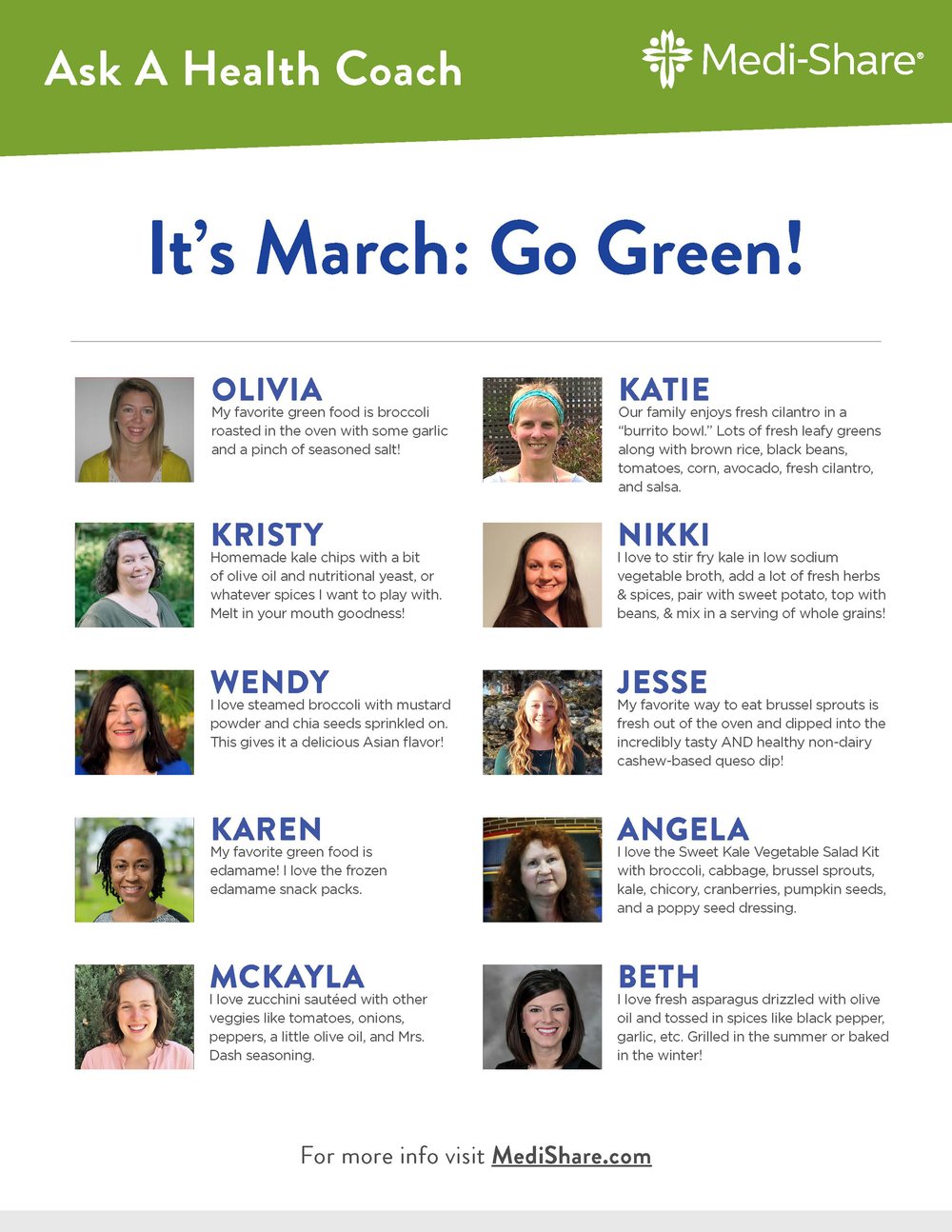 Download the flyer here!