Cranberries may have made an appearance on your Thanksgiving table this year. Maybe as cranberry sauce to accompany your turkey or even added to your stuffing. But "cranberry season" is just warming up!
Christmas is the season of all seasons for this tart yet festive berry. At Christmas, this berry becomes more than just food.
The cranberry likely became popular for Christmas because of the festive red color. They are harvested in the fall, but available in grocery stores through January. I used to make a lot of apple pie in the summer because my family members were big fans.
However, I got a little sick of making apple pie come Christmastime until… you guessed it, I added cranberries. It almost felt like I was making a completely new desert. Something about adding cranberries to anything makes it feel more festive.
These anti-oxidant, nutrient-dense berries are a great way to add variety and health into your diet including one unique health benefit. They are filled with an anti-oxidant called proanthocyanidins, which reduces the ability of bacteria to stick to the wall of the urinary tract, reducing the chances of UTIs.
The Cleveland clinic also lists vitamin C, vitamin E, vitamin K, and manganese as some of a cranberry's nutrients. Registered Dietician Candace O'Neill, RD, LDN states, "They're a powerhouse of antioxidants."
According to WebMD, cranberries also aid in digestion, protect against liver disease, boost the immune system, improve eyesight, and help prevent Gum Disease. That should be enough reason to freeze these vitamin–packed barriers and consume them all year.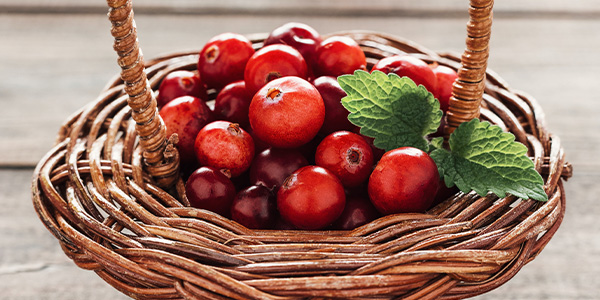 But do we really eat cranberries over the holidays because of the health benefits? I doubt it.
I am a huge fan of nutrient-dense foods and cranberries make that list, but the cranberry gives us something more. It is a nostalgic food. It feels like Christmas or "home for the holidays." It may remind us of grandma's cooking or a fun a way for us to add creativity to our own cooking. There is comfort in food with cranberries.
This food takes that cozy feeling to the next level when used to decorate our home as well. I cannot think of homemade popcorn and cranberry garland without getting those warm feelings inside. The use of cranberries in home decor today are numerous like filling a flower vase with cranberries before putting the flowers in to help an arrangement feel festive. Stringing a mini-cranberry wreath with wire and a green bow then use it to hold a cloth napkin for a festive place setting.
However you decorate with cranberries, they will be sure to bring some of that home-grown cozy feeling to your surroundings this winter.
It's not just their look that is cozy. Can you imagine the smell of warm cranberry, cinnamon, and orange simmering on your stovetop? What a great natural way to make your home smell like Christmas.
Now that you have some decorating ideas stewing, let's get the real cooking going. For the grand finale, let's discuss some cranberry recipes. Try cranberry smoothies or cranberry French toast. For a savory treat try cranberry maple chicken or cranberry short ribs.
Something about the last few years has drawn me back to the simple things in life. It has put an extra emphasis on family and how I spend my time. Little things like the wholesomeness of cranberries during the holidays has opened up the thankfulness I have for the simple things in life and those I love. May you be inspired to incorporate this cheery little berry into your holidays as you gather with friends and family.
Wishing you a very Merry Christmas with those you love!
What cranberry creations are you making this holiday season? Share below!
Sources:
https://health.clevelandclinic.org/benefits-of-cranberries/
https://www.webmd.com/food-recipes/health-benefits-cranberries