We all want to be good with our money, right? No one actually goes through life thinking, "How many ways can I run my finances into the ground?" At least, let's hope not.
But how can we be good stewards of our finances if we don't know where or even how to start?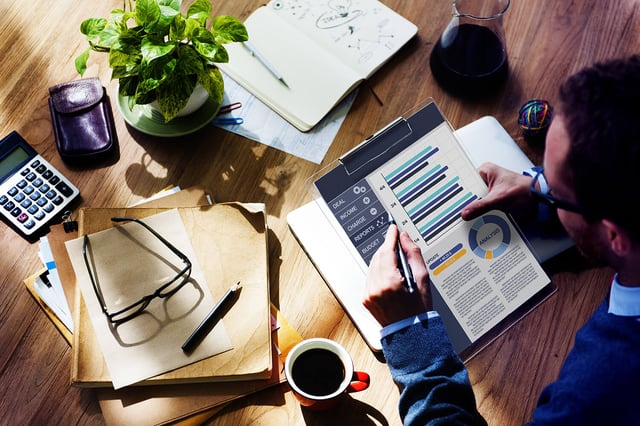 What if you could get simple, expert tips without having to scour the internet or sit down with an advisor for hours, pouring over every single detail of your personal finance situation?
Well throw on your pajamas, grab that cup of coffee (or tea), and settle into your comfy couch 'cause we're about to save you time and money! Here are your top 15 financial tips from experts – some names you may recognize, and some you need to know now.
Get educated.
According to Stephanie Spillmann of Healthy, Savvy & Wise, "Financial wisdom starts with knowing something about finance, even if it's entry-level stuff. Find a list of the most recommended finance classics (like The Millionaire Next Door) and read!"

In regards to the family finances, she adds, "Always be informed about your household finances. Even if you're not the income earner, don't be in the dark about what your budget, debt, spending, or bank accounts look like."

Don't forget about learning your credit score, encourages Kyle Murray of CreditRepair.com. "Finance can seem daunting, so start learning all that you can now. Start with learning about how your credit score works and what steps you can take to be on your way to the 800 club. Knowing all things finance is one of the only ways to truly prepare for your financial future."


Start!
"Do something," says Emilie Cleaver of Wise Mind Money. "Even if it seems small. Pay an extra $10 a month on your credit card debt. Round your student loan payment up to the next dollar. Open an investment account. If you're making an improvement, even one that seems insignificant, you're further ahead than you were before!"

Anthony Kirlew of Fiscally Sound agrees: "Don't underestimate the power of small beginnings. Whether it's an emergency fund, a 3-6 month savings, or retirement, no one likely built that by banking a month's worth of income at a time."


Keep it simple.
As Stephen Chen of New Retirement says, "Most financial decisions and investments don't need to be complex, and if they are getting complex (maybe because the product is confusing or a salesperson is not keeping it simple), then step back and see if there are other alternatives."

Smartphone apps are a great way to simplify your life as you get started on your financial journey. Apps like Clarity Money help you take control of your finances by cancelling wasteful accounts, lowering your bills, getting you better deals, and managing your financial life — all in one place for free! Another good one is Mint. It can help you budget, track bills, and even check your credit score, all for free.

There are even easy ways to make money by using smartphone apps. "Today, there are hundreds of smartphone apps where you can earn cashback from shopping and scanning your receipts. A couple of my favorites are Receipt Hog and Ibotta," said Holly Reisem Hanna, who is the publisher and founder of the award-winning website The Work at Home Woman, which helps women find remote careers and businesses that feed their souls.


Address your budget.
Kirlew additionally points out what should be obvious to most: "Make sure that you are bringing in more money than you are spending (if not, lower your spending, increase your income, or both). Sounds simple, but if we (as a country) had our budgets under control, we wouldn't have stats like:


- 34% of Americans have no savings

- half of all Americans have nothing put away for retirement



Budgeting doesn't have to be a total downer, though. "Make sure you budget fun money into your plan," says Tracie Fobes, the Penny Pinchin' Mom. "If you aren't allowed to spend a little on what you want every month, you'll grow to resent your budget and give up before you can make it work. You work hard for your money and deserve to have some fun with it!"

Only you know what your budget is, so this could be as simple as going to the movies once a month, to a weekly date night with your spouse, to planning for that summer family vacation.


Along those lines: Don't live by someone else's budget.
"No one else's rules will work for your situation, so consider your own income, debt, savings, and expenses, and create a spending and savings plan that fits your needs and goals," advises Dana Sitar, Senior Writer/Newsletter Editor at The Penny Hoarder, a personal finance website that reaches millions of readers each month.

As Emilie Cleaver puts it, "There is no one-size-fits-all financial path. Just because someone else saved money by cutting out all restaurant spending doesn't mean you have to. Do what works for YOU. A plan that worked for someone else is worthless to you if it isn't aligned with your own life."


Pay attention.
"Be aware of the emotions and circumstances behind your purchases," admonishes personal finance coach Melissa Thomas. "What else was happening when you were spending money? Paying attention to circumstances that trigger unnecessary spending can help break bad habits with money."

One good way to do this, according to Tracie Fobes, is to use cash whenever possible. "Cash has emotion and can really influence how you spend your money, which, in turn, can also lead to greater savings overall. When you pay with cash, you instantly see the money leave your hand and sometimes you realize it is not worth the cost."


Spend less money.
This is where the rubber meets the road. "Look at your credit card statement at the end of the month. What are you spending your money on that you could do without?" asks Dustin Heiner of Master Passive Income. "Are you spending too much money eating out instead of eating at home? Are you enjoying too many entertaining events, shows, or movies? Is your $125 cable bill each month really worth it? Are you spending lots of money in interest on your credit cards? Go through your spending each month and cut all that you need to in order to actually spend less money. I personally saved $8,000 a year by using Medi-Share instead of an insurance company.

Doug Nordman of The Military Guide echoes this by adding, "Cut out the waste so that you spend only on the things which bring you value."

If you do have to make purchases, a great way to do that is by online shopping, which can save you time and money. "If you do any online shopping, you need to use Ebates," says Holly Hanna. "With Ebates you can earn 2% – 25% cash-back on your purchases; it's free money, so why wouldn't you use it?!"


Make more money.
This one is easier said than done in many cases, but here's something you may never thought of: "It is actually possible to make money while not working," said Heiner. "This is called 'Passive Income.' It's not rocket science. You just need to put your time and effort into something that will continually make you money. Here are some examples: write a book, start a blog, start a podcast, invest in real estate rental properties, create an online course. All of these are examples of things you can do in your spare time. Once you have the book published, course created, or rental property purchased, these assets work for you. It's amazing not having to work for money!"

Dana Sitar adds, "You should never have to stay in a job you hate. You have so many options to make money to fill in employment gaps, learn new skills for free, or even start your own business. Earning money shouldn't make you miserable — it should be fun!"


Save, save, save.
Melissa Thomas has an interesting tip to make saving a little more enjoyable: "Create a 'bucket list' item. Having this encourages you to save on purpose."

"As long as you're saving, you're saving enough. Don't stop saving altogether because you can't afford to set aside an arbitrary percentage of your salary. The little things matter. Banking $1 a day can make a serious difference — as long as you do it every day," Sitar chimed in.

"Build an emergency fund," says Jessica Garbarino of Every Single Dollar. "Life happens and having the money to deal with emergencies will make it less stressful."


Invest something.
You may not think you're able to invest, that it's only for the rich. But that's simply not true. Here's what Stephanie Spillmann has to say: "Invest early, as in when you're young. Even $20-$50 socked away monthly in a Roth IRA is better than nothing. Don't think you can't invest until you have 'x' amount to put in. EVERY little bit counts."

There are even apps out there now like Stash and Stockpile where you can invest as little as $5 and can create a portfolio that reflects the things you love and believe in.


Get out of debt.
"Debt is one of the biggest killers of budgets and retirement savings," cautions Andrew Kirlew. "With most consumer debts, people are throwing money away in the form of interest, and that's money they could be spending on themselves in the present and in retirement. We need to get back to saving for what we want to purchase and resist the 'need to have it now' mentality that encourages paying with credit."

So how do you even start to get out of debt, especially if you're living paycheck to paycheck? One excellent resource is Dave Ramsey's Financial Peace University.

Jason Cabler of Celebrating Financial Freedom has a wealth of resources on his website on how to get out of debt, among other great topics. Here is just one helpful article on how small victories win the war.


Set goals.
"I am a goal-setter and always want to do His will over my own," said Bob Lotich, founder of SeedTime.com. "I never want to get caught up in just doing a bunch of "works' for God that weren't what He had in mind for me. But I tend to believe that if I am connected to Him, when I set goals, they are actually God's plans for me. John 15:7 says,

'If you abide in Me, and My words abide in you, ask whatever you wish, and it will be done for you.'

"Looking at that verse," he continued, "we can see that this whole 'writing-goals-down' thing isn't a formula we can use to manipulate God. It starts with us abiding in Him and getting in the Bible so that our wills better align with His. And as that happens, the natural result is that the things we ask have a better chance of being in line with His will.

"Even still, I don't make the assumption that any goals I set are automatically God's will. Now when I set goals, I prayerfully seek after them submitting to whatever God has in mind."


In order to stick to those goals: Surround yourself with the right people.
"Surround yourself with people who will help hold you accountable to your financial goals," Philip Taylor encourages us. Taylor is the creator of Part-Time Money and the brains behind FinCon, an online community and annual conference where money and media meet.

"This could be friends in real life - as part of a financial class/course at your church, for instance - or people you connect with online through blogs, podcasts, and video channels. Making progress with your personal finances can take time and if you're doing it all alone, because your family or close friends aren't on board, then it's going to be tough to stick with it. I've found success by immersing myself into a community of people who want to do big things with their finances. Their stories give me ideas and inspiration to want to do more for myself and my family - and, most importantly, they help me to stick with this journey."


Look into long-term disability insurance.
This tip may not be one you'd automatically think of at the top of your list. However, "Serious long-term injury or illness means a loss of income and, generally, more medical costs. You don't want to burden others with that financial responsibility. You can usually buy this insurance pretty inexpensively," Jessica Garbarino encourages.

An excellent option for this is Medi-Share's Manna program. The Manna Christian Disability Sharing program brings believers together to help each other when they're unable to earn wages due to a disabling event. Whenever you have an eligible need, fellow members commit to replace up to 80% of your lost income for up to a year. Share amounts are in $14 units, each of which represents up to $2,200 of monthly financial assistance.


Give.
"Everything we have on this earth is a gift from the Lord," says Dustin Heiner. "We are called by God to give a tithe to the church as well as help other Christ-followers, widows, and orphans. As we give, we don't allow money to control us. We are also having faith that the Lord will provide for us as we do this. Our faith rests on Him to provide for our needs, just like He says He will."

It feels good to give – giving of our time and our resources. For many of us, when we hear of a need we spring into action to help in any way we can. But how can we meet the needs, financially speaking, if we have no wriggle room in our budget? Here's a great article on How to Empower Your Budget to Give Right Now.



"I have shown you in every way, by laboring like this, that you must support the weak. And remember the words of the Lord Jesus, that He said, 'It is more blessed to give than to receive.'" Acts 20:35
CONCLUSION

Today is the day to start your journey to financial freedom! We have armed you with 15 solid personal finance tips to get you heading in the right direction. Remember, you can't get to where you want to be if you don't start. Every little step matters.

P.S. – Here's one final tip: If you're looking for another great way to earn that passive income mentioned in tip #8, sign up as a referrer and tell your friends and family about Medi-Share! For everyone who uses your link and becomes a member, you earn $100!


What financial tips have worked for you? We'd love to hear in the comments!