A young woman carrying an unimaginable responsibility. A young man torn between love and honor. A jealous king who will stop at nothing to keep his crown.
Sound familiar? Of course: it's the nativity story! This Christmas, the story of Mary, Joseph, and King Herod comes to life in a whole new way: in a movie called JOURNEY TO BETHLEHEM, presented by Medi-Share.
This live-action Christmas musical adventure was created for the entire family to watch and enjoy together. Weaving classic Christmas melodies with faith, humor, and new songs, the movie is a heartwarming retelling of the greatest story ever told—the story of Mary and Joseph and the birth of Jesus.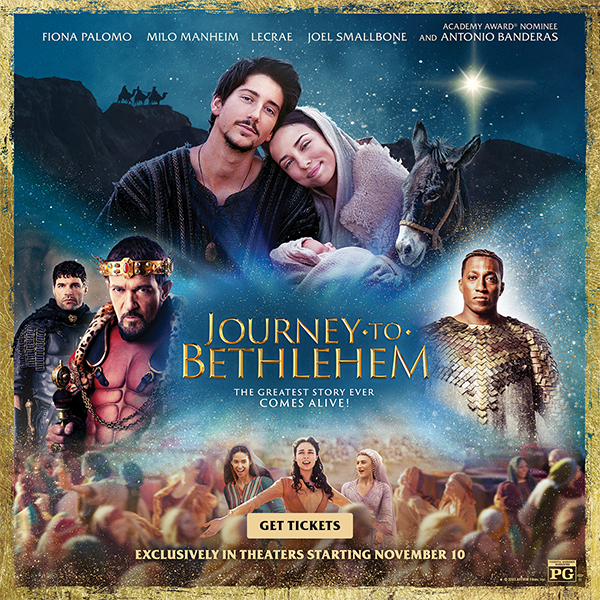 "JOURNEY TO BETHLEHEM is a joyful Christmas adventure for everyone," said Dr. Stewart McWilliams, Senior Pastor of Fellowship of the Rockies. "It's the greatest story ever told, shared in a way you will never forget!"
Dr. McWilliams is actually holding his church's Sunday morning service at their local movie theater on Thanksgiving weekend to utilize the movie as an outreach opportunity for the people of his church.
"I can't wait for my entire congregation to bring their friends and see this together," he added.
JOURNEY TO BETHLEHEM was directed and co-written by Adam Anders, whose career began as the bass guitarist for Steven Curtis Chapman. Nikki Anders, Adam's wife and music co-writer for the movie, was a founding member of the Christian band Avalon.
The film stars Fiona Palomo as Mary, Milo Manheim as Joseph, Lecrae as Gabriel, Joel Smallbone as Antipater, and Academy Award Winner Antonio Banderas as King Herod.
You can check out the movie's trailer, watch The Heart of the Movie, and visit the website to learn more. There are a number of great resources available for churches and families to maximize ministry around the movie, including discussion guides from Lifeway.
We hope you will experience this incredible movie with your family, friends, and church beginning November 10. You can find your nearest theaters here.
Get ready to put a song in your heart … and in the hearts of everyone in your church this Christmas season.