According to the store shelves full of plastic grass and chocolate bunnies, Easter season is well underway. But for the Christian, Easter is more than dying eggs and filling baskets. It's an annual reminder of the eternal hope we have because of Jesus' resurrection.
Consider the words spoken by the angel at the empty tomb in Matthew 28:6: "He is not here; for He is risen, as He said. Come, see the place where the Lord lay." Jesus was dead, and now He's alive! What a reason to celebrate!
How does your family celebrate Easter? Family traditions of church, egg hunts, and ham dinners are a great way to make memories together and appreciate the day of Easter. But sometimes in the bustle of school, work, and other commitments, Easter kind of "sneaks up" on you doesn't it? And maybe it becomes a check mark on your calendar after the day is over.
If you're like me, it takes a measure of intentionality to align your heart and home to the sacredness of why we celebrate Easter. And that might mean letting Easter celebrations spill over to more than a single day, but rather a remembrance over a span of time. Let's let Matthew 28:6 be our guide, shall we?
Week One: He is not here.
At the beginning of the chapter we're told that "Mary Magdalene and the other Mary came to look at the grave" (Matt 28:1). In the gospel of Mark, it adds that these women came to anoint Jesus' body with burial spices.
But I think their graveside intention was more emotional than practical. (Mark says they recognized they'd never be able to roll the stone away for those spices anyway!) These were grieving women, women who had just experienced great loss. I think these women came to the tomb to simply be near. Those of us who've lost loved ones may empathize; even though the person is gone, sometimes processing sorrow calls for a closeness to their earthly shell.
These words of the angel are so very tender then, aren't they? God welcomes us to draw near, wants us to come close through Jesus. But Jesus cannot be found among the dead. No. "He is not here," not in this tomb.
What a message to those who want to be near Jesus. Yes, come close — but not here, not to merely a shell. Come close to the Lord who is alive and well, ministering to our sorrows through his Spirit and interceding to the Father on our behalf.
This week, let's celebrate the reality that Jesus is not in the tomb, but instead is here with us. Praise God, we can draw near to Him anywhere!
Suggested activities:
* Personalize an egg wreath with Easter scripture verses as a subtle outward testimony of your family's reason for celebrating.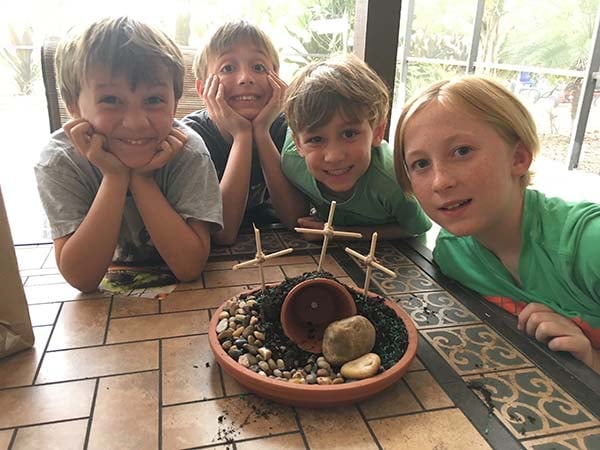 Week Two: For He is risen.
Put yourself in the shoes of the women for a second. They had recently seen Jesus brutally killed; they knew he was definitely dead. Now this warrior of lightning says that He is risen, and what is their response? "Fear and great joy" (Matt 28:8).
Fear and joy. At first, those emotions seem a bit contradictory. But when you think about it, they both make a lot of sense. After all, the implication of Jesus' resurrection was twofold: 1) He is God and 2) He is Life.
First, the fear may have related to the fact that Jesus is God. The gospels recount three times that Jesus raised dead individuals to life: The widow's son (Luke 7), Jairus' daughter (Luke 8), and Lazarus (John 11). These women would be well aware of his resurrection power, a power that could only come from God, the author and creator of life.
But like other people (Luke 7), they probably also knew of God displaying that power through prophets like Elisha in the past. This was the first time someone raised himself from the dead! And that could only mean one thing: they had been walking and talking with God in the flesh all this time. No wonder they were afraid!
The joy may have related to the understanding that Jesus is Life. When Jesus raised Lazarus to life, he was very explicit: "I am the resurrection and the life. The one who believes in me will live, even though they die" (John 11:25).
Perhaps this encounter with the angel was a lightbulb moment for the women. Sure, they would be happy to see Jesus alive again. But maybe these words, "He is risen," helped them understand Jesus' words at Lazarus' tomb more fully. Jesus, the Life, was offering them eternal life after death — and He could deliver! What joy!
This week, let's celebrate the risen Jesus, our powerful God and our assurance of eternal life.
Suggested activities:
* Write an Easter prayer as a family. Have each member write or say what Jesus' resurrection means to them personally, then thank God for those realities together.
Week Three: As He said.
This angel statement makes me smile. It has a note of He-told-you-so, in the very gentlest of ways.
Jesus predicted his death and resurrection many times throughout his ministry, but it wasn't until he rose again that the disciples put the pieces together.
"So the Jews answered and said to him, 'What sign do you show to us, since you do these things?' Jesus answered and said to them, 'Destroy this temple, and in three days I will raise it up.' Then the Jews said, 'It has taken forty-six years to build this temple, and will you raise it up in three days?' But he was speaking of the temple of his body. When therefore he was raised from the dead, his disciples remembered that he said this; and they believed the Scripture, and the word which Jesus had spoken" (John 2:18-22).
I like the fact that the angel includes this phrase, "as He said," to the women at the tomb. It is a reminder to all of us that when God says something, it's as good as done. Psalm 33:4 says, "The word of the Lord holds true, and we can trust everything he does" (NLT).
This week, let's celebrate that God does what he says He will do.
Suggested activities:
* Gather smooth stones and write down some of your favorite Biblical promises on them. Put the stones in a bowl for regular viewing — a reminder that His Word is as solid as a rock!
* Who doesn't love a good scavenger hunt? This
pre-made guide
gets participants hunting through the Word for clues, then through the house for items.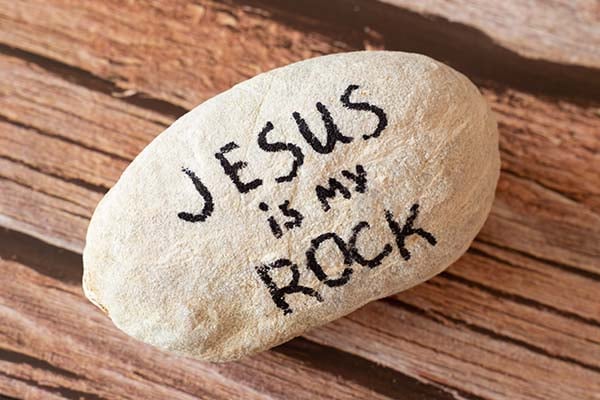 Week Four: Come, see … the Lord.
The angel invited the women to look in and see that Jesus was really gone. The absence of his body was intended to prove his resurrection.
But John 20 tells us more. Later, Mary Magdalene came back to the tomb, weeping. See, she started to put together that a disappearance is not the same as an appearance. Jesus' missing body might simply be … missing. Moved somewhere else.
In her distress, a supposed gardener approaches. I love the way Sally Lloyd-Jones captures this scene in The Jesus Storybook Bible:
'I don't know where Jesus is!' Mary said urgently. 'I can't find him.'
But it was all right. Jesus knew where she was. And he had found her.
'Mary!'
Only one person said her name like that. She could hear her heart thumping. She turned around. She could just make out a figure. She shaded her eyes to see … and thought she was dreaming.
But she wasn't dreaming. She was seeing.
'Jesus!'
Jesus' resurrection was a reality, both in the absence and the appearance. To Mary, Jesus' death felt like the end and his disappearance felt like an insult. But it was just God doing redemption work — the whole time. His power was on display, whether Mary could see Him or not.
This week, let's celebrate that God is always working, in seen and unseen ways.
Suggested activities:
* Have a Christian family movie night. This list has some ideas to get you started or try Veggie Tales: An Easter Carol for younger kids.
* If you haven't already dyed eggs, now's the time! Write verses or Easter symbols in white crayon on hard-boiled egg shells, then watch them "show up" in the dye.
May you and your family be blessed this Easter, and may you find many ways to celebrate the sacred joy of the season.