Eating food is the one thing we do every day that has the ability to drastically improve our health. While it's never too late to start eating healthy, the sooner we start, the more benefits we can reap.
Giving your children a love for healthy food is a gift with countless advantages. Teaching your kids to eat the right foods early will set them up for success later in life when they have the freedom to make their own food choices.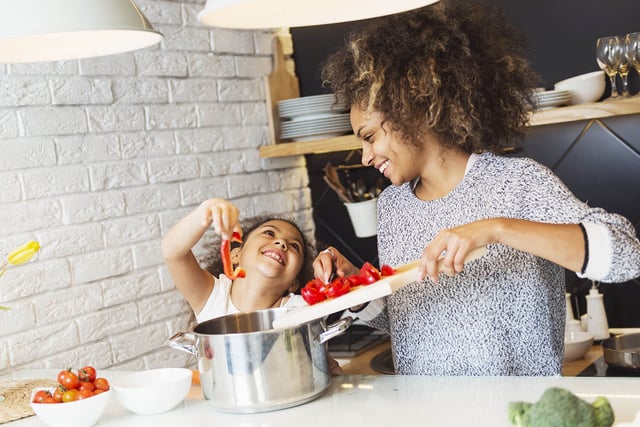 Involving kids in the entire process of getting meals on the table is an ideal way to lead them to healthy food choices. As you know, there are many steps leading up to a meal, from planning and grocery shopping to cooking and serving. Here are some ways you can include your children along the way:
MEAL PLANNING

Give your children choices or let them choose some of the meals for the week. Depending on their age, you may want to limit their options to two or three recipes per meal. This allows you to control what will be prepared but gives them the freedom to choose something they like too.


GROCERY SHOPPING

Children can be excellent helpers at the grocery store! While we may think of it as a mundane task, it can be an adventure for young minds, especially in the produce section. Consider having kids choose a new fruit, vegetable, legume, or whole grain each time you visit the store. Or make the list like a scavenger hunt letting kids search for items, or grocery cart bingo, letting kids choose a healthy prize. No matter how you choose to shop, aim to keep it a calm and enjoyable experience for you kids.


MEAL PREPARATION

Ask children to complete age appropriate tasks to help with the preparation of meals. If preparation of the food isn't possible, ask kids to set the table instead. Make food safety part of meal preparation as well, washing hands regularly and keeping raw meats away from ready to eat foods.


FAMILY MEAL TIME

Family meals are a time when adults and children can talk. Aim to provide a calm, pleasant atmosphere where children feel encouraged to try new foods and share their thoughts. Family meals improve nutrition, promote family unity, and enhance success at school.


KITCHEN CLEAN UP

Clearing the table and washing dishes goes much faster and is a lot more fun when everyone helps. Again, ask kids to help with age appropriate tasks to make kitchen clean up go quickly and keep them involved in the whole process.



MORE WAYS TO INVOLVE KIDS IN NUTRITION
LET YOUR GARDEN GROW



"The Lord God took the man and placed him in the Garden of Eden to work it and watch over it." – Genesis 2:15

These days it doesn't matter if you live in the countryside or a metroplex, gardening is possible. It may not seem as intuitive to have a garden in an urban setting as it is to have one in a rural area, but it has become more and more common to see gardens in cities in recent years. Vertical or potted gardens in small yards or on porches can produce a plethora of foods. Plus, study after study shows that if kids grow the fruits, vegetables, herbs, or legumes themselves, they are much more likely to eat them. What better way to get kids to eat their greens! For more on the impact urban gardens can have on kids, read Healthy Eaters, Strong Minds.


If taking care of your own plants isn't an option, try going to farms that allow you to pick your own fruits or vegetables. The key here is to get your kids involved. Teaching kids where our food comes from and how it grows into an edible product will increase their interest in trying fresh produce.




RECIPE RESEARCH

Now that your child has picked a new food at the grocery store, from your garden, or a farm, find some healthy recipes and let them choose one to prepare the new food. Again, this encourages ownership over the food being prepared. This is one more investment they are making into the food. Of course another investment is having them help you prepare the recipe as well. If you're a Medi-Share member, check out our healthy recipes available in the Wellness Library. There are also a number of recipes to choose from on our Healthy Kids Board on our Pinterest page!
Conclusion
Allowing your kids to be involved in the entire process of a meal will create interest in the meal. By this point they have learned and likely saw with their own eyes how the produce grew. They handpicked it. They saw and felt it in its natural state. Then they chose a recipe that sounded good to them. Finally, they helped to cook the food. Imagine how eager they will be to try it!
Kids and adults alike tend to appreciate things they have spent time preparing. Involvement in food prep works great with kids, but will likely work for you too. Make food preparation a family event and watch both the health and relationships in your family prosper.