There are plenty of reasons to jump on the "Do It Yourself" (DIY) bandwagon this year. After spending a long time at home during the pandemic, you may be ready to update a bathroom vanity, add a backsplash in your kitchen, or put in a paver patio.
If you planned to buy a new house and competition is too fierce, finishing your basement or creating a functional home office space might become a non-negotiable home renovation.
Rocket Mortgage® analyzed 2020 Google Trends data to determine the types of renovation and remodeling projects Americans were most interested in. Kitchens, basements, bathrooms, and home office renovations topped the searches. While the trend to take on these projects is expected to continue through 2021, improving outdoor spaces is also a top priority for some homeowners.
No matter the renovation you're interested in completing, you might be thinking of doing the work yourself. DIY can save you money, and it's a smart move for some improvement projects. But other renovations are better left to someone with lots of experience in home remodeling or a licensed professional.
Let's look at home projects you may want to DIY and some terrific resources to help you get projects finished while staying on budget. We'll also discuss the types of projects you should hire out, why tackling them yourself could be a big mistake, and how to get a contractor to return your calls and agree to take on the job.
Home Improvements (or Repairs) You Might DIY
If you're ready to take on some renovations this year, there are many tasks even beginners (or "not very handy people") can safely do.
While there's a reason professional painters are expensive and hard to find, refreshing a room with a coat of paint is a great way to start transforming a space. Just make sure you have all the materials you need before you start. You may need more than one coat if you use cheap paint or do not prime the area before starting. (Consider the time it will take to put on multiple coats before you try to save a few bucks on a gallon or two of paint!)
A significant kitchen or bathroom renovation is a tremendous job and not something for a novice. But changing out cabinet knobs and pulls, adding a peel and stick backsplash, or replacing curtain rods are all very do-able jobs.
If you'd consider your electrical and plumbing skills to be at least "advanced beginner," - installing a new faucet or hanging or changing a ceiling fan might be fine DIY projects for you. But if you have any concerns about safety or your abilities, defer to someone who has more experience in those areas.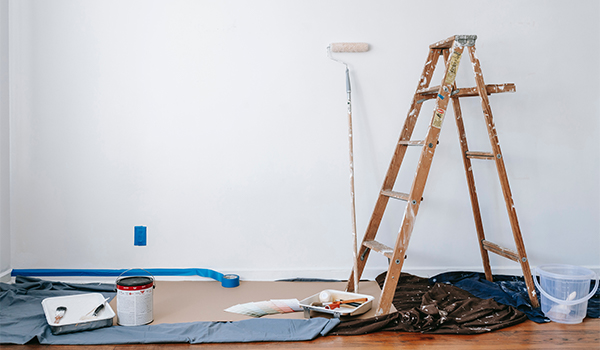 Adding shelving or organizers to your closets or cabinets is a terrific way to tidy up a space and make it more functional for everyday use. And installing a DIY home security system is another home improvement option for people with some technical skills.
If you're focused on home improvement projects outside of your home, you can consider planting some new shrubs or trees on your own. Make sure you ask the advice of staff at your local nursery or garden center before you buy plantings that won't grow well (or may grow too well!) in your yard.
As long as you take safety precautions, pressure washing vinyl siding can make a big difference in the curb appeal of your home. You might add your deck to the list of things to clean before you put a coat of stain or sealer on it this summer too.
There are dozens of other DIY tasks you can likely do! Remember that some projects require permits, and homeowner's associations (HOA's) may have specific rules and regulations you need to follow, such as paint colors, fencing, roofing materials, and landscaping.
Popular "How To" DIY Resources (Beyond YouTube!)
While you can find helpful videos of almost anything on YouTube, there are other sites with great videos and different ways to learn about the details of DIY projects. In addition to watching a project visually unfold, some people prefer articles with written instructions and lists of materials. Attending a class or workshop in person is another wonderful way to learn the project's specifics before starting it yourself.
DIY Network
If you haven't checked out the DIY Network, it's a great place to start. In addition to watching their latest shows, their "How-To Library" has sections including Make & Decorate, Rooms & Spaces, Outdoors, Maintenance & Repairs, and Skills & Know-How.
Depending on the project you choose, you'll see pictures, a list of tools and materials needed, step-by-step instructions, expected costs, and skill level required to complete the job. This can help you decide if you're prepared to DIY or should hire it out.
The DIY Network also has plenty of videos on their website to help you too - including a section on easy weekend projects and kid-friendly DIYs.
This Old House
There's a chance the show This Old House is older than you! It premiered in 1979 and now serves over 20 million consumers each month on various platforms. But don't worry! You don't have to own a century-old Victorian mansion or Craftsman bungalow to learn many helpful tips from this highly trusted source.
If you hover over the Home Improvement A - Z tab on their site, you'll notice a comprehensive list of projects you might be interested in. When you click on one, you'll be taken to a page giving you an overview of the topic, ideas, inspiration, planning, how-to & DIY, and installation. You'll also find a series of videos on the project.
In addition, you can sign up for their newsletter, download their app to catch This Old House shows, or listen to their most recent podcasts.
Lowe's & Home Depot's DIY Workshops
While the pandemic has moved some of these workshops online, Lowe's and Home Depot usually offer a monthly in-person class on various home improvement projects. (And they have kids' DIY workshops too!)
You can learn the basics of how to patch drywall, install laminate flooring, replace a lockset, and more. The 1-2 hour tutorials also allow you to see various aspects of a project and ask questions of a pro.
If you can't do the workshop, you can access a variety of videos and project guides on the stores' websites. And both stores also have extensive DIY projects and ideas pages to give you even more to think about!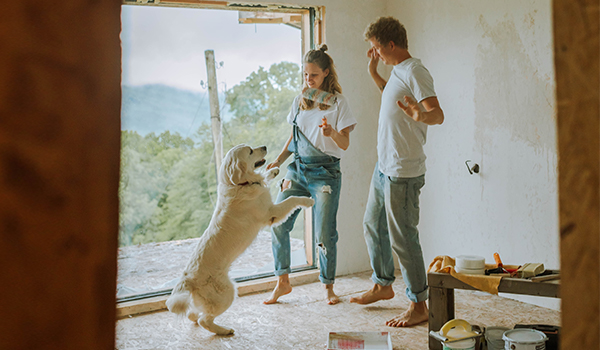 Some of the Best YouTube Channels for DIY Home Improvement
If YouTube is still your "go-to" website, here are a few of the top channels to consider when searching for helpful advice. (The DIY Network and This Old House have channels on YouTube too!)
When to Skip DIYing and Hire a Pro
You may know that you need to hire out an improvement project you want done at your home. Most people call in experts when they need a new roof, want to remove walls, replace a bathtub or an electrical panel.
When you plan to remodel, you should think twice (even if you have some experience) when it comes to dealing with plumbing, electricity, ladders, scaffolding, and some power tools.
There may be several reasons to turn the job over to someone else, even if you think you can handle it. Refinishing your hardwood floors or laying new laminate flooring, hanging new kitchen cabinets, or building an outdoor kitchen may be more involved jobs than they seem.
Here are six key things to consider when you ask yourself if you should skip the DIY route and hire a project out:
You don't have the time or patience

. You might want to save some money or give DIYing a try. But you may not have the time (or energy) to complete a more involved task. You may be remarkably busy with work, family life, and trying to keep up with day-to-day maintenance at your home. Adding one more thing to your "plate" may not be worth it. And rushing to get the job done could negate all the effort you're putting in on the job.

You don't have the knowledge or skills needed for the project

. While you can learn almost anything (given time and resources!), you'll need even more time to take on the project if you don't already know what you're doing or how to do it. Learning "on the job" can not only be frustrating, but it can cost you more in the end with wasted materials or alterations to your original plans.

The project will significantly inconvenience your household.

It's not that difficult to work around a project for a couple of days (or even weeks) if you need the time to complete a renovation you really want. But DIYing during the evening and on weekends can majorly extend some jobs, making it difficult for everyone in your household. Building raised beds for gardening over a few weeks is probably alright, but washing dishes in the bathroom sink for weeks won't excite anyone.

You don't have the necessary tools

. Plenty of novice DIYers get into projects and realize they haven't budgeted for the cost of buying or renting tools to complete the task. (Cutting corners and purchasing cheap tools is like buying cheap materials - it doesn't usually work out well!) You can try borrowing tools, but contractors generally have quality tools they use to do their job.

It's not safe

. Simply put - some projects just aren't safe to complete if you don't have the training, equipment, knowledge, or skills to do them. While you can DIY pressure washing your house or deck, a

pressure washer

can cause severe injuries to the operator or anyone in range of the equipment. You should second guess anything involving a ladder climb too.

According to the

International Association of Certified Home Inspectors

, ladder-related accidents kill around 300 people each year and send over 160,000 people to the emergency room in the U.S. Most of the deaths come from falls of 10 ft. or less.

It's not legal or allowed

. In some states, you must have licensed contractors complete certain projects - especially those that require a permit. A "handyman" is limited in their scope of legal repairs or renovations. Also, if your home has an HOA, they generally have more rules and regulations on what is allowed.
If you're still unsure if DIY is right for you, you can watch what others have been through during their remodeling projects. When you see the predicaments some people have faced on Disaster DIY and Rescue My Renovation (both from the DIY Network), you may quickly decide to pass on DIYing your home improvement plans!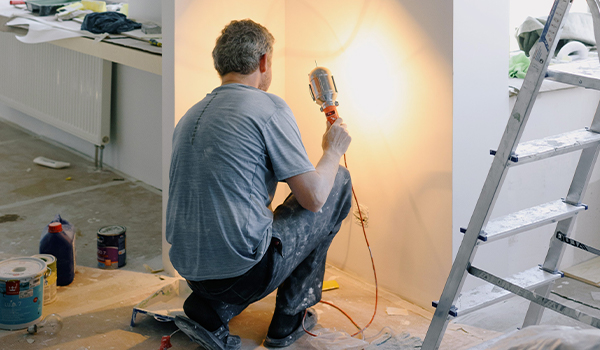 Tips to Help Find an Experienced Contractor
It can be challenging to find a contractor or skilled person (or team) to complete renovations in many parts of the country. Here are some tips to help you save time searching for someone to agree to your home improvement project.
Ask for referrals

. Talk to family members, friends, neighbors, and co-workers for the names and contact information of any contractors they trust and have used in the past.

Search online

. Search the name of your city/town and "contractors," and you'll get a list of local remodeling or construction businesses. Read recent reviews (both positive and negative) from past customers to help narrow your search. You can also try websites such as

HomeAdvisor

or

Angi (formerly Angie's List)

. Advertising practices may influence which businesses you see first on these sites, so make sure you do a thorough search.

Ask questions and get estimates

. Secure at least two (preferably three) estimates for the job. Your initial discussions with the contractor are likely a preview of how your project will turn out. Do they promptly respond to your initial contact? Are they good listeners? Do they share challenges they recognize with the job? Do they hire work to subcontractors? Make sure that you respect their time but be sure you get your questions answered too.

Check references

. It may seem like an extra time-consuming step, but it really is a great idea to contact at least a few references for the contractor you're preparing to hire. Ask questions about timeliness, communication, and professionalism - in addition to how close their project came to the allotted budget.

Don't default to accepting the lowest bid

. The old saying, "You get what you pay for," is worth remembering when it comes to home improvement projects. While that doesn't mean you won't end up with a good product, in the end, you may have more delays and issues with your budget if someone has cut corners trying to land the job.



Final Thoughts on DIY Home Improvements
When you're ready to start on home renovations, it's easy to think about taking on some of the projects yourself. You can take pride in knowing you're responsible for all the fabulous changes you make and you'll probably save money by doing the labor yourself. As a homeowner, you know there are always minor fixes around your house that can make a significant impact!
But DIY shouldn't be the default for all home improvement projects. You need to have the time, knowledge, skills, and patience to complete more involved tasks safely. You won't save money on a DIY project gone wrong! Worse yet, you could end up with an issue such as code violations or even a severe injury.
You may need to be patient to find a contractor to agree to larger or more complex jobs. Still, it'll be worth it in the end when your improvement is complete and you can enjoy all the changes you planned for your home!