When Medi-Share Members speak, we listen! There are many reasons people are drawn to Medi-Share, such as the comfort of sharing in only those needs that align with our Christian values, the cost savings, and the emphasis on prayer for one-another.
In addition to all of these things, one of the most unique and wonderful things about Medi-Share is that our guidelines are member-voted. Medi-Share Members actually have the opportunity to help create, amend, and influence our programs!
Doesn't that just make you want to high-five somebody?!
Well, in 2003 (among other years), our Members did just that. Our Members:
Witnessed the steady rise in obesity in America year after year

Understood that many chronic diseases, such as Type 2 Diabetes, heart disease, and stroke are often obesity-related and preventable

Knew that these three major conditions alone cost Americans billions of dollars in medical care each year

Recognized and valued the relationship between personal health responsibility and health care cost savings

Agreed that the healthier our community is as a whole, the better stewards we can be with our sharing dollars here at Medi-Share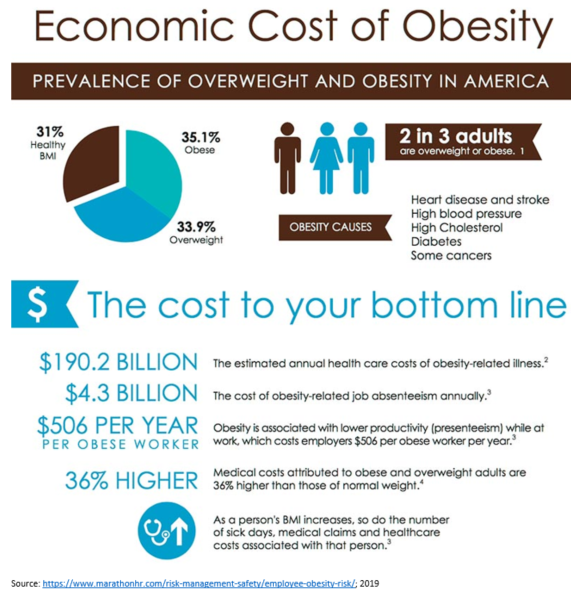 The Intervention
So what did we decide to do to intervene in this spiraling health crisis?
In 2003, Medi-Share Members voted to establish the novel Health Partnership Program in order to provide coaching support through our certified health coaches.
The Health Partnership Program is here to help our members avoid developing preventable chronic diseases and manage any current health conditions in which there is strong scientific evidence showing therapeutic lifestyle changes to be effective.

Through the Health Partnership Program, we have been able to help our Members take on the personal responsibility of their own health by equipping them with the proper tools, education, and one-on-one health coaching they need to succeed! To date, we have over 35,000 Health Partners working toward their health goals every day.
What is Included?
Once a Member is enrolled, they can meet with a health coach, share their personal story, and have access to our Registered Dietitian Nutritionist, which allows us to tailor the program with these valuable resources:

The Health Partnership Program has three excellent Biblically-based methods of engagement: Health Coaching, Online Health Portal, and Integrative Wearable Fitness Watches.
Since March 2020 I have lost 34 lbs. People ask me about my weight loss and I tell them all about Medi-Share: the YOO watch, the step challenges, and the coaching. - Pastor Chris
What is Health Coaching?
One-on-one health coaching has been proven to help people succeed in making significant behavioral changes and major health improvements; namely improved cholesterol, HbA1c, blood pressure, and weight management.
Our health coaches are specially trained through WellCoaches® of America, with a Biblically-based perspective, educated in lifestyle medicine therapy, and personal training certified. They meet with our Members telephonically as often as a Member would like, but on average 1-2 times per month. Goals are set, barriers are worked through, and prayer is always offered.
Meet your Medi-Share health coaches!
Online Health Portal
The second tool available exclusively to our Health Partners is our Online Health Portal. This resource provides comprehensive lessons on:
Creating a Wellness Vision

Setting SMART goals

Nutrition

Exercise

Spiritual growth

Sleep

Creating life balance
In addition, you will find valuable resources in our Health Portal like exercise plans, menu plans, stress management tools, and even financial health and sleep strategies.
Our Health Portal also houses the Dietitian Corner where our Registered Dietitian provides up-to-date nutrition resources, timely health news, and evidence-based lifestyle medicine guidance.
There is also the ever-popular seasonal section that provides new healthy recipes, fitness ideas, and spiritual growth activities unique to the current season.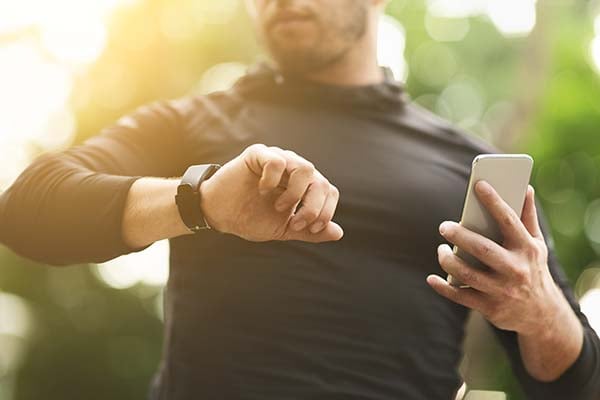 Integrative Wearable Fitness Watches
In 2020, the Health Partnership Program created a MOVE program in which it begin including free fitness watches for its Health Partner Members. These watches are able to track steps, distance traveled, calories burned, active minutes, sleep habits, and percentage of goals achieved each day.
This was a huge enhancement, and brought great improvements in the level of engagement as well as a gamification component! Fitness challenges are now offered each month through the online portal as a fun way to participate with fellow Members and encourage one another to move more.
We are walking this fitness journey together!
Seeing Success
How's it going? Members graduate from the Health Partnership Program healthier than they have been in a long time!
Many of our Members have a completely new understanding and view of their personal health after participating in our Health Partnership Program. Furthermore, the entire Medi-Share community benefits when our membership is healthier and preventable medical expenses are avoided.
Let's hear directly from a few of our recent graduates: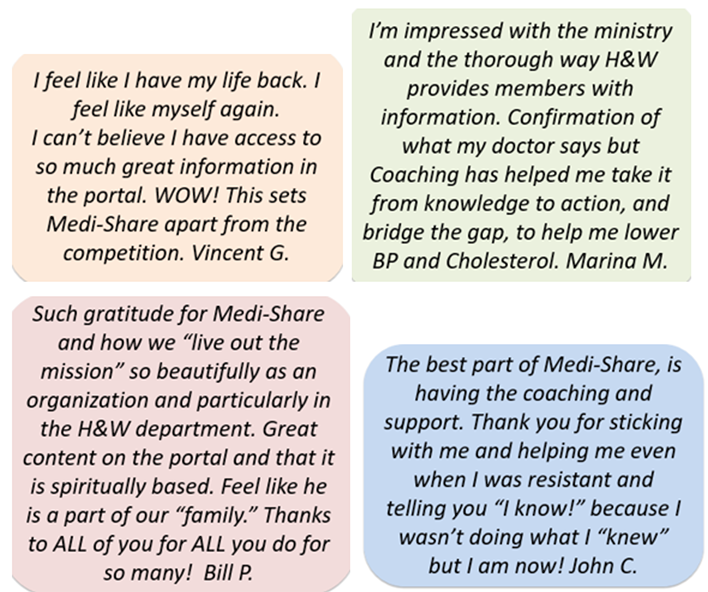 We want everyone to be healthy and have all the energy they need to do the Kingdom work God has called them to. This is why our Health Partnership Program was established nearly 20 years ago—bodily stewardship is an important value to Medi-Share Members, and the Health Partnership Program is here in support of all Members!
To learn more about our wellness philosophy, visit the Wellness Library link from your Member Center home page.