By Sheila Francisco and Laura Bollinger
"I was visiting my parents for Easter in Florida. We were living in Georgia attending seminary. It was such a beautiful week and I was so looking forward to my mom and dad seeing the girls. We saw them at Christmas, so Kelli (age 2) was excited to see Grandma and Papa and they would get to meet Kristi (she was almost 3 months old) for the first time.
We got there on Saturday and went to the Palm Sunday service with the kids. I love that service… shouting Hosanna in the highest!
Monday came and we went out with some old friends for dinner. My parents were excited to take care of the two girls for the evening. I gave them their baths, left with Kristi almost asleep in Grandma's lap, and Kelli happily playing hide and seek with Grandpa.
We got home around 10 p.m. Both girls were sound asleep. Kelli in the spare bedroom and Kristi next to my room in her portable crib. I quietly snuck in to make sure that I moved her pacifier out of the way so it wouldn't wake her up.
She was sleeping so sweetly. I remember thinking, "I hope she sleeps a little longer tonight" as she was still waking up most nights around 5 a.m. My husband and I were taking turns getting up for the night feeding and it was his night!
I laid down and was asleep before my head hit the pillow. I woke up startled as the sun was just starting to glimmer in the window. It was about 6 a.m. and I asked my husband if he got up with Kristi. He jokingly said "yes" but then quickly said, "No, she slept in on my night."
I asked him to go check on her and he turned over and said, "I can't." This scared me. (He later told me he had a terrible feeling). I think I took three giant steps and was at her door. I opened the door quietly because I did not want to startle her.
She was still.
I walked to the crib and touched her cheek, it was cold. I picked her up, her head fell back, and I screamed.
She was dead.
It all seems like a blur to me now. My husband met me in the hallway, took her, and ran to the phone to dial 911. I could not tell you if I stopped screaming, but I ran to my parents' room shouting, "Kristi is dead!"
I remember the song my dad had playing in the background: Holy Ground. I felt God Himself was whispering it to me softly.
I turned and ran back to the kitchen where Kristi was lying on the floor with my husband on the phone and administering CPR. I knelt beside her, rubbed her legs and arms, and kept telling her to hang on and that I loved her.
The doxology was whirling through my mind: "Praise God from whom all blessings flow…" I literally said, "Really God, this is NOT a blessing."
After what seemed like forever, I finally heard sirens, and I was "relieved" because I thought, now the doctors are here and they can do whatever they need to do to revive her. They ran in the door, scooped her up and ran out. We had to yell after them to ask what hospital they were taking her to.

I do not know how I got dressed, how I got in the car, or how or who took us to the hospital. I do remember walking into the emergency room and every nurse's head dropping. One came up and escorted us into a private room. The doctor was there in seconds and through tears of his own said, "I am sorry, she is gone and the nurse will come in soon."
Really? The nurse will come in… what??? Where is my precious baby? What was happening? The nurse came in and asked us what funeral home we would like to use. She was very calm and matter of fact. I thought, how would I know? I am here visiting my parents; how can this even be a question you are asking me about my precious baby?
She stated an autopsy would be performed but they were certain this was a S.I.D.S death. Crying, trembling, trying to gasp for my next breath, we quietly left the hospital.
I had heard of the word but had no idea what it all meant. This began our journey through grief and the facts and myths around Sudden Infant Death Syndrome. God truly placed so many wonderful people in my path to help me grieve and ask difficult questions, and eventually help others through this horrific experience.
We were blessed to start a group through Compassionate Friends for parents who had lost infants. I cried, laughed, and grew with some of the most amazing people you would ever want to know. My best friend to this day, I met in that group. We share a deep and unwanted bond with the death of a child.
God was so present in every moment but, honestly, it was not until months later that I realized all of the ways He was with me.
Kristi died Tuesday of Holy week, we buried her on Good Friday, and did our very best to celebrate her sitting with Jesus on Easter Sunday. While I would never pretend to compare the death of Kristi to the death of our almighty Savior, Jesus, I can tell you that it gave me a perspective that I do not think I could have gotten any other way.
There are no platitudes or special words that can take away the pain of burying your child, but knowing that our GOD knows EXACTLY what that feels like is powerful." – Sheila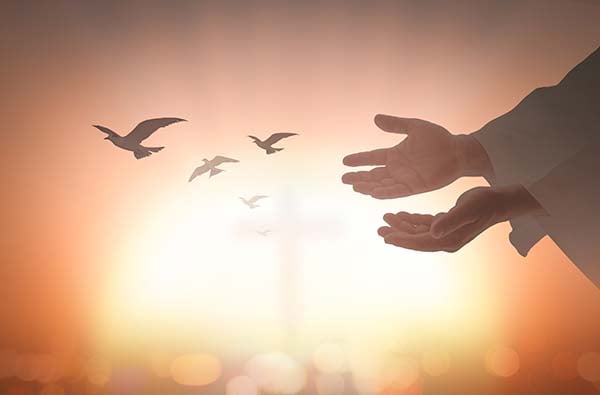 We all pray it doesn't happen to us, but for those families affected it is forever life-changing. Losing a child is devastating no matter the age or the cause.
October is a time to raise awareness of Sudden Infant Death Syndrome (SIDS). This awareness is intended to promote safe sleeping habits for babies to hopefully prevent families from suffering a loss.
Creating a safe sleep environment for infants is key to preventing SIDS since occurrences are often in the sleep area or while an infant is asleep.
According to the definition developed in the late 1960s, the cause of SIDS remains unexplained even after thorough investigation. While the cause may be unknown, research has provided parents and caregivers with steps to reduce the risk of SIDS.
Even before a baby is born there are things parents can do to reduce the risk of sleep-related deaths, including getting regular prenatal care and avoiding smoking, drinking alcohol, and using marijuana or illegal drugs.
After baby is born parents and caregivers are encouraged to continue taking steps to prevent SIDS. The American Academy of Pediatrics provides the following recommendations to reduce the risk of all sleep-related infant deaths:
Place your baby on his or her back for all sleep times―naps and at night.
Use a firm, flat sleep surface, such as a mattress in a safety approved crib, covered only by a fitted sheet.
Keep your baby's sleep area in the same room where you sleep until your baby is at least 6 months old or, ideally, until your baby is one year old.
Keep soft bedding such as blankets, pillows, bumper pads, and soft toys out of your baby's sleep area. Additionally, do not cover your baby's head or allow your baby to get too hot.
In addition to these recommendations, the National Institute of Child Health and Human Development (NICHD) encourages caregivers not to smoke around babies or in their sleep environment.
During babies' awake hours, encourage tummy time when someone is watching. This time helps babies develop and strengthen the muscles that allow them to raise their head and roll over.
It is primarily important for parents to understand how to create a safe sleep environment for their infant, but it is also important to educate grandparents and other trusted caregivers such as babysitters. Consider placing the following image near a baby's sleep area to educate and remind caregivers.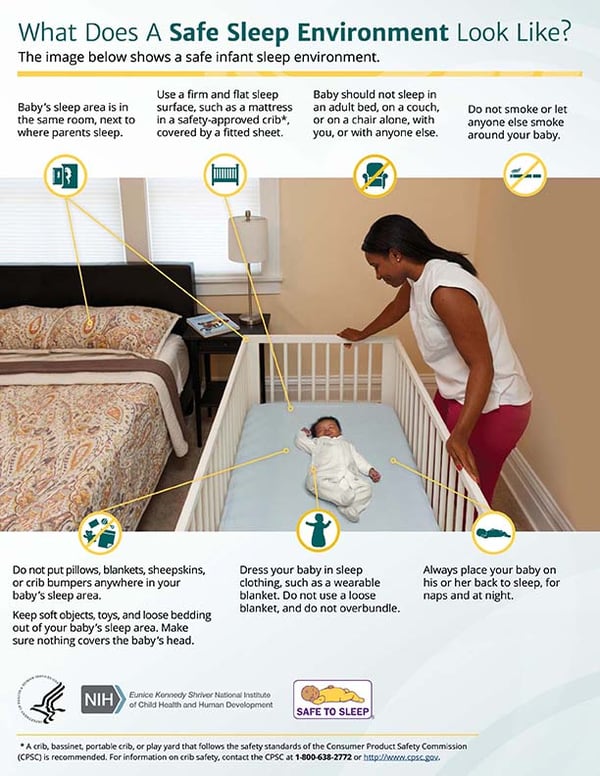 Though the SIDS rate dropped more than 50% between 1994 and 2016, approximately 3,500 sleep-related deaths still occur each year among US babies.
Those who have experienced this tragic loss will need support, though family and friends may not know what to say or do. The following organizations offer resources and support:
Thinking about the possibility of SIDS may be scary but be encouraged knowing we can take precautions to prevent occurrences.
"Cast all your anxiety on Him because he cares for you." 1 Peter 5:7