My Aunt Jamie is my spiritual mentor. Just ten years older than me, we have always shared a special bond. I have childhood memories of her long red hair, her love of the Carpenters and The Monkees, and she was always happy.
She found the Lord early in her adult life, married my Uncle Peter, and raised two special kids who gave her grandchildren. She has been a lifelong attendee of Bible Study Fellowship, and her heart is for children. There was never a time I can recall that she wasn't serving in some sort of children's ministry.
Following a particularly difficult season in my twenties, when I was clearly lost and searching, my aunt, in her infinite wisdom (and led by the Holy Spirit), sent me a Bible for my birthday. It was an NIV study Bible—totally readable and relatable. For the first time in my life, I was reading the Bible and grasping deeper meaning (highly recommend a study Bible)!
This "collection of stories" as I used to refer to it often, took on a whole new life as I delved in. This softening of my heart ultimately led to my salvation, which is a whole other story, but back to my sweet Aunt Jamie.
Just a few weeks ago, we lost Uncle Peter following a long battle with lymphoma and then leukemia. For the last five months, we prayed for healing. We believed in a miracle. We cried out to God to save him. My aunt prayed with doctors and sang praise and worship songs. She was comforted regularly by what we call "God signs" throughout the journey. She kept smiling.
And yet he died.
Together for more than 50 years, his loss weighs heavy but still, she praises the Lord. She trusts the Lord. She worships the Lord. The peace that she has is palpable. She is the personification of "joy in the Lord." There are tears, but the scales tip in favor of smiles and laughter.
"Be joyful in hope, patient in affliction, faithful in prayer." Romans 12:12
You see, after years of study, she knows the Word of God. It is embedded in her heart; part of her DNA and she relies on it. She accepts God's plan and his timing. She knows her husband is with Jesus. And she believes God's promises.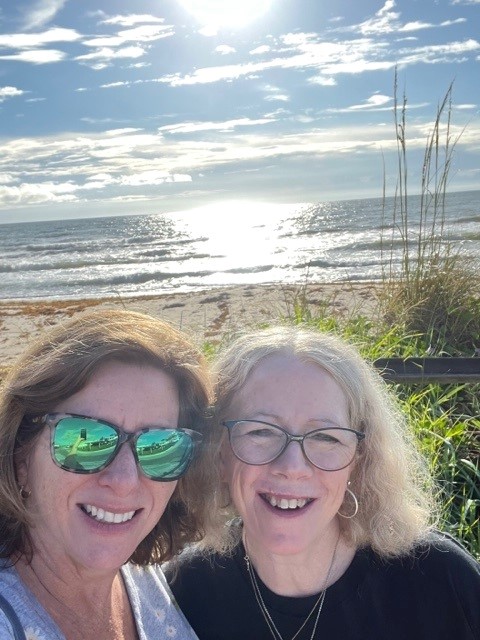 She came to Florida for a visit last week, seeking solace and time with her sisters and nieces. We watched the sunrise over the ocean as we always do when she's in town. As we were standing there, reflecting on God's glory and majesty, we had peace. And comfort. And joy.
She is sad, but not consumed. She believes that great is His faithfulness. Her hope is in Him alone. She knows His mercies are new every morning and his compassion never fails (Lamentations 3:22-33).
So just as she has for the entirety of my life, she continues to mentor me even during this hard season and undoubtedly, I will rely on her wisdom and her example when I walk through my own valley.
As I reflect on this time and my precious aunt, I have two thoughts.
First, it is so important for seasoned Christians to come alongside the newbies. Is there someone God has put on your heart to mentor and are you answering that call? With love and without judgement? Have a spare Bible lying around that you could gift to someone struggling? Better yet, buy them one with their name on it and they will likely not get rid of it. There are a lot of resources available to those seeking or new in the faith, but an approachable person at their disposal to ask those questions and pray for them is invaluable.
Secondly, grieving is unique to each person, but faith softens the blow. The way my aunt has managed this difficult time is a beautiful reflection of her lifelong faith and the hope that only belief in Jesus brings. The reality is that death is inevitable. We will lose loved ones, and one day, we will meet our Lord in heaven. The lens through which you view it changes everything.
Do you have the peace that surpasses all understanding—even as you go through trials? Are the promises of God embedded in your heart for easy access during times of trouble? Do you know beyond a shadow of a doubt where you will be when you die?
If not, now is the time. Take it from me, the six-year-old girl hanging out with her cool 16-year-old aunt reading Tiger Beat magazine. I didn't know then what life held for me, but my aunt loved me so much that she wanted to make sure that I knew Jesus—for times just like this.
Her constant presence in my life, during good times and bad, has been a priceless gift and has contributed to who I am in my faith today. The scriptures that she has studied for all these years buoyed her up during her most difficult days. The word that she planted in her heart drowned out the worry and brought her peace.
Before you find yourself in the trenches either dealing with the loss of a loved one or walking through it with a friend or family member, take stock. Are you well-equipped? Do you have the tools to navigate the next crisis, battle, or loss?
That Bible she gave me in 1991? Still my old reliable. It's been re-bound and is filled with margin notes and wrinkled, yellowing pages, but I wouldn't trade it for anything. It was literally life-changing. Aunt Jamie knew that all of the answers were in that one book and she shared it with me. She didn't beat me over the head with it, just inscribed it with a loving note and let God do the rest.
"I pray this Book will help answer the questions you are asking and you will find the peace it offers. We love you!" (10/27/91)
We have the answer. We have the peace. Let God speak through you to someone in this lost and fallen world. Not with the words of condemnation or judgment, but with love and compassion.
Because of the Lord's great love we are not consumed,
for his compassions never fail. They are new every morning;
great is your faithfulness.
I say to myself, "The Lord is my portion;
therefore I will wait for him."
The Lord is good to those whose hope is in him,
to the one who seeks him;
it is good to wait quietly
for the salvation of the Lord.
It is good for a man to bear the yoke
while he is young.
Let him sit alone in silence,
for the Lord has laid it on him.
Let him bury his face in the dust—
there may yet be hope.
Let him offer his cheek to one who would strike him,
and let him be filled with disgrace.
For no one is cast off
by the Lord forever.
Though he brings grief, he will show compassion,
so great is his unfailing love.
For he does not willingly bring affliction
or grief to anyone.
Lamentations 3:22-33