Have you ever looked up and wondered what just zapped the last hour from you? Time Management is the ability to use one's time effectively or productively. This may sound achievable only by an elite group of experts, but adopting simple things can go a long way in helping you manage your time!
There is good news: managing your time wisely can have a positive impact on your health – physically, mentally, and spiritually. Practicing time management techniques decreases stress and anxiety, improves relationships, and even helps improve sleep patterns.
Creating habits around the structure of your day and sticking to your plan reduces stress and increases energy, productivity, and an overall feeling of achievement. Take a look at your day in general – are there areas where you have structure and times that leave you frazzled or overwhelmed? What do you think needs to change? Creating a daily plan could help alleviate some of the stress in your life.
Our Foundation
Beginning each day by spending time with God is a great foundation. Using your time wisely is also showing good stewardship of the gifts God has given you. By starting your day with the Lord, you can pray, including Him in your goals and tasks, which sets a positive tone for the rest of the day. How is your prayer and devotional time? Matthew 6:33 tells us, "But seek first his kingdom and his righteousness, and all these things will be given to you as well."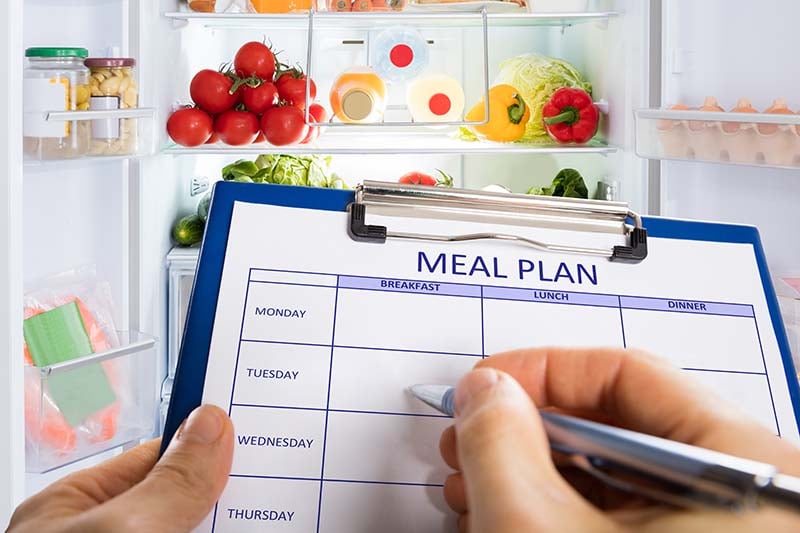 Jump In
When you intentionally block off time, you are more likely to follow through and stick with it. Having a calendar is the most fundamental step in managing your daily activities. Think of your priorities and values – what is most important to you? Pull out your phone, tablet, or paper calendar and let's get to work. Make sure to block off time for important tasks; this could be day-to-day activities or reminders to take care of yourself like exercising. Schedule these in just as you would for a Doctor's appointment.
Here's a question to ask yourself: What one small change could result in the biggest impact on your health/stress? Start here and keep your goal realistic – take baby steps and expand as good habits are formed and build upon them.
Working for nine years as a Medi-Share health coach, here are a few thoughts I like to share to get people started on a winning routine:
FILL YOUR CUP FIRST. You can't pour out from an empty vessel. A Bible study, devotional, or writing in a prayer journal would be a great way to start your day. Assign a block of time that you will dedicate to God so your cup can be filled with His truth and love. Is quiet time with the Lord on your schedule? What would that look like for you, personally?
EXERCISE INCREASES PRODUCTIVITY. Research shows that as little as 15 minutes of exercise can increase your energy levels, relieve stress, and promote brain function. An exercise break is well worth your time! Schedule a block of time to take care of yourself by engaging in a physical activity that you enjoy! Be specific. What time of day works best, what days do you plan to workout, and what will you do? Now put it on your calendar as a "self-appointment."
SKETCH A MEAL PLAN. Planning saves time in the end. The more you can plan ahead, the better equipped you are throughout the week. Figure out what might work for you. Try batch cooking so you can freeze dishes or plan on leftovers for lunches during the week. Chop and prepare produce ahead of time so it's easy to throw together a salad or healthy snack. Block off time to create a shopping list, meal plan, and meal prep time once or twice a week.
SCHEDULE SLEEP. Being intentional about creating a bedtime routine to wind down in the evening and setting a regular bedtime that allows you to get at least 7-8 hours of sleep a night will promote restoration and healing, and help you feel better the following day. Set a bedtime goal and add it to your calendar or set an alarm as a reminder that it's time to wind down. Are you getting enough sleep?
Plan in Action
Putting a plan in action regarding how you are using your time helps you make the most out of your day and opens up the opportunity to take care of your health and well-being. Ensure your plan is realistic, assess and adjust as needed, and be willing to flex if a roadblock occurs – after all, life happens. Enjoy the process of growing and developing new healthy habits!
What time management tricks and tips have worked for you? Share in the comments!