You might be wondering, "Instant what?"
In short, Instant Pot® is a programmable, multi-functional electric pressure cooker. This might not sound like much, but when you consider it can replace your pressure cooker, slow cooker, rice cooker, yogurt maker, sauté pan, steamer, and stockpot warmer, it starts to sound a lot more impressive.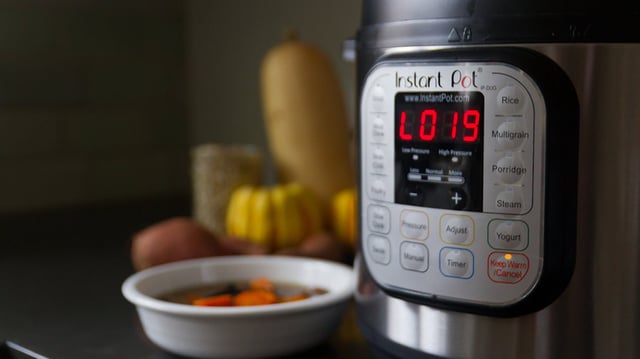 Any busy family can appreciate the benefits of a slow cooker. It's great to be able to throw in a variety of ingredients, turn it on low, and then forget about it until returning from work in the evening to a delicious smelling house and a healthy meal ready to eat.
But, sometimes, you may not be quite so organized and won't get the ingredients in before work. So it would be nice not to have to wait so long for a healthy meal that requires minimal labor.
This is where Instant Pot steps in and has amassed such a loyal following. It provides the same benefits of a slow cooker without being so slow. Since it is a pressure cooker it speeds up the cooking time by up to 70 percent.
The term pressure cooker may conjure images of exploding stews in your kitchen. But the new electric pressure cookers have many self-regulating safety features that monitor temperature and pressure without requiring you to lift a finger.
If you're trying to eat healthier, then you are likely adding whole grains and dried beans to your menu. But you've probably found that while these foods provide a lot of nutritional benefits, they require a long time to prepare. With Instant Pot, the quick soak method for beans takes just 8-9 minutes instead of an overnight soak. Traditionally, brown rice takes about 45 minutes to cook, but with Instant Pot it can be ready in as little as 15 minutes.
Of course, Instant Pot is just one of many multi-function electric pressure cookers now on the market. Popular brands include Breville®, Cuisinart®, and Cosori among others.
When the weather is cooler, it's the perfect time to think about warm, hearty soups. Instant Pot can be the perfect solution to putting hot soup on the table in no time. Give this Chickpea Vegetable Soup a try!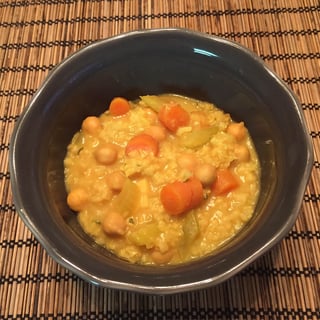 What are some of your go-to Instant Pot recipes?