[As appeared on Star Tribune] Whether you grew up with a brother or sister, or maybe multiple siblings, those with whom you share parents (and sometimes a room with!) create a bond that is not usually easily broken. Sometimes you fight like cats and dogs, sometimes you are the best of friends.
And then there are those friends who ARE like siblings. You've either shared life experiences together that have cemented that relationship or you spent so much time together, they really were part of your family.
Whatever your story is, hopefully you can appreciate these heart-warming stories from our Medi-Share Communications Team as they describe their sister relationships in celebration of National Sisters Day (Aug. 1):
Dawn Carroll – Senior Communications Manager
Ah, sisters. I have just one and growing up we could not have been more different. I was quiet, introverted, and compliant, while she entered the world with a head full of bright red hair and the temperament to match. With six years between us, we weren't pals. We didn't play together or ever attend the same schools at the same time. To be honest, there were times when we really did not like each other. Through our early adult years, our paths were radically different, but our family ties and commitments kept us close.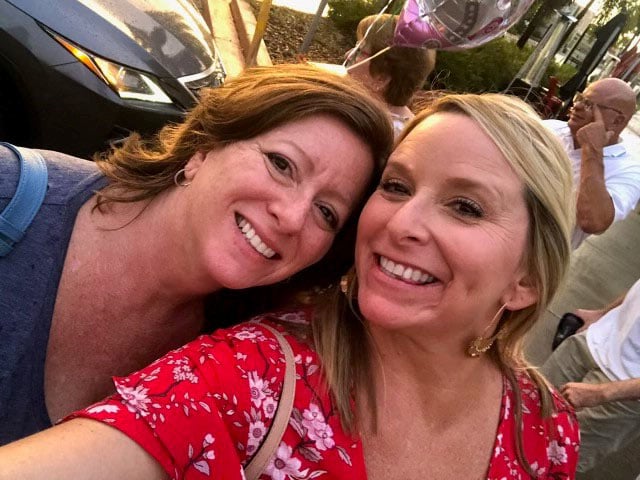 With two strong-willed women in the equation, we have had our share of drama and disagreements, but God always mended the fence that connected our two worlds. Neither of us had what I would say was an easy road, but we always had each other's back.
Fast forward 30 plus years and let me tell you what God has done. Today, we are more than sisters, we truly are friends who share ALL life together – the good, the bad, and the ugly. Not because we have to, but because we want to.
I am so grateful for the lessons learned along the way, for a mom who reinforced in us the importance of family, and most importantly, for Jesus, who modeled for me the importance of grace, mercy, and forgiveness.
Erin Englert – Communications Specialist
For me, having a sister has been like having a built-in best friend. I'm blessed to have one biological sister and a long-time friend who I count as a sister. I'm so thankful for them both!
Both of these relationships exude a quiet acceptance as we just enjoy being together (whether physically or virtually). We can ask each other anything, talk about anything, and just genuinely have the other's best interest in mind. We may not always agree, but with a sister-type relationship that doesn't matter. Nothing can change our deep friendship and love for the other.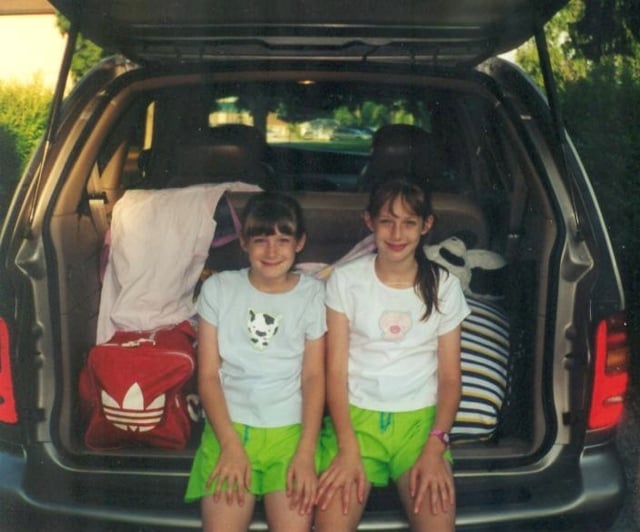 With my biological sister, we grew up in the same house so there's just a level of understanding there that is unmatched. When we became adults, it was fun to relate on a different level, allowing the other person room to grow and change. One thing I admire about my sister is that she is unreasonably gracious which is something from which I've both benefited and been challenged. She is kind, cheerful, diligent, and godly. I'm thankful to call her sister and honored to call her friend!
Debbie Ryan – Public Relations Specialist
I am so incredibly blessed to have six sisters. Each one is unique and special in her own way. There is a closeness that you can have with a sister that just doesn't exist with others. I think it may be because of the experiences you shared when you were young or being raised with the same values. All I know is the bond is strong. I don't live in the same state with any of my sisters, but when we get together we can have some of the deepest belly laughs. The funny thing is, we often find ourselves laughing over some past experience or reference to a memory that no one else understands. Sometimes even keywords or phrases can spark a memory and that it's all it takes. With years of time together, we've built up a lot of things to laugh about.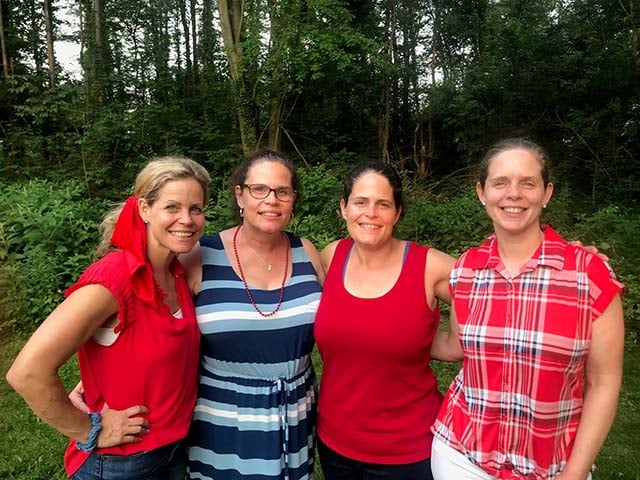 It hasn't always been laughs. There have been times of trial as well. Perhaps that is when the bond of a sister is the greatest. I know I can always reach out to my sisters. They will be the first to pray for me and encourage me through a trial.
"Two are better than one because they have a good return for their labor: If either of them falls, one can help the other up. But pity anyone who falls and has no one to help them up." Ecclesiastes 4:9-10
Rarely, all 7 of us girls are together at one time, but I recently got to see four of my sisters during a trip to Michigan. Here is a picture of me with three of them.
Chloe Viesins – Public Relations Coordinator
What is a sister? I've learned a sister doesn't have to be family but just someone who is your best friend and can pour into every aspect of your life. A sister is someone who is there for you no matter what you're going through and can speak life over you in your hardest battles.
A sister is someone you can laugh with, cry with, and be your truest self with. Thankfully, I not only have the best sister in the world but I was also blessed with the most wonderful sister-in-law and some best friends who I consider my sisters as well.
My sister lives In California (and I'm in Florida) and even though the distance can be hard, I know she is just a phone call away when I am in need of some encouragement. Some qualities I love most about her are her ability to laugh and enjoy life to the fullest. She is the best listener and advice-giver. She is so strong and is there to carry me when I am not.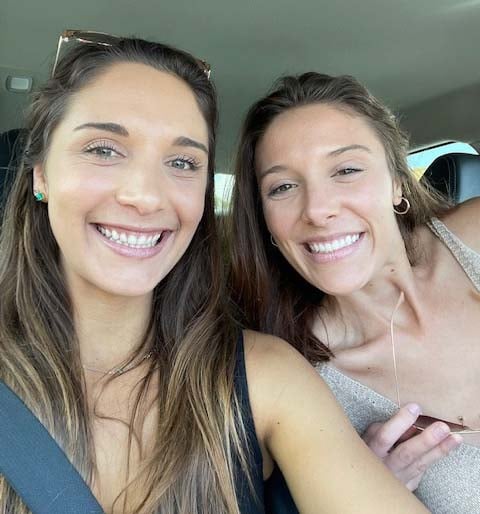 There is such a unique and special bond because of the things we've experienced together growing up but also because she is basically my twin and life with her in it is so much sweeter! I am so thankful for the sisters the Lord has blessed me with – blood-related or not, they're all my family.
Rebecca Barrack – Assistant Communications Manager
I didn't have a sister growing up, so I have really appreciated having a step-sister and sisters-in-law as an adult. My best friend was the closest thing to a sister I had as a kid and we are still tight as glue nearly 40 years later! However, the sisters who are most special to me are my two girls.
I don't know why, but I always imagined having boys. But then God, either in His humor or desire for my personal sanctification, gave me two girls. Bless.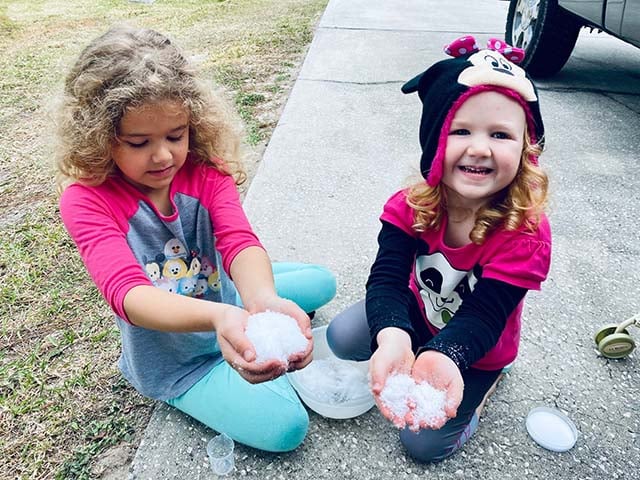 Though I have felt ill-equipped at times and overwhelmed by exceeding amounts of estrogen in the house, they fill my life with so much joy that I can't imagine life without them! I certainly never planned on having two so close in age (21 months apart), but I have always prayed their bond would be so great that they would grow up being the best of friends.
Of course, as I'm sure with most sisters, there are days like today when I have to break up 359 fights before lunch. But to hear their giggles, to hear them pretending together, to hear them singing together – especially songs they've learned in Sunday School – warms this mama's heart like nothing else. I am truly enjoying watching them grow up together and I look forward with joy in my heart to seeing the bond they carry into adulthood.
Do you have a sister (blood-related or not) you want to honor this National Sisters Day? Share your story in the comments!