"Over all these virtues put on love, which binds them all together in perfect unity." Colossians 3:14
As the National Day of Prayer approaches on Thursday, May 6th, let's delve into why prayer is so impactful and the power that it brings when we come together in unity as the body of Christ! Let's ask the Lord to conform and transform us as we pray and proclaim, "Now the Lord is the Spirit, and where the Spirit of the Lord is, there is liberty." We recognize our need for His love, life, and liberty like never before. Let's join together to pray for our families, churches, education system, military, workplace, government and media.
We serve an incredible God and He is working in every aspect of our lives, both individually and united as a community of believers. The power of prayer is beautiful to watch come to fruition in the culture all around us!
In Matthew 18:20, Jesus says, "For where two or three gather in my name, there am I with them."
We may not all be able to physically gather, but when our community is united in prayer there is nothing God cannot do. He fights our battles when we can't muster up the strength and is the abundant grace in our weakest moments. He graciously carries the burdens that were never meant for us to bear. He is our everlasting hope when the world around us says we have none and the indescribable peace amidst the chaos.
I challenge you to ask yourself, "How can I pray for someone around me today?"
Romans 8:11 says, "The Spirit of God, who raised Jesus from the dead, lives in you." This means the same power that indwells Jesus resides in us as well. Imagine if we were intentional about prayer in every aspect of our lives, the miracles that we would witness all around us? We serve a mighty and powerful God that cannot be limited. Let's learn how to pray without limits to a limitless God.
Here are some incredible testimonies from Medi-Share employees and fellow members on the power of prayer and our sharing community:
"One of our Medi-Share members called in to update her phone number and to inquire on a bill she received for her daughter. During the call, the member shared an awesome testimony. The member stated that her son was very ill with hepatitis last year and every time she called in with a question, the representative(s) would pray with her. The member stated, 'the last visit to the hematology oncology doctor at John Hopkins is technically our last visit!' She said the doctor told her she had never seen one of these cases reversed and her son's was all gone! Yes, you read that right….ALL GONE! The member stated, 'he has no more hepatitis, his spleen is back to normal, and his blood is back to normal!' The member said the doctor told her she was 'lucky' to which she replied, 'oh no, we have been prayed for by so many people and Medi-Share is one of them!' The member stated the doctor went back as far as 1962 and there has never been a case that has been reversed, and now her son will not need a stem cell transplant because of this reversal!"
-Anonymous Employee
"I feel blessed in so many ways, yet when I've had reason to contact Medi-Share, the prayer that I'm offered fills me with peace and hope. We all need that and I am grateful to be a part of this group of people. Caring is abundant and may we continue to turn to each other, especially in times of frustration and negativity. Joy is found in helping others and it's heartening to see our group grow."
-Michelle S.
"My husband and I are so thankful for Medi-Share. I had major surgery this past summer and because of this supportive community, we did not have to worry about the bills being paid. We are greatly blessed! Thank you Medi-Share."
-Susie R.
"I'm extremely thankful to be a part of such an amazing ministry. All of the staff is so knowledgeable and helpful. I love the fact that at the end of every phone call I'm always asked if there's anything I need prayer about. May the Lord continue blessing this ministry and each of the staff and their loved ones, as well as the members and their loved ones. God is so awesome."
-Lorie W.
"I called in today to get help logging in and finding my member number, and I spoke with the sweetest lady named Stephanie. She walked me through everything and then asked if there was anything she could pray with me about. I was speechless and couldn't even think. No one has EVER offered to do that over the phone from a company with me!"
-Michelle
"I'm thankful for the power of prayer and the members at Medi-Share! Excited to become part of the family."
-April A.
"In early 2017, our daughter Savannah was diagnosed with a rare Osteosarcoma (bone cancer) in her left upper jaw. There were moments my wife and I were sobbing on the phone with someone from Medi-Share and EVERY SINGLE TIME we were met with overwhelming compassion and kindness. They would just listen patiently and then give the instruction we needed to get our daughter the treatment she needed quickly. Our time would never end on the phone without prayer. Throughout her treatment, we were surrounded by cards that would come in from others who shared our expenses and prayed for her and us."
-Chris T.
"Before I even started working at [Medi-Share], people were praying for me! Prior to starting in Care Management, my husband and I found out we were pregnant! We were ecstatic! Several weeks later, however, I became extremely ill with the three major viruses all at the same time, threatening my pregnancy. My good friend, an employee at Christian Care, asked her coworkers to pray. Within the year, not only did I welcome my perfect, healthy son into the world, but I also became part of the Christian Care family! I am so thankful to be a part of this community of believers."
-Ariel L.
Please join us in prayer on Medi-Share's Facebook page Thursday, May 6th, as we join our nation in praying over the 2021 National Prayers together.
Do you have a testimony to share? Comment below or submit it now at Share Your Story.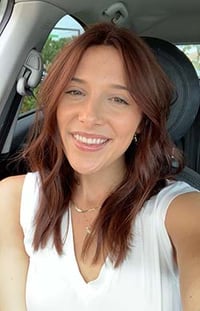 Chloe Viesins is a PR Coordinator at Christian Care Ministry. She's a graduate of the University of Central Florida in Advertising and Public Relations. Chloe has a passion for music, plays the piano and sings, and is grateful she has the opportunity to incorporate her passions into her work and every day life.