We all want to save money where we can, but sometimes it's hard to find ways to cut back without sacrificing quality. When it comes to food, good quality is essential to our health, yet our money can only go so far.
With the rampant rise in food prices at grocery stores and restaurants due to inflation and other economic changes since the pandemic, everyone is facing higher dining and grocery bills this year. And with the holidays near, you could use strategies to help save on all your food costs.
The good news is that with some smart planning, shopping, cooking, and dining, you can indeed keep your food budget in check and serve quality meals to your family.
Eating home cooked meals is undoubtedly going to save you money versus eating restaurant meals. Still, with a little planning, you can also save and enjoy a nice lunch or dinner someone else cooks on occasion.
Organize and Plan
To keep a lid on your food and grocery budget, the days of heading to the store without a grocery list or giving in to unnecessary impulse purchase opportunities need to end - or at least be severely limited. The best way to do that is to get organized, up-level your cooking skills, and meal plan on a monthly, bi-weekly, or weekly basis.
Before you get into each week's meal planning it's helpful to have a household master calendar and lists of everyone's favorite meals and snacks, as well as quick and easy meals for those times when schedules change, or no one feels like cooking.
1. Perform a Kitchen Inventory
Clean out your food cupboards, pantry, refrigerator, and freezer. Discard expired food, jot down what needs replacing, and inventory what stays.
It's helpful to keep an ongoing inventory list, adding and subtracting items as you buy and use them, to help ensure you have what you need and avoid wasting food. Getting the family on board to make note of when they eat or drink the last of something may take some work at first. But in time they'll realize the chances of getting their favorite snack replaced are greater when they help you keep track.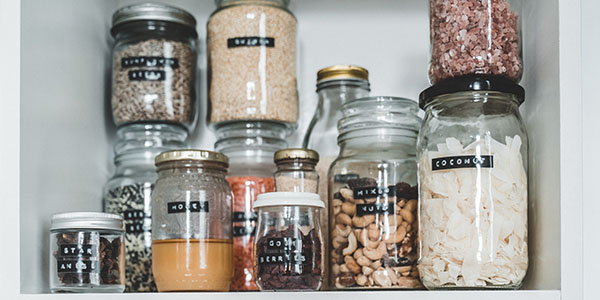 As you complete a food inventory in your kitchen, make a mental note of the space each storage location has for more items. This helps you determine if buying in bulk sizes or stocking up on a sale-price item makes sense during your next shopping trip. Additionally, ensure you have items to store your food in once you prep it including glass bowls and reusable bags.
Before creating your meal plan and going to the store for food each week or so, always shop your kitchen first. And when you head to the store, stick to your shopping list!
2. Plan Your Meals
Knowing ahead of time when and what you'll be eating can be a big stress reliever when schedules are full. Grab your master calendar and gather the family around, or at least the lists of their favorite foods. Involving everyone in your household in the planning of meals will help ensure they get some of their preferred foods or favorite restaurants in the schedule, and they'll know what, when, and where they can expect to eat.
To simplify the process, you might choose a rotating two- or three-week meal plan everyone agrees to. You could then easily substitute meals for special occasions or times away from home.
By planning out weekly meals you'll make it easier to eat at home every night instead of defaulting to take out, which isn't good for your wallet or your waist.
When you also practice batch cooking or other forms of meal prepping, you can save money by buying in bulk and reducing the number of items you purchase. Creating two or three varied meals using the same base ingredients will also reduce food waste.
As you're putting your meal plan together, prioritize nutrition and be mindful of uncomplicated ways to save money, such as choosing in-season ingredients, adopting a meatless Monday, or eating more beans and legumes.
You can also take advantage of in-season produce to keep your costs down. Eating seasonal fresh fruits and veggies will be fresher and cheaper at the store or farmer's market.
Once you figure out your meal plan and note the ingredients you'll need, you can start to prepare your grocery list. Just remember to check your food inventory before you head out the door.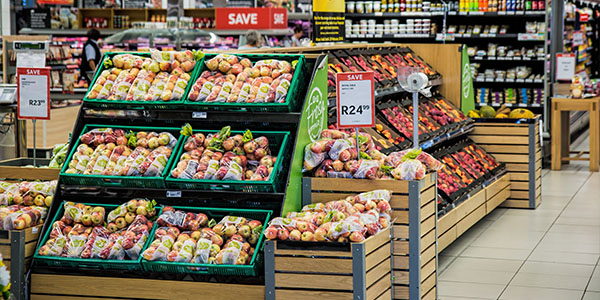 3. Grocery Shop
Remember that convenience almost always equates to higher prices. That means you'll save money on groceries when you buy items in their whole form or in bulk versus individual packaging. Abiding by the rule of God-made food over man-made food will help. And when items you use regularly are on sale, stock up!
Whether shopping at one store for everything or multiple stores for cheaper prices at each will save you more money or not, can depend on more than just the price of food. Yes, you can often save more money by shopping based on the sale item price of needed ingredients at multiple stores. Still, if it causes you to drive out of your way, spend a significant amount of time shopping, or add to your stress levels, it might not be worth the effort.
Shopping at a discount grocery store such as Aldi may mean you skip buying some items your spouse or children enjoy. But it can mean you'll save a great deal of money on food because what they do carry you'll find at a cheaper price. The variety of fresh produce, frozen foods, or pantry products may be limited, but the selection of items they carry are of good quality and can save you money on grocery spending.
4. Meal Prep
Meal prepping can benefit you by making mealtime easier, helping you eat healthier, keeping portion sizes in check, and wasting less food. These all help keep food costs down.
There's no one way to meal prep. You might batch cook on Saturday or Sunday for the week, or just chop and assemble ingredients when you come home from your shopping trip to make meal preparation a snap every day of the week.
Get the family involved if appropriate. If batch cooking 2 or 3 entire meals doesn't go so well, make some adjustments, and try again. Maybe batch cooking a few key ingredients and slicing and dicing others for easier assembly of recipes through the week will fit your lifestyle better.
Try a few different methods to see what works best in your household. Plan your meals, shop for ingredients, and give meal prepping a try.
5. Daily Meals
When you have your weekly meal plan posted where everyone can easily see it, no one will ever be wondering what's for breakfast, lunch, or dinner. Depending on your method of meal prepping, each day you might be grabbing already assembled breakfast or lunches, throwing a recipe together from already assembled ingredients, or reheating portions from a larger batch of food already cooked.
When something comes up that affects your ability to execute a planned meal or get to the store on a regular grocery shopping day, get help with creating something to eat using ingredients you have available instead of defaulting to a restaurant meal. At the website SuperCook.com, you'll enter in what ingredients you have to cook with at home and come away with some great ideas for what to prepare.
While the occasional meal eaten out or ordered in can work into your budget, dining on the food you cook at home is the best way to control what you spend on food each month. It'll also be better for your health.
Stretch Your Food Dollars
In addition to the tips we supply above, the ones below are tips we've tried or gathered from around the web.
At the Grocery Store
Besides not shopping when you're hungry or leaving the impulse buyers at home try these tips when you're at the store:
Meal plan based on what's on sale - mobile app Grocery Pal can help find sale items
Use coupons - paper and digital - the app CouponSherpa and money-saving cashback app Ibotta make this easier

Become a member of store loyalty/savings club/rewards programs for added savings

Buy store or generic brands

Compare items based on their unit price and buy in bulk or larger quantities when it makes sense

Make your own bakery items - or buy yesterday's baked goods

Create your own spice mixes versus buying "packaged" mixes

Don't

grab items displayed at the cash register or other impulse buys

Slice, dice, chop, wash, etc. your own food…

Avoid purchasing bottled water -

buy a Brita pitcher (or similar brand) to filter tap water instead

Ask for a raincheck on sold out sale items

Keep an eye on the cash register display during check out and review your receipt for incorrect prices and quantities

Use a credit card with a rewards program on grocery purchases (and pay it off every month!)



On Restaurant Meals
To save money on restaurant meals you'll want to do your best to avoid impulsively dining out. Plan ahead and use a combination of the tips below. Just remember when you must eat an impromptu lunch or dinner you don't prepare at home, ordering take-out and picking it up yourself will help keep the cost down.
Other money-saving opportunities include:
Using coupons or Groupon deals
Buying and using discounted gift cards you can find at a wholesale club store such as Sam's and Costco, or GiftCardGranny

Choosing daily, happy hour, or early-bird specials

Skipping appetizers and desserts

Avoiding the highest-priced menu items

Drinking water instead of ordering a beverage

Sharing an entree or putting ½ in a to-go container for tomorrow's lunch or dinner

Looking for kids-eat-free restaurants

Joining loyalty programs

Using credit cards with extra rewards for restaurant spending

Signing up for mailing lists for free birthday meals
Keeping Holiday Meals Happy
Using the tips above can already help you save money during the holidays. Stores often put holiday favorites on sale, provide coupons, or offer 2-for-1 deals. Looking at sales flyers or websites for your local grocery (or restaurant) can really be beneficial, just don't wait until the last minute.
When you're hosting family or friends, use these other money-saving ideas:
Host brunch instead of dinner




Make it a potluck or bring-your-own beverages

Prepare as much as possible from scratch (or ask others to make their special dish or dessert!)

Make substitutes, don't buy expensive items or a recipe ingredient you'll only use this once

Give your holiday meals a calorie audit to help keep them happy and healthy - sweet potatoes sprinkled with cinnamon and a touch of brown sugar can taste just as divine as a casserole full of butter and sugar, ditto "mock" mashed potatoes, and consider roasting vegetables to bring out their flavor

In the days following, get creative with the leftovers - repurpose them in salads, soups, sandwiches, casseroles, and more!
Final Thoughts
Dining at home, planning out meals, shopping smartly, cooking from scratch, prepping meal ingredients ahead of time, or batch cooking, can all help you control your budget, save time, eat healthfully, and end food waste.
It helps to think of each daily menu as part of a whole - a whole week that is. The chicken you roast today can end up on the table for dinner tonight, in sandwiches you make tomorrow, and in a quiche on Sunday.
Strive to make healthy substitutes for high-cost items when possible. Beans and legumes, for example, are a nutritious alternative (and far cheaper!) for meat and protein.
Use up what you have, to avoid wasting food and money. This means staying on top of your kitchen's inventory. It could also mean adjusting your meal prepping method, the number of days between grocery shopping trips, or buying some items frozen instead of fresh to avoid spoilage.
Keeping your food spending to an acceptable limit always takes work but is easier when you're organized and have a strategy. Use these tips to help create a plan your family can stick with. You won't execute every shopping trip and meal plan perfectly, yet with quality food on the table, you'll have plenty to be thankful for.