Social distancing…what is it?
While helping others, why do we sometimes simultaneously feel an overwhelming sense of loneliness for ourselves? It's as if we've distanced our hearts from loved ones and mentally checked out into this personal bubble of no social interaction.
The word "distance" itself carries a negative connotation. It can feel as though we have withdrawn ourselves completely from our normal day to day interactions. For all those extroverts out there, too much time in seclusion can bring on many unsettling and unnerving feelings.
Therefore, here's my challenge: WHAT IF, instead of letting "social distancing" define our current situation, we called it "social detoxing" instead. Just by reframing our mindset and interchanging ONE word, we're now presented with opportunity instead of restriction.
Personally, I like to focus on one word in every season of life to help me accomplish my goals and to be the best version of myself that the Lord has called me to be. In this season and for this period of time, that word is "Intentionality." It allows me to focus on where I am, what my situation is, and how I can wholeheartedly be present in whatever circumstance I'm in.
"Social detoxing" actually has the ability to help us slowdown from the frantic-ness of life and be intentional about our relationships, time, and resources.
Let's turn every moment into an opportunity instead of a hindrance! Here are 5 simple steps to reflect on how we can be more intentional with our time during this social detox:
1. Schedule times to talk to others
Just because we're on a detox from the social life doesn't mean we become absent from society. Take this time to be intentional with your words and your actions. This could mean taking 10 minutes out of your day to text a few friends or family members to simply ask how they're doing. You could also reach out to a co-worker and send an encouraging text or scripture. Give yourself time to make a phone call to a distant relative or friend. Schedule a FaceTime date with a loved one to do a devotional or watch a movie together. Learn how to be present in the quiet moments and strengthen the current relationships in your life.
2. Be more intentional in your spiritual life
Isaiah 55:8-9 from the NLT says, "My intentions are not always yours, and I do not go about things as you do. My thoughts and My ways are above and beyond you, just as heaven is far from your reach here on earth." Capitalize on this time away from the fast pace of life to ask God what He wants you to be intentional about in your life? Stressors pile up, sicknesses emerge, and we often forget to ask our Creator what His greater and glorious plan looks like for our life. We easily get caught up in our own ambitions thinking we have the solutions and that we're in control. Instead, what if we released all of those ambitions to Jesus? What if we let go of the picture we've painted for our lives and let Him start a fresh canvas. Luke 6:12 says, "One of those days Jesus went out to a mountainside to pray, and spent the night praying to God." Jesus was intentional about His prayer time and listening to the voice of His father to determine His next steps. Let's strive to grow and reflect more and more of His character every day.
3. Identify things that make you joyful and fill your day with them
This can be ANYTHING. If flowers bring joy to your life, go out and fill your house with flowers. This way, every morning when you wake up to your new remote life, you're surrounded by a little extra encouragement. If it's enjoying a cup of coffee, set aside time to do so without any distractions. Read a book or journal your thoughts. Whatever it may be, do it with purpose and a thankful heart. Let your mind be at ease and allow yourself that brief time to rest and reflect on the time you've been given. Some of us ask and wish for these precious moments of peace and quiet, so let's capitalize on them now.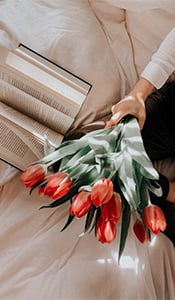 4. Do one thing you've always wanted to try but haven't had the time to
This is not so you can instantly take on the world but to purposefully give yourself the time and resources you need to just take on one aspiration, big or small. Is there something you have always wanted to pursue but simply haven't had the chance to yet? This could be trying a new recipe, painting a picture, or learning an instrument. Maybe you're an aspiring author or you desire to learn a new language. Use this time to expand your knowledge, grow in areas you feel weak in, and step out into new horizons of what you're capable of doing. 1 Corinthians 10:31 says, "So whether you eat or drink or whatever you do, do it all for the glory of God." Let's not let one moment pass us by without realizing the significance of this life we are given and living it to the fullest.
5. Pray
Fervent, intentional prayer. Ephesians 6:18 says, "And pray in the Spirit on all occasions with all kinds of prayers and requests. With this in mind, be alert and always keep on praying for all the Lord's people." Reflect on the blessings you've been given today and bring them to Jesus with a thankful heart. Consider those around you who are hurting and be intentional about consistently lifting them up in prayer. Pray for our broken and hurting world facing trials and this pandemic. Our God is a miracle worker and nothing is impossible in the name of Jesus. He sees and can do infinitely more than our human finite minds can fathom, and He has given us the power under heaven to accomplish anything in His name. Hurt and pain will always persist but we have the comfort as believers to know that, despite our imperfect world, we have a perfect Father whose presence is never absent.
Let's distance ourselves only from the things that hold us back from pursuing the Lord's plan for our lives! Instead, let's be intentional about the many blessings and opportunities we've been given!