Did you know, in America alone, over 430,000 children are in the foster care system? The majority of the children in out-of-home care come from neglectful homes and many hope to be reunited with their parents. Foster care is truly about helping families get back on their feet and reuniting children with their parents.
In honor of National Foster Care Month, we want to bring foster care to light in order to help relieve some of the pressure facing the system today. Cindi Killen is a Christian Care Ministry chaplain and has been involved in the foster system for 11 years. Hopefully, her story inspires others to get involved.
Cindi and her husband had three children and prayed for more. However, it seemed like their prayers would be answered differently than they thought. Instead of having another biological child at that time, they were led to foster. The couple heard about the need for foster parents in their area and decided to go through the training classes, the home inspections, and the changes in their lives to become a safe place for children to live.
Within the first month, they received their first call. A set of twins needed immediate placement. While it is preferred to keep a child or children within their family of origin, there are times when physically, emotionally, financially, and environmentally, that is not feasible.
Aware of this, it pained Cindi and her husband to decline that first placement. There was a nagging thought in the back of their minds though: "Would a refusal make them seem unsuitable?" Less than a week later, their concern was met with a call that an 11-month-old needed a home. The child was lacking care from their young birth mother whose family was unable to help her. And so, they welcomed the child into their home.
While the goal of fostering is reuniting the family, Cindi and her husband couldn't help but become attached to their youngest charge. They also had the remarkable opportunity to share the Gospel with the child's birth mother. Not only that, their Church hosted a wedding for the birth mother and her fiancé, welcoming them into the community. As the story unfolded, the birth mom ended up surrendering her rights to parent the child, and a permanent adoptive home was found.
After their first successful placement, Cindi and her husband updated their foster care license from one child to four. Over time, they were able to offer care, including respite care, for more than 50 children in out-of-home placement. What is significantly rewarding about that is many of the kids in Cindi's home returned years after they left to update them on their lives and better situations—and to thank them.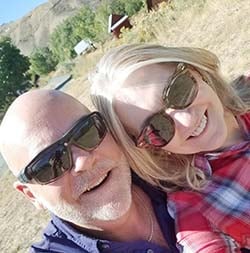 Cindi and her husband, Bob
One of the children they were able to adopt had an older sister who joined her in the home. Cindi and her husband were able to help her obtain a driver's license, get caught up in school, get her on her feet, and become emancipated.
While we wish all stories have a happy ending, this one is bittersweet. The older sister passed away, but she left behind a record of her time with Cindi in her diary. She wrote about how she found a family in the home, how hard she worked, and how she found God.
While Cindi no longer fosters, she continues to be an avid supporter of kids in out-of-home care, working with the Foster Care Christian Collaborative in Brevard Co, FL. Through fostering, she and her husband were able to minister to and strengthen many families in the community by providing a loving, stable home to several children, and mentoring several of their birth parents including the parents of one placement they had for three years. She and her husband ended up adopting three children, making their foster arrangement permanent. Cindi feels her work is not yet done and hopes to become a guardian ad litem.
One of Medi-Share's National Outreach Partners is CarePortal, a "social impact service that matches caring people with local opportunities to make a positive difference for and with their community." CarePortal can help match needs and families in local communities, all for the betterment of the community that stands in faith.
We ask for your prayers for the foster families, birth families, and especially the children during this month.
If you've been blessed to foster, we'd love to hear your story in the comments below!