Michael W. Smith is Sharing Hope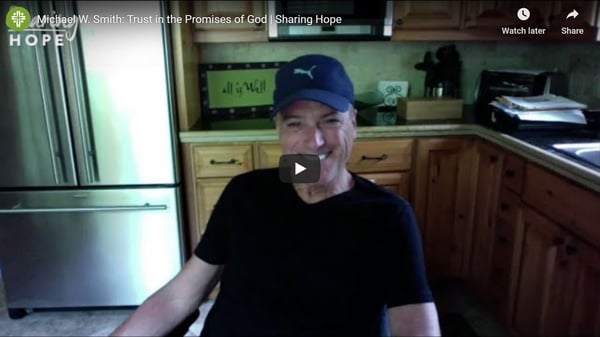 Multi-Platinum artist, best-selling author and acclaimed actor, Michael W. Smith continues to live out his dream. During Michael's storied career, he has been honored with three Grammy Awards, 45 Dove Awards, an American Music Award and has sold more than 15 million albums. He's also given back to the global community. Michael has raised funds to battle AIDS in Africa, helped more than 70,000 children's lives through Compassion International, and alongside longtime friend Bono started Rocketown, a safe haven for young people in Tennessee to meet and find hope.
In many ways, Michael is a statesman, at the fulcrum of Christian music in pivotal moments. With relentless drive and a non-stop touring and recording schedule, Michael, like many creative people at some point in their career, hit a wall. "I talked with my team at the beginning of 2017 and told them I'm not going to do another record unless I can write some stuff that really excites me," he explains. "I was still grieving over my dad passing in November of 2015 and I thought it might be two or three years before I did any recording at all, if I ever actually did record at all."
That impasse lasted about two weeks. All it took was the divisive national sentiment of 2017 and the mean-spirited banter on social media to once again ignite the creative fires. In February 2018, this prolific artist came roaring back with not one, but two full-length albums from Rocketown Records and The Fuel Music: A Million Lights and Surrender. Both albums were heralded by USA Today and Yahoo! Music as acclaimed studio albums. Surrender was his second live worship recording since 2014's Sovereign, which became a Top 10 Billboard 200 and number one selling Christian album.
One of the first songs to emerge from the studio was "Conversation," a track that addresses the paradox of modern technology making it easier to speak at people rather than with people. "In the age of social media, people have forgotten how to talk with one another, to be civil," affirms Smith. "If you put these same people in a room together, what was once an agenda becomes a conversation."
"I feel God moving through His Church and He is calling us together to be one voice and one heart. One bride. Every nation, every tribe and every tongue. Every social class, every denomination. What if we bring him the thing that pleases Him most – our unity. We may each have different stories, and skin, and songs, but we all share His same spirit."
Smith is diving into other projects, each one enhancing the others in ways he never experienced before. From mapping out a memoir of lessons learned from his father to completing a symphonic composition, he's realizing a wide range of ambitions and senses a convergence of all that he's done and has yet to do.
"For me, though, music is always my first creative outlet. Forever, until the world ends, music is the most powerful language there is. It can transform your life on every level, not just the spiritual. It can help people reconnect with why they're here. That's what I'm doing with A Million Lights and Surrounded."