Sharing is at the heart of all we do at Christian Care Ministry. It's the foundation of what our Medi-Share program is built on.
So it's only fitting that in celebration of the ministry's anniversary, our employees and members across the country would band together to share their lives, faith, talents, and resources in their local communities as part of our second annual Day of Sharing on Saturday, October 5.
You may have heard us talk about our inaugural event in 2018. If you're thinking about joining in on the Day of Sharing this year, but need a bit of encouragement, read these testimonies from some employees and Medi-Share members:
"We had a total of six on our team at the Brevard Rescue Mission. What a blessing it was for us to serve the children there! They enjoyed Bible stories, songs, drama, crafts, snacks, and decorating sugar cookies. We were very impressed with the volunteers that poured themselves out for these families regularly. It was wonderful to see so many of God's people love on each other on this day! We look forward to future opportunities to serve."
Tracy G.
"The team that served at the Dorcas Outreach Center for Kids (DOCK) consisted of 10 volunteers, seven of whom were CCM employees. The director of the center gave us a tour and a little history of the center and its purpose. One of the things that really impressed our team is the garden which is located on the side of one of the buildings. The neighborhood kids are taught the principles of sowing and reaping, both naturally and spiritually. It's awesome to know that the vegetables which are harvested from the garden are used to feed the kids at the center and for them to take home as needed. Their natural garden is symbolic of what takes place within the walls of the DOCK. Our team helped clean many parts of the center, as well as areas where the neighborhood kids come to study and receive tutoring."
Renee M.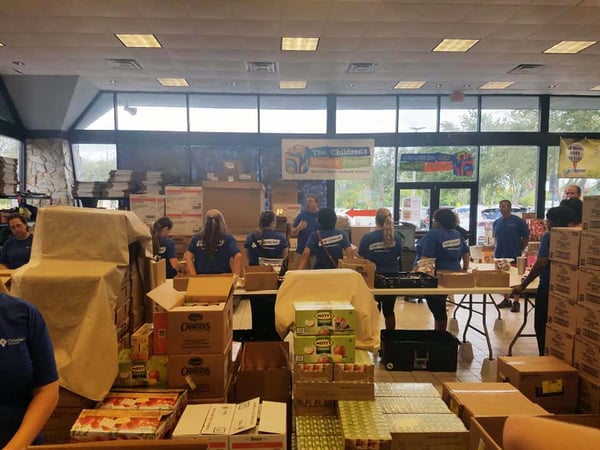 "We had 38 servants show up to help us package 1,000 meals for The Children's Hunger Project that will be used in our county schools to feed hungry children over the weekend. This was a great group of people and we were able to serve a wonderful ministry. The energy was high and we began by praying over all the items we would be packing, and that the lives each bag touched not only met a physical need but also that they would encounter the love of God. What a blessing to work alongside these wonderful men, women, boys, and girls! This event will impact not just others but our lives as well."
Eric M.
"We had a team that visited over two thousand inmates in seven different prisons around Atlanta, Ga. God showed up in the way only He can to touch many lives, and hundreds received the free gift of eternal life – to God be the glory!"
Medi-Share Member
To get involved in this year's event in your own local community, visit dayofsharing.com.