Dear Medi-Share,
Once again you have answered my and my wife's prayers and come to my aid in an extreme hour of need.
These words from Medi-Share member Britt Todd came after experiencing a massive brain bleed—an emergency that required surgery in July of 2021. Though the medical experience itself was scary for Britt and his wife Julie, the Todds had no fear about one thing: their medical sharing through Medi-Share.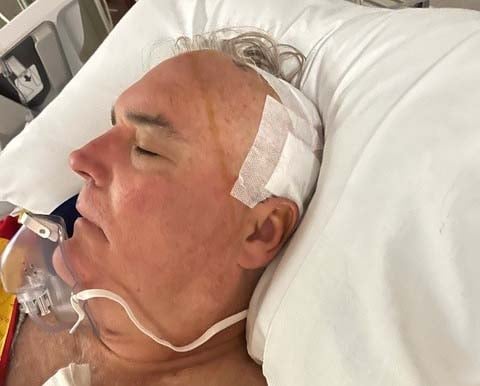 The Todds joined Medi-Share as members in 2017. As small business owners in Dallas, TX, they found themselves looking for alternatives for their health care after being priced out of the health insurance marketplace.
At the time, some friends of theirs mentioned Medi-Share and, after some comparative research, the Todds determined that the cost savings found at Medi-Share made financial sense for their situation. They also recall feeling comfortable and safe with the processes described by Medi-Share team members.
A year later, Britt faced news that no one wants to hear: Cancer. Doctors found a tumor on his right kidney and advised him the organ needed to be completely removed. As newer members, this was the Todds' first major experience with the workings of Medi-Share. Would their decision to switch to non-traditional health care sharing "pay off" now?
Absolutely! The Todds were relieved that throughout the stress-filled diagnosis and treatment, Medi-Share's bill-sharing process was hassle-free and prompt.
With this initial trial behind them, the Todds felt more at ease about subsequent medical issues, at least as far as finances were concerned. In 2019, Julie had to undergo an emergency hysterectomy, which was shared completely (after AHP) in a professional and timely manner.
Then in 2021, Britt's previously-mentioned brain bleed required 11 days in the hospital. In total, he faced 65 medical bills totaling around $400k, which were processed and shared through now-familiar Medi-Share protocols.
The Todds certainly appreciated the financial support of bill sharing, but they also relished the sense of community found within the ministry. They recall members reaching out to pray for them during their crises. And when they had to call into the Medi-Share care team, they felt cared for in a personal way.
Britt's note of thanks after his brain bleed goes on to say:
This is the second time you have stood beside me, prayed to Jesus to heal my body, and shared costs for my care. Words cannot express my gratitude and the love in my heart for how Medi-Share has provided care for me in two life-altering health emergencies. I could have lost my life without you being by my side. Thank you, Lord Christ, for your amazing love, and thank you, Medi-Share, for your integrity and dedication to your members like me.
Today, Britt and Julie are healthy and vibrant as they anticipate the upcoming marriage of their son. Lord willing, they look forward to many more years full of memories with their children and grandchildren.