We want to share with you just how Medi-Share members' share dollars are making a difference in the lives of fellow members, members like the Petits who recently went through a health scare.
"We have been healthy and even receive the benefit of a reduced rate by qualifying for the health incentive. We did meet our AHP and learned how God-led it was to be with Medi-Share. Last April, the results of a routine colonoscopy revealed colon cancer. This was a life shaking reality for us. The 35 days between mid-April and mid-May brought numerous doctor visits and tests to set up for surgery to resect the cancer.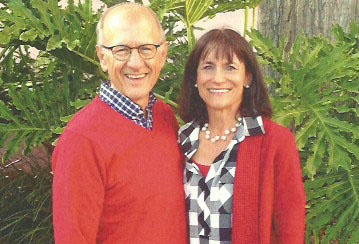 All of this ranks among life's most stressful realities. Often, sadly, the stress is compounded quite frequently by added financial pressures, including the hassle of dealing with insurance companies and trying to get them to do what they said they would do. Not so with Medi-Share!! In these 35 days, I was able to visit doctors for follow-up from the diagnosis. The doctors available through the network were numerous. The PHCS network included one of the best surgeons in my area utilizing the most advanced laparoscopic technique. A hospital with the most up-to-date robotic equipment was also in network. The opportunity to choose this surgeon and facility allowed me a 48 hour hospital stay because the surgery was less invasive.
Following surgery, working with the processing department for reimbursements and post-surgical bills, something that could be most stressful, was professional and efficient. My wife handled the follow-up on the hospital bills during my recovery and continually commented on how proficient, kind, patient and efficient the bill processing was.
The Medi-Share customer service department was more than able to answer questions and give guidance as needed. Being a part of the Medi-share family we were well cared for. "Above and beyond" comes to mind.
Absolutely all of our medical expenses were shared after our AHP was met and provider fees paid. The Medi-Share staff was delightful to work with: helpful, diligent, faithful, caring, compassionate, efficient, effective, and comforting. We were prayed for and prayed with at the end of every call. Unexpectedly, we received numerous notes from fellow members providing prayer and encouragement. We felt strongly supported as we moved through one of the most difficult experiences of our life. It was deeply encouraging to view the list of over 500 fellow believers who shared the financial need. Medi-Share is God-inspired. Medi-Share staff and members are Christ like. They live up to their by-line, "Christians helping Christians."
We love Medi-Share. We thank God for Medi-Share and it's ministry. We continually and enthusiastically recommend Medi-Share to family and friends wanting to participate in a truly an affordable healthcare program."
Click here if you have a testimony about your experiences with Medi-Share and would like to share it with us!
Sharing burdens of fellow believers will bless you when you hear what God has been doing on our Medi-Share Reviews page.