"Love is patient, love is kind. It does not envy, it does not boast, it is not proud. It does not dishonor others, it is not self-seeking, it is not easily angered, it keeps no record of wrongs. Love does not delight in evil but rejoices with the truth. It always protects, always trusts, always hopes, and always perseveres." -1 Corinthians 13:4-7
Love is more than just a feeling. It's an act based not just on what we feel but demonstrated in the things that we do for others. Love is, among other things, self-sacrifice and putting others and their needs before our own.
Love is one of the marks of a true disciple, but can sometimes be one of the most difficult things in life to do.
The word "love" is used hundreds of times in the Bible, and we hear it even more in our daily lives, but do we really know what true love is? What are the different aspects of love that we should be demonstrating as Christians every day?
Let's just say there are A LOT… too many for me to talk about right now, but I'll go over the most important aspects of love to me.
Love Your Enemies
We live in a world with too much hate, too much anger, and too little love for others. Most, if not all of us, have dealt with extreme anger towards someone. Whether it's someone we know personally or a person we hear about in the news that does something or says something that makes our blood boil, we've all had strong feelings that are the complete opposite of love.
So how are we supposed to love those who are seemingly impossible to love? Thankfully, we have our Lord Jesus to help us with that.
Our Savior teaches us not to contend with anger, and it is the devil who tempts us to give into anger and hate. It is in Matthew 5:43-45, where we are told to "love your neighbor and hate your enemy. But I tell you, love your enemies and pray for those who persecute you, that you may be children of your Father in heaven."
Of course, loving our enemies is not nearly as simple of a task as we would like it to be. There are always challenges at work, with friends, and many times within our own family, but the Lord calls us to love. Just love. There is no room in our hearts for hate, and while hating our enemies comes naturally, we need to ask for the help of the supernatural. Only with the help of God can we learn to truly love as He does.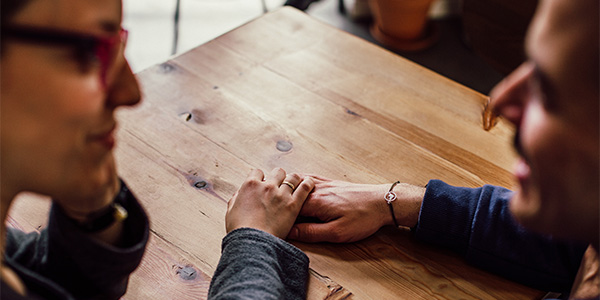 Sacrifice
Of all the life lessons that I am grateful my parents taught me, this one is among the most important in my life. I grew up in a very tightly knit (and very loud) Italian family, where not only does family come first, but everyone else in your life comes first. I remember something my parents told me when I was little like it was yesterday: "One of the greatest things you can do for someone else is sacrifice something for them."
Sacrifice is more than just taking some time out of your day every now and then to do something for someone else, it's a practice of prioritization, discipline, and love. One of the most difficult things about sacrifice is when it comes to those who are closest to us. First, there's the feeling of guilt when we know we want to help someone we love, but things in our life prevent us from doing so. It can be hard to 'let people down', especially when we love them.
Sometimes, sacrificing things for those you love feels like a burden…not only do we need to pay close attention to our own feelings on a daily basis, but others as well. Want to know the secret? If you truly want to love as the Lord does, sacrifice is not a chore or a burden, but a calling to always be more for someone else who needs it.
Patience
For me, this is the most obvious exhibition of love, but is also one of the most important. I am not the most patient person in the world, and my patience is tested every day in different situations. But in those situations, I just repeat the words of Proverbs 15:18 – "Hot tempers cause arguments, but patience brings peace."
In marriage…
Patience is the ability to stay calm while you're waiting for an outcome that you need or want. Oftentimes, that can be while driving, working with people who operate more slowly than you, or in certain situations at home with your spouse or children. My wife and I just celebrated our second wedding anniversary on January 18th of this new year, and by now we know what pushes each other's buttons. On the days those buttons get pressed practicing patience helps prevent us from saying anything hurtful to the other. Within marriage or any loving relationship, patience is not always about tolerating certain things, but sometimes determining what can be changed in order to create a healthier environment, and change takes time, and time needs patience.
One of the most important things that my wife and I have discovered in our relationship, especially because we married at a young age, is that people change, and marriages change. The crucial thing to remember is that change isn't always a bad thing. Relationships and people grow and evolve physically, emotionally, and spiritually, and it is their loved one's job to be there for them patiently for support, sacrifice (like we just talked about earlier), and LOVE.
In everyday life…
Being patient with loved ones can be hard enough, but at least you know them well enough to be able to work through difficult situations. But how do you deal with people you don't even know? I have very little tolerance when driving, grocery shopping with people taking up the aisles, or just walking through Disney and people don't know where in the World they're going.
Life is chock-full of moments like these, it's important to keep in mind that you don't know the other person's situation. When driving, maybe they are new to being behind the wheel or they possibly aren't familiar with the area in which they're driving. When I'm grocery shopping, I know how hard it can be to pick out food, especially when shopping on a budget. When I'm at the theme parks, most people aren't as fortunate as I am to get to go there any time they want to. So take a breather and exhibit love through patience, even when it's maddening!
Love is not something we can perfect as only Jesus can, but it is something that we can practice every day. Love is the goodness that one chooses to do on behalf of another. It's more than an emotion; it's an action, and with every step we take toward loving others as the Lord loves us, the more we are working in His image spreading His love, His Word, and His kingdom.
One challenge I leave you with is this: be the first to love. Take the initiative and be good to others, starting with those closest to you. Reach out to those you may feel any degree of anger toward, sacrifice your time for your spouse, your children, or whomever it may be. Practice patience the next time a difficult situation arises.
No matter how you show it, you'll be amazed at what love can do for you and those around you.
"Do everything in love" (1 Corinthians 16:14).