If this year hasn't made you feel like you are not in control, I'm not sure what will! It's been an entire year of unforeseen twists and turns and last-minute cancellations, not the least of which is your child's education and extra-curricular activities.
Even parents who homeschool are not immune to disruptions in their routine. Meanwhile, many families and children choosing other forms of education are operating in either a fully virtual setting or a hybrid setting.
With the advent of the virtual learning environment, one more thing that may seem out of your control is your child's screen time. It's harder than ever to establish healthy, appropriate limits. Whatever your norms were before, they have likely been crumpled up and tossed out.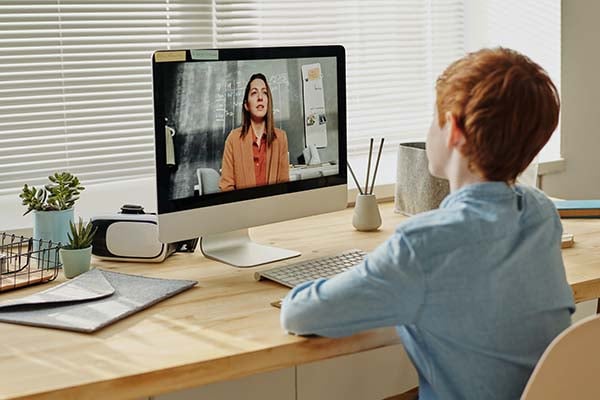 Although I recoil from calling this a "new normal," it's a new…something, and our families must adapt in order to thrive and be faithful to God's call on our lives at this specific moment in history.
Consider Our Technology Usage
So how do we keep screen time in its rightful place for ourselves and our children, especially in a virtual learning environment? What is an appropriate amount of screen time? The American Academy of Pediatrics (AAP) has made the following recommendations for children:
For children younger than 18 months, avoid use of screen media other than video-chatting. Parents of children 18 to 24 months of age who want to introduce digital media should choose high-quality programming, and watch it with their children to help them understand what they're seeing.

For children ages 2 to 5 years, limit screen use to 1 hour per day of high-quality programs. Parents should co-view media with children to help them understand what they are seeing and apply it to the world around them.

For children ages 6 and older, place consistent limits on the time spent using media, and the types of media, and make sure media does not take the place of adequate sleep, physical activity, and other behaviors essential to health.

Designate media-free times together, such as dinner or driving, as well as media-free locations at home, such as bedrooms.

Have ongoing communication about online citizenship and safety, including treating others with respect online and offline.
Previously, children ages 6 and older were given the recommendation of no more than 2 hours of screen time per day which indicates just how much has changed with technology and our society. Now, there are no specific time limits for this age group but, rather, recommendations for how to appropriately and consistently manage screen time for school-aged children and teens in your home.
But, where do you start? Although you likely already have a few screen time rules in your home, it is never a bad time to evaluate how they are working and if improvements can be made.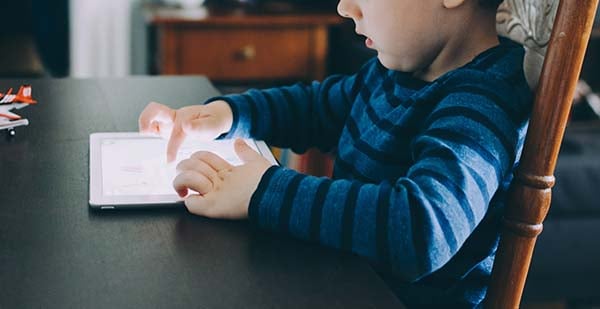 To begin the process, think of all the categories of your child's development—social, emotional, mental, physical, and spiritual. How can technology assist or inhibit your child's growth in these areas?
Take a moment to create a pro and con list for each developmental category. Consider the rightful place of technology in your child's life. If you've identified some areas that need work, take heart! The start of a new school year with all of its routines is a perfect time to establish some new technology rules in your home and replace extra screen time with other activities.
Create a Family Media Plan
The American Academy of Pediatrics has an excellent, free resource available to you that helps you create a Family Media Plan. In the creation of the plan, you'll be able to input each child and their age. The plan will walk you through various recommendations and suggestions (although you're able to select which ones you'd like to follow) for each child in each age group. You also have the ability to input your own guidelines in addition to what is already listed. At the very least, it's a great thought exercise and helps a parent consider all of the benefits and potential dangers of technology.
Establish Screen-free Zones in your Home (and stick to them!)
This is a recommendation stolen directly from the Family Media Plan by the AAP. There are so many reasons to establish screen-free zones in your home. First and foremost, it allows us to exercise control over technology in our lives as opposed to the other way around. Keeping technology in its rightful place is so important since it can have a magnetic relationship with our time and attention.
Making the dinner table a screen-free zone helps protect and encourage your family's social growth and development. In addition, screen-free bedrooms protect the valuable commodity of sleep.
Take Brain Breaks
If your child is attending school virtually or in a hybrid setting, be sure to take brain breaks from screens. The research on the average child's attention span is pretty shocking, and it's much shorter than you would expect. In general, children should be able to focus 3-5 minutes for every year they are alive. So, a five-year-old should be able to concentrate for at least 15 minutes.
Use a brain break to get outside for 5-10 minutes or read a physical book. Work on a Lego® project or create an art project to send to a family member. Brain breaks should have a specific time limit and be a change from what the child was previously working on. Here is a good list to check out!
Utilize your Library
Everyone in your house might be doing a lot more reading on screens, but don't forget to read from some physical books! The library has something for all ages. Check your local library to see what restrictions are currently in place.
Get Outside
It's recommended that children get at least one hour of exercise per day. Even though some of your normal activities might be cancelled, you can still go to a park, ride bikes around the block, or check out a local nature preserve.
Get Creative with Crafts at Home
Break up your virtual learning with some fun crafts at home. A quick Google or Pinterest search will give you more ideas than you will know what to do with. Make some salt dough or order a tie dye kit. Try your hand at a paper mâché sculpture. Although it can be messy, the ingredients are very cheap! Roam the halls of your favorite craft store, and you're bound to find a fun project for everyone in your house.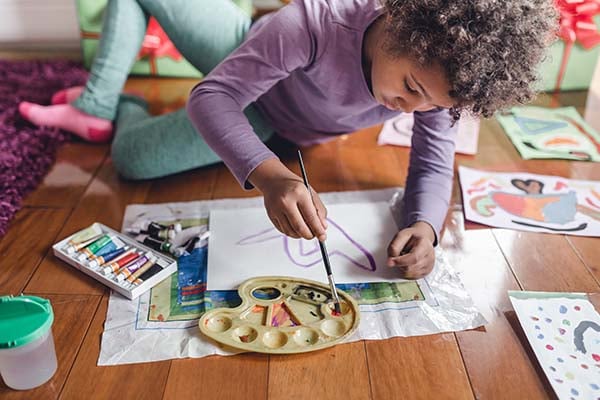 Send Some Snail Mail
When is the last time you sent a loved one some mail? Everyone loves to get a message! If your child is old enough, you can also use this as an opportunity to teach about letter writing etiquette. If not, a hand drawn picture is always a hit.
Find a New Recipe and Try It Out
Cookbooks written for children can be a fun way to do something different and connect with your child. Let them flip through the book and pick a recipe to cook with you. If you have older kids, there are a plethora of beautifully written cookbooks as well. Check your local library!
Science Experiments at Home
Once again, it's just a Google search away. There are hundreds of fun experiments you can do right in your own home with everyday supplies. You may also be able to find a good children's science experiment book at your local library or for an affordable price online. If you want to step things up a notch, Steve Spangler Science has tons of fun supplies and science kits. Although some of the kits are created for the classroom setting, they have numerous kits which are designed for at-home use as well.
Conclusion
As we consider how much time our children are spending in front of screens, let's remember that it is not all bad. Technology, in its proper place, has greatly improved various aspects of our lives. Just think of how much video chatting has added to the lives of long distance family members!
As long as we teach our children how and when technology is appropriate, we can experience the joy of raising responsible, digital natives.
Have you applied any creative technology house rules that you've found to be beneficial? Share in the comment section below!