February is a month where we celebrate love. This is often seen in the context of romantic love, but it can also be a good time to celebrate our friendships and to let our family know what they mean to us. While that sounds great in theory, it frequently does not go as hoped in practice.
Valentine's Day can be a difficult time for people that are single, who are grieving, and all of us struggle to varying degrees with feeling hurt in our relationships.
God has been bringing a lot of couples my way for pastoral counseling and with that comes people wanting premarital counseling. I am always surprised at how people look at love before and after marriage. Before marriage, couples often think of love as an appreciation of what their fiancé can do for them.
Society's message about love is that it is a feeling you get when the other person is around you or serves you... and that you will live happily ever after once you find the right person that makes you happy. This messaging little resembles the self-sacrificial love that is modeled in the Bible.
After marriage and the honeymoon period, couples see the reality and difficulty of sustained love in a relationship. They frequently see themselves as loving, but their spouse is the aggressor or the one that is cheating them of the relationship they deserve. Couples most often come to pastoral counseling hoping that I will do a better job fixing their spouse than they have done.
In months like February, it can be difficult to feel loved by God when we take on these conceptions. It is all too easy to make the mistake that God loves us in the ways that society teaches us.
It is difficult to feel loved if we think that God 'loves' us because of all that we do for him.
It is difficult to feel loved if we think that God 'loves' us by serving us, but resents us for not reacting the right way.
And it is difficult to feel loved when we do the same, when we 'love' God only because of what he does for us or 'love' him while resenting the common misconception that we do more for God than he does for us.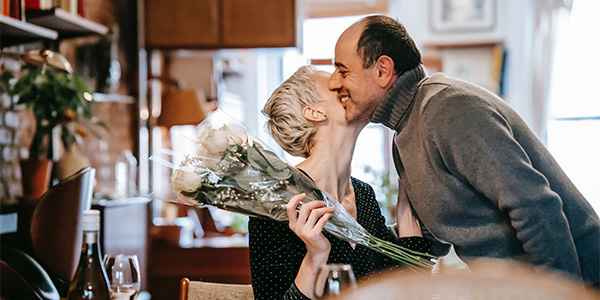 When couples come in for pastoral counseling, I take them through the same process that I do for conflict resolution between friends or family difficulties.
First, we discuss how to understand how the other person thinks and looks at the world differently than you do. Then, we look at the cycle of conflict and figure out where the pain is coming from on both sides. Finally, we talk through the ways that each person can treat the other differently from the understanding that serving the other person in an unconditional, sacrificial spirit helps us to grow and heal regardless of what the other person does.
During times like Valentine's Day, we commonly look to the ways that we are feeling loved by those around us and how God is loving us through our circumstances.
In doing so, we are looking for love in all the wrong places. Either we are looking to people to satisfy our needs for love, which they cannot do (Phil 4:19; Ps 17:15; Isa 58:11), or we are looking to God to love us through our circumstances, which is not what we were promised (John 16:33, 2 Tim 3:1).
God loves us in the midst of our difficulties and difficult relationships. If we want our February and our relationships to be filled with love, it requires us to follow the same steps that we use for couples counseling.
Understand that people and God think differently than us.
Find where the pain we are experiencing comes from and surrender that pain and our defensiveness to God.
Start treating people and God differently than how we are used to treating them, not using the old ways of conflict resolution.
When we do so, we can walk away from the world's idea of love and start to walk in the ways Paul spoke about in
1 Corinthians 13:
3 If I give away all I have, and if I deliver up my body to be burned, but have not love, I gain nothing.
4 Love is patient and kind; love does not envy or boast; it is not arrogant 5 or rude. It does not insist on its own way; it is not irritable or resentful; 6 it does not rejoice at wrongdoing, but rejoices with the truth. 7 Love bears all things, believes all things, hopes all things, endures all things.
When we allow God to heal our pain, we tear down the walls preventing us from giving or receiving love. Then we can truly, unconditionally love those around us, treating everyone around us with the love Paul wrote about, inspired by the love he received from God.
If we walk in that love, this will be a different February than we have ever experienced, and Valentine's Day will hold a new purpose.