[As appeared on BostonHerald.com] It's that dreamy time of year—days are longer and the promise of summer is right around the corner. It is also the time of year that you are most at risk for sun damage. With "National Sunscreen Day" just around the corner, how are you protecting yourself from those harsh UV rays?
When you're young and seeking that tan beach glow, sun damage isn't the first thought on your mind. Living the carefree beach life is fun but can result in some serious damage to your skin if you don't have the right skincare protection. One of those effects of sun damage is skin cancer. It is the most common form of cancer in the United States, according to the Centers for Disease Control and Prevention (CDC). Current estimates indicate one in every five Americans will be diagnosed with some type of skin cancer in their lifetime.
The broad term "skin cancer" encompasses several different types of cancer including the three most common skin cancers: basal cell, squamous cell, and melanoma. All three types are generally caused by excess exposure to ultraviolet (UV) light. Typically, we are exposed to UV light from the sun, but we can also encounter it by using tanning beds or sunlamps.
So, with all this in mind, you may be wondering how you can achieve that coveted summer glow and the tan you see on others while getting very minimal sun exposure. Well, thankfully we live in a world full of safe alternatives to actual tanning that yield the same results. Self-tanner sprays, mousse, creams, and drops are all the rage, and many brands have extremely clean ingredients to help you achieve that perfect glow without stepping foot outside.
Self-tanner gives you the option to appear tan all year round, protect your skin and still enjoy some summer sun, but with your health and safety in mind! Along with self-tanner, there are plenty of other ways to protect your skin and still enjoy the summer sun such as:
Choose a broad-spectrum sunscreen that protects against both UVA and UVB radiation. Make sure it is water resistant and has a sun protection factor (SPF) of 30 or higher.

Use a lip balm or lipstick that contains sunscreen with an SPF of at least 30.

Reapply sunscreen to your entire body every 2 hours. Reapply every hour if you are swimming or sweating.

Do not use sunscreens that have expired

Wear cute hats and sunnies

Evenly distribute your time in the sun/time in the shade
While getting sun exposure isn't all bad and exposing our skin to the sun's rays is one way to get the much-needed nutrient, vitamin D, it's important to keep it to a minimum and avoid sunburns. It's estimated that approximately 10 to 30 minutes in the sun daily is adequate to maintain vitamin D levels.
Get your glow on, soak in that 10 minutes of Vitamin D and live your best, healthiest summer life!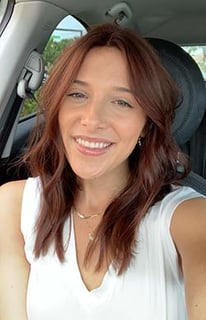 Chloe Viesins is a PR Coordinator at Christian Care Ministry. She's a graduate of the University of Central Florida in Advertising and Public Relations. Chloe has a passion for music, plays the piano and sings, and is grateful she has the opportunity to incorporate her passions into her work and everyday life.