Medical emergencies can be some of the most frightening times in our lives. When a loved one is sick, or injured, family and friends carry that emotional suffering right along with them. Unfortunately, medical emergencies also bring with them the burden of bills that can climb to astronomical amounts. As Medi-Share members Bobby and Sandra discovered, Christian healthcare sharing provides both financial and emotional support with hundreds of prayers from concerned Medi-Share members during a medical crisis.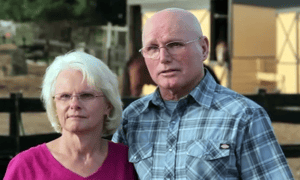 Unexpected Medical Emergency Strikes
An ordinary, peaceful morning turned chaotic for one loving couple as Sandra began experiencing stomach pains seemingly out of nowhere. Her husband, Bobby, rushed her to the hospital, where her condition worsened as doctors diagnosed her illness. They concluded Sandra was suffering from pancreatitis, but not before she experienced kidney failure and then lung failure. On her ambulance ride to another hospital, Sandra had a stroke, and lapsed into a coma.
This began a 43-day hospital stay. Even when Sandra came out of her eight-day coma, she had a long fight to return to full health. Her family and friends stood by her every step of the way. Not a day went by during Sandra's hospital stay when she didn't have a loved one or Medi-Share members and employees praying for her.
Overwhelming Hospital Bills Graciously Shared By Medi-Share Members
Such a long hospital stay brought the total of Sandra's care to over a million dollars, an enormous sum which the family could never have paid alone. Bobby and Sandra had been members of Medi-Share for years, but this tragedy marked the first time they desperately needed to call upon their brothers and sisters in Christ to help share in their burden. The members of Medi-Share didn't fail Bobby and Sandra. Medi-Share members, who form the Christian healthcare sharing program, came through for them when they needed it most.
More importantly, Medi-Share members prayed for Sandra's recovery without ceasing. The outpouring of generosity and help took Bobby and Sandra by surprise. Whenever they called Medi-Share, employees asked if there was anything else they could do. To this day, Sandra continues to receive letters from the Medi-Share members who helped support her family through the health care crisis she experienced. She has made a full recovery in the year since pancreatitis nearly took her life, but the support hasn't ended. Those who prayed for her haven't forgotten her even after she fully recovered.
Count On Christian Healthcare Sharing for Support
Everyone prays a debilitating injury, or life-threatening illness, never affects his or her family. When it happens, however, Christian healthcare sharing offers the peace of knowing other faithful individuals are opening their hearts and offering their resources to alleviate the burden. Medi-Share provides its members with more than financial support; it gives hope and spiritual support to those going through the most trying time of their lives.
Watch Bobby and Sandra's touching story and experience for yourself how Christian healthcare sharing was a lifeline for this couple when they needed it most.
With Medi-Share, you can expect community support when the unexpected happens. Be encouraged by the testimonies found on our Medi-Share Reviews page.