Wondering how God can be glorified when it's all about you?
Including my faith in my physical health journey has been something I have done for a long time. In fact, I remember the very day I asked God to use all my physical training to glorify Him. Many years ago, while still in college, I competed in fitness competitions. I would train in a gym three times a day. Morning cardio before class, afternoon weights and routine practice, then a final cardio session after my shift waiting tables.
I lived a pretty intense life for someone in their early 20's, but focusing on training and fitness competitions kept me out of trouble. I was Born Again while in my third year of competing. Before I stepped on the stage to compete that year, I asked the Lord to use it.
"Lord, I pray that you can use all my training to glorify you".
I went on to win the state title at that meet and top 10 in the National competition. However, it was my last year to compete. It was not; however, the end of my pursuit of health and fitness. Instead, I started to learn how to use the time I spent and the passion I had to glorify God.
I love that God can take the activities we love and show us ways to use them to glorify him. All we need to do is lay it at his feet and ask him to show us how.
Over the next several years, I coached others and grew deeply in love with our Lord. He started to reveal truths to me. He showed me how to worship Him through exercise.
Yes, I said exercise can be worship to God!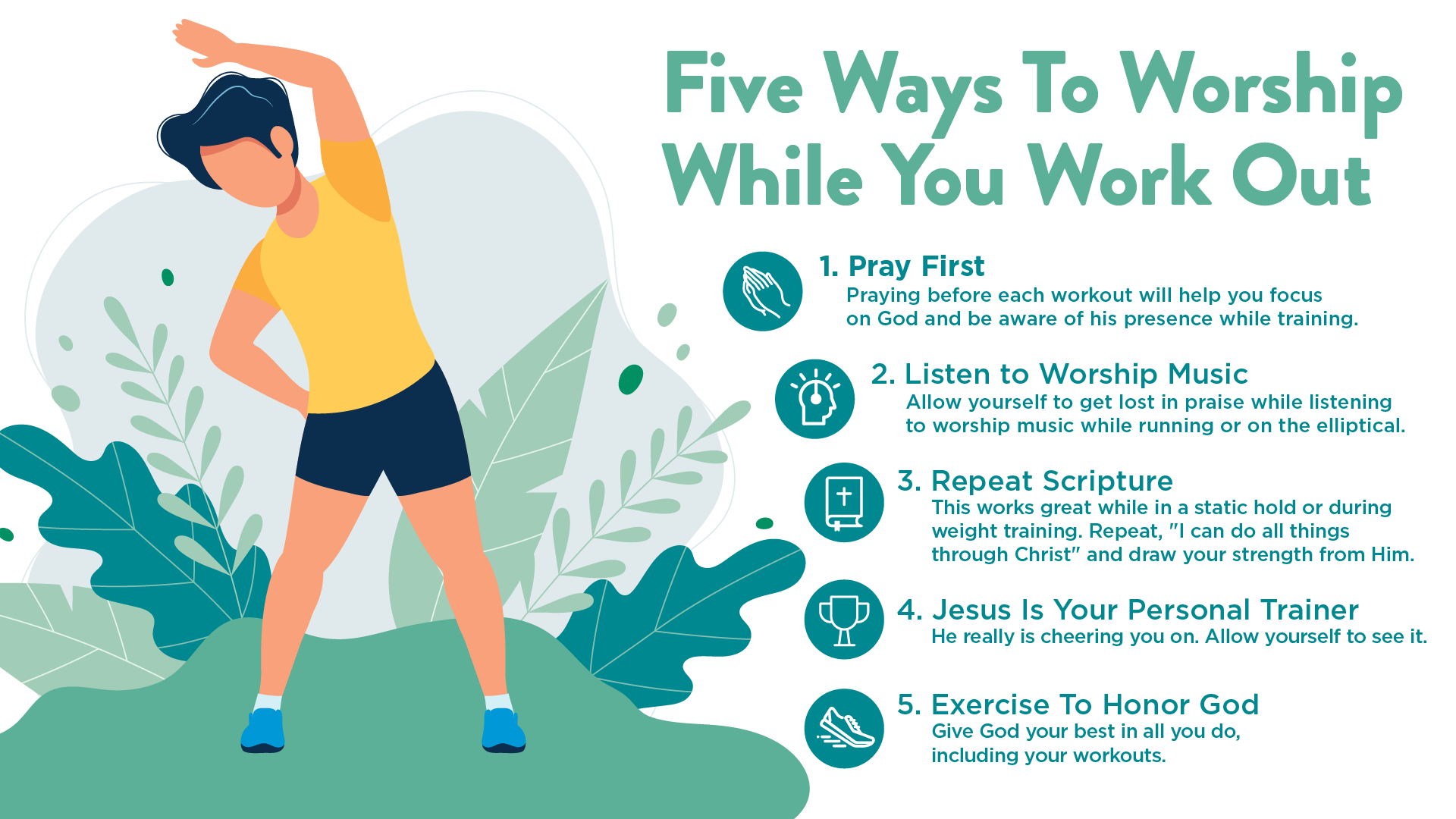 It's all about your heart. If your goal is to look good at the beach, you are only focusing on self. But if your workout is your time to disconnect from the troubles of this world and connect with God, it is worship. Even if you don't want to be at the gym, but you do it with a joyful heart to the Lord, then it can be worship. Practicing discipline when you just want to sit on the couch could be worship. If you do not like to exercise but you do it with excellence because it is work that you do unto the Lord, that can be worship. The trick is to focus on God over self, yet (similar to what usually happens when your actions focus on others) you benefit as well. The same is true here.
I later had the opportunity to teach a biblical wellness class at church alongside a dietician. At that moment, I started to see that God was using my passion for health to glorify Him. I later found myself training at a faith-based gym where I shared a devotion to strengthen our spirit before we lift one weight to strengthen our physical bodies. God was opening doors for me to use my passion to glorify Him, which brought me so much joy. Still today, I share my passion for wellness and Jesus' love at my job with Medi-Share.
Exercise does so much good for our physical bodies. You already know this. However, if knowing that alone is not enough to motivate you, I encourage you to think of it differently. You have a personal trainer and life coach in Jesus. He will be with you and encourage you to pack that gym bag and show up. Then he will be there with you encouraging you to do one more rep or take one more lap around the track. All it takes is that you invite Him into your workouts. Pray before each workout and be aware of his presence at the gym. If you are anything like me, it is easier to obedient to God then to yourself. Say yes to have Jesus as your exercise buddy. He always shows up and believes in you. Give this time back to the Lord and you will be blessed for it.
:"Have nothing to do with irreverent, silly myths. Rather train yourself for godliness; for while bodily training is of some value, godliness is of value in every way, as it holds promise for the present life and also for the life to come." 1 Timothy 4:7-9