Meet Steve Brown. He's Medi-Share's Director of Development working from our home office in Melbourne, Florida and a valued employee of 12 years! Many events throughout his life have shaped him to be the man he is today―born again in Christ and pursuing Gods calling for his life. We are so thankful for Steve's contribution and loyalty to the ministry and know you will be encouraged by his story as well!
Q: How long have you worked at the Ministry and in what capacities?
I have worked at the ministry for 12 years. I started in Member Services as a "Member Advocate" or more commonly known today as a phone representative. Preceeding this, I worked in Provider Relations as a manager. I have spent the last 10 years in Development, 2 years as a manager and 8 years as a Director.
Q: What led you to CCM?
My realtor worked here at CCM part time in Development and informed me about a vacancy. I had never heard of Medi-Share and was intrigued by the concept.
Q: What do you value most about CCM?
The people and the prayerful atmosphere. It's great to work at a place where we can collectively and openly share our faith.
Q: Where did you grow up?
I grew up in London, England.
Q: Tell us about your family.
I kind of have two families. I have two adult daughters back in England―Nicola and Luisa. I'm very proud of them both. Nicola works in child care and Luisa is a social worker. I have two grandchildren, Khiarna (9) and Malakai (2), from my daughter Nicola. Over here in the USA, I am married to Aubra who also works for CCM in Needs Processing and I have a step-son Hunter (12) who is going through Virtual School.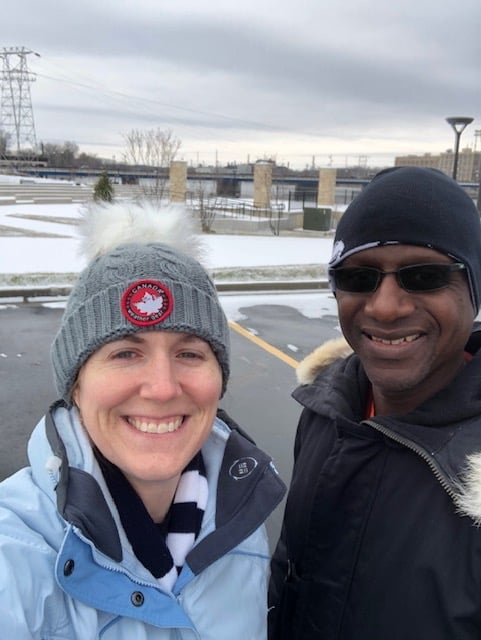 Q: How did you come to know the Lord/what is your testimony?
I was born again at 31 years old. I had grown up in the Church but decided to go my own way when I became an adult. I continued to live a life far from Christ and constantly made poor life choices. Eventually, one day, when going through a bad patch, my sister called me out of the blue and told me that God had given her a message. She said that God wanted me back. At the time it resonated with me, as I had been searching for something that I now know was God. It all seemed to make sense, so I gave my life to the Lord that very moment over the phone.
Q: What are your hobbies or passions?
My main hobby is working out with Bobby at our on-site gym. I have always been into fitness and his class has really helped me get back into shape after a back injury.
Q: Anything else you would like to add?
The secret of working somewhere for an extended period of time is being happy with the people around you. I worked for the Post Office for 20 years back in England in multiple roles. I never thought I would find a place better than that experience. I have been here through the good and bad times, but the one constant is that we continue to pray and give homage to our Father.
If you are interested in a career with Christian Care Ministry, check out our job postings here.