Meet Audra Garrison! She is a Contact Center Manager in our Colorado Springs office and is a born and raised Colorado native. Growing up on a 3,000-acre ranch outside of Steamboat Springs and her faith have defined a large part of her life. We loved getting to know Audra a little better and we're sure you will too!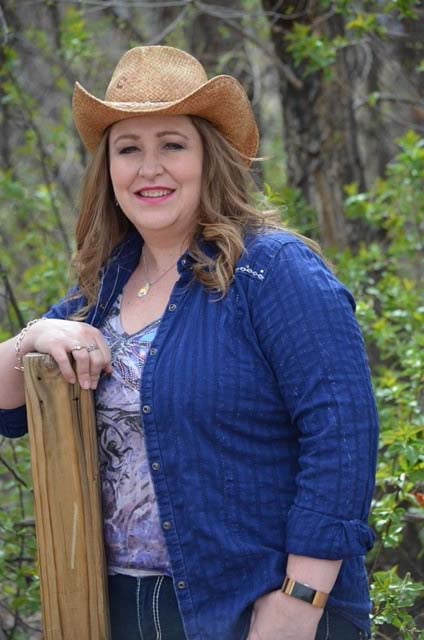 Q: How long have you worked at the Ministry and in what capacities?
I started December 1st, 2016, so it's been 2 ½ years. I was actually the second Contact Center Manager hired in Colorado Springs.
Q: What led you to CCM?
My faith led me to CCM. One of my gifts is praying, so I loved the culture here. Prior to CCM, I had been in the contact center space for 28 years. I'd been looking for something like this for a long time, so when I saw the opportunity I jumped on it right away. I love that I can openly share my faith and pray with others while working in the contact center realm.
Q: Where did you grow up?
I grew up in the mountains in Steamboat Springs, CO on a 3,000-acre ranch and have 80 years of family history in that region.
Q: What was it like growing up on a ranch?
Growing up, we had every farm animal you could imagine on the ranch. Ranch life out in the mountains is tough. I had chores to do every morning and every evening. As a kid, my grandparents were the school bus drivers for my route. So, I had to get up at 4:30 a.m. to do my chores and then hop on the bus to get to school by 6:30! When I arrived home after school, I had more chores to do as well.
Q: Do you ever miss living in the country?
I do. There's nothing like getting up in the morning, saddling up a horse and being gone all day. Growing up, we would frequently wander all around the ranch and this was before the days of cell phones. We were normally busy playing hide and seek in the willow trees while on the horses. We couldn't really hide, but would have fun trying to tag the other person when we "found" them. Nowadays, I would panic if I hadn't heard from my kid all day, but it was a different time.
Q: Tell us about your family.
I'm the oldest of three children. I lost my dad to cancer about 14 years ago. He was a marine and a school bus mechanic. My mom is a born and raised native of Steamboat Springs. She has never left the area. I have two younger sisters as well. Last, I have two adult children. My son is 21, and my daughter is 19. They're both in college.
Q: How did you come to know the Lord/what is your testimony?
When I was 10 or 11 years old, I was invited to Vacation Bible School by one of my friends. It was during that week that I was asked if I wanted to get to know the Lord as my Savior, so I raised my hand. I still have my little black Bible and the ribbons of all the Scriptures I had to memorize that week.
Q: Tell us a little about how you became involved with our Employee Missions & Volunteer Program.
I really missed the life I had growing up on a ranch, so I was looking for a way to work with animals or horses. I was scrolling on Facebook one night and an ad for Stable Strides popped up which is a therapeutic riding center for individuals with physical and mental disabilities. The organization is designed to promote healing through experiences with horses. I've been volunteering with them since May of 2018 but I didn't know about our Missions & Volunteer PTO benefit until this year. I've been able to stretch out the 24 hours of volunteer PTO over the last seven months by volunteering for an hour or two each week.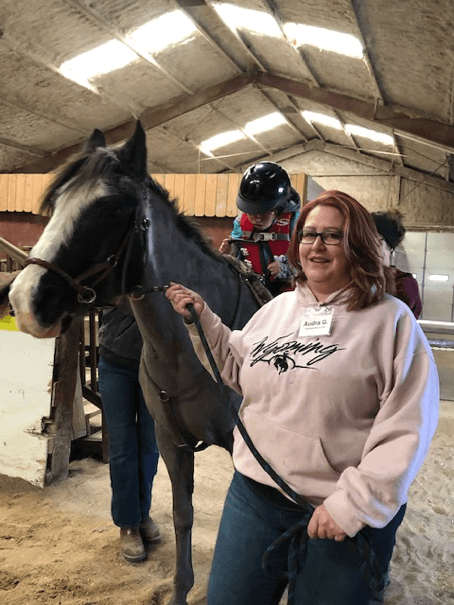 Q: What's the best part about volunteering and sharing with others?
Growing up the way I did, I just love the smell of hay and being in the barn. Being able to volunteer during the work week helps me so much. I get so much joy in seeing how I can help others. Therapeutically, it helps me with my own aches and pains as I help with the aches and pains of our clients. The best part though is I often have the opportunity to share my faith indirectly. When clients or other volunteers ask where I work, I'm able to tell them about Medi-Share and the sharing model on which we're based. There are even times when I've been able to pray with a client who is having anxiety about getting up on a horse.
Q: What would you tell someone who is considering volunteering in their community?
I guess if I could encourage people to just get out there I would. It is truly a gift to go out and make a difference and benefit the lives of others, as well as have opportunities to share your faith.
Whether you're volunteering with something you're passionate about like me, or it's something else, there are so many opportunities out there and so many places that need help. You just have to go out and look!