As I desperately await the arrival of the "normal" that seems far off, I've become a little stir crazy in my own home. I've knocked out all the obvious projects, and have found myself wasting more time lately. The novelty of this whole thing has passed, and it's been a challenge not to view the rest of this time as something to just "get through."
How can we approach each day with joy and contentment in God's plan?
I'm reminded of Paul's words in Philippians 4:11b-13, "for I have learned in whatever situation I am to be content. I know how to be brought low, and I know how to abound. In any and every circumstance, I have learned the secret of facing plenty and hunger, abundance and need. I can do all things through him who strengthens me."
If Paul, who faced beatings, imprisonments, shipwrecking, threats on his life, rejection, and more can find contentment in Christ, surely we can make an effort to do the same. But that still leaves many of us with a lot of extra time at home on our hands!
So, to help us all pass the time in a more productive way, here are a few low-cost crafts and DIY projects to get you moving and grooving around your house:
Dust all the forgotten corners.
It's time to grab the microfiber cloth and inspect those overlooked places that are collecting dust. Shelves, baseboards, ceiling fan blades, light fixtures, and picture frames need their spa day so don't delay another moment.
Grow some butterflies.
If you have children or even if you don't, have you ever thought of growing some butterflies? I remember doing this as a child and loved everything about watching the process. Also, if butterflies aren't your thing, the Nature Gift Store site has a couple of different kits from which to choose.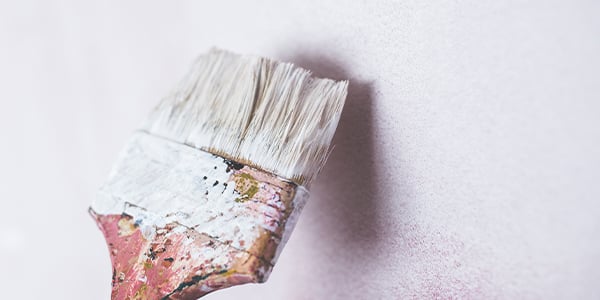 Touch up the paint on your walls.
Almost everyone has a can of leftover paint laying around the garage somewhere. Dig out the supplies and touch up the high traffic areas in your home. Hallways, dining rooms, and bathrooms often see the most abuse. Maybe there are even a few spots that could use some repair and spackle. You'll be surprised how much a little fresh paint will make everything feel cleaner.
Learn embroidery.
This is one of those older crafts that is experiencing a little bit of a modern resurgence! The supplies needed are pretty basic and relatively cheap. To start, you'll need a variety of embroidery floss, a hoop, a needle, and some fabric.
If you're a beginner there are plenty of YouTube channels which show some of the basic beginning stitches. Beyond that, the options and creativity are endless!
You can snatch up some classic patterns at your local craft or fabric store, but if you want a more modern design there are plenty of patterns online. Just search "modern embroidery patterns" and you're sure to find something that strikes your fancy.
Do some digital clean up on your laptop or smartphone.
Are there a slew of accidental photos bogging down your digital space? Do you have documents hanging around from 10 years ago? It's time to clean up and clean out the digital clutter in your life. Upload your photos and documents to an external hard drive or a cloud application and clear off your devices you use daily. In addition to a cleaner digital appearance, you may just experience improved operating speeds!
Create abstract watercolor wall art.
The simplicity of watercolors is what makes them intriguing. It's also relatively cheap and non-toxic. All that is needed is a set of watercolors, paint brushes, and water color paper. You can use a paper or styrofoam plate as a palette and you're set! Cruise around YouTube and watch a few beginner watercolor tutorials. If you master all the basics, you can work on more advanced skills. Just remember that art skills, like anything else, require practice. Don't lose heart if your first watercolor painting doesn't deserve a spot at the MoMA.
Marble paper or fabric.
If watercolor wasn't your thing, you may enjoy marbling paper. It's like an ancient form of tie dye but better. You can purchase a marbling kit online. While you're waiting for it to arrive, gather skewers, shallow trays, and any type of paper or fabric you'd like to try marbling. Watch a tutorial and get inspired. When I first tried marbling, I picked up a pair of $5 white canvas shoes at Walmart, and they turned out great! I've been itching to try it again ever since. Side note: this project would probably be easiest done outside. Like tie dye, it can get a little messy.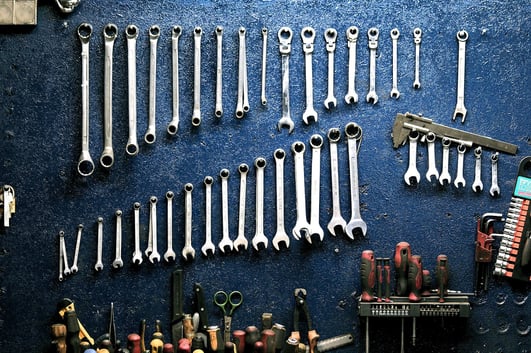 Clean out and organize the garage.
If your garage is anything like ours, it could use a little attention. It's time to take a deeper look at all the things hiding in there. If you haven't used something for the last 10 years… it's probably time to get rid of it. Research different shelving and storage options for all that you do decide to keep, and develop a system to keep things organized.
Start a Bible reading plan on YouVersion and invite others.
First of all, download the YouVersion Bible app on to your smart phone if you don't have it already. Next, search the hundreds of different free reading plans they have available and invite and challenge others to join you in reading. Reading plans can be sorted by topic or style. It seems a bit of an oversight if we don't spend some of our extra time with the God of the universe, right? If you've always struggled to read the Bible consistently, grab an accountability partner and challenge yourself to complete a few plans in the Bible app.
As we plan out our days, let's not forget the hope we have in Christ! We can be thankful that Christianity isn't a Do-It-Yourself project. We have the Holy Spirit to lead and guide us. So let's depend on Him as we remember the truths from 2 Corinthians 4:17-18, "For this light momentary affliction is preparing for us an eternal weight of glory beyond all comparison, as we look not to the things that are seen but to the things that are unseen. For the things that are seen are transient, but the things that are unseen are eternal."