October is Dental Hygiene Awareness month, and dental health reminders are ideal right now as sweets are more abundant.
But, did you know many claim sugar doesn't cause cavities?
Okay, put on the breaks! It's true, sugar doesn't CAUSE cavities. Sugar just feeds and encourages the bacteria that causes cavities. Either way, eating or drinking sugar can lead to more cavities and a decline in oral health.
This is one of many misunderstood facts about dental hygiene. According to the American Dental Association, Americans scored a "D" on the National Oral Health Quiz in 2012. Here's what most Americans don't know about dental care:
90% believe they should brush after every meal. Experts recommend two times a day as best practice.
Tooth brushes should be replaced every three months. Most believe two times a year is sufficient.
Many don't know a child should have their first dental visit six months after their first tooth appears.
Most believe sugar causes cavities. Germs in our mouth produce acid which attacks tooth enamel, making teeth susceptible to cavities. However, sugar is not innocent. Sugar is the food that germs feed on.
Oral health can decline when you're pregnant.
Good oral health starts when you're a baby, not when your first teeth appear.
If you're expecting, check out this video of how your mouth changes during pregnancy and how to keep your baby's mouth clean.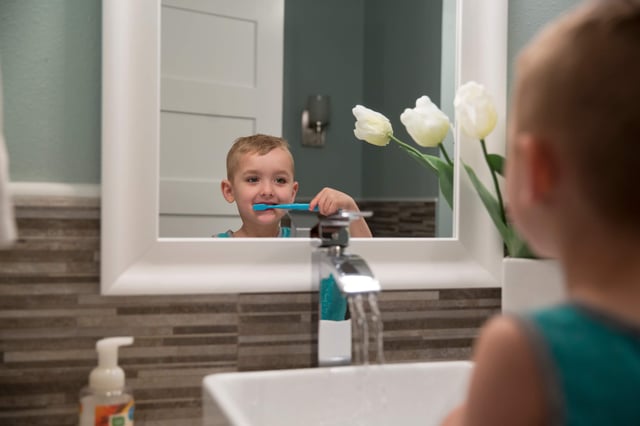 Most of us do know that we need to brush our teeth every day, but what does a complete oral health routine look like?
Since that quiz in 2012, the ADA has implemented a new campaign called MouthHealthy. Here are their recommendations:
Brush twice a day with a fluoride toothpaste
Clean between your teeth with floss

or another interdental cleaner

once a day
Replace your toothbrush every 3-4 months
Eat a balanced diet
Limit snacks between meals
Schedule regular check-ups
In addition to our daily routine, regular visits to the dentist should also take priority. Most people visit every six months to a year, but those at higher risk may want to go more often.
Who has a higher risk of Oral Health Problems?
Those with diabetes
People who struggle with anemia
Those diagnosed with cancer
Hyperthyroid patients
HIV/AIDS carriers
Those struggling with eating disorders
Women going through hormonal changes like pregnancy
Tobacco users
These conditions can make dental matters worse, but poor dental hygiene can also add to health problems. They go hand-in-hand.
Our mouth is the main entry into our bodies.
When germs, bacteria, and yeast form in our mouths, they may find their way into our bodies. This is why it is important to keep your mouth clean by taking proper care of your teeth and gums.
Oral health is so much more than having a great smile or just preventing cavities. It can affect the health of our whole body.
Take this time to become more aware of your dental health and evaluate where improvements can be made. Your whole body will benefit from it.