Have you taken a stroll through your local city or state park and wondered what those metal baskets with hanging chains are doing scattered throughout the landscape? If you haven't figured it out yet, those metal baskets are the targets for the sport of disc golf, or casually referred to as frisbee golf.
What is disc golf?
Disc golf is a sport that applies the rules and format of traditional golf to a different landscape and uses flying discs in place of a ball and clubs. Like golf, disc golf has an 18-hole format, a par scoring system, a similar layout (starting point/tee, fairway, rough, out-of-bounds, green), and various discs for long to short throws.
Unlike traditional golf, disc golf is usually set in more wooded areas, with trees as the primary obstacle. Disc golf courses are most commonly located in city and state parks and are typically free to play.
"I can't do that because I'm not good at throwing frisbees."
Before you check out and you think this sport won't work for you because "I'm not good at throwing frisbees," let me stop you right there. With a little direction and a good frisbee, you will make that disc sail before you know it. Learn the basic mechanics of throwing a disc golf disc HERE.
Five Reasons You Should Try Disc Golf
1. It's a fun way to enjoy the beauty of God's creation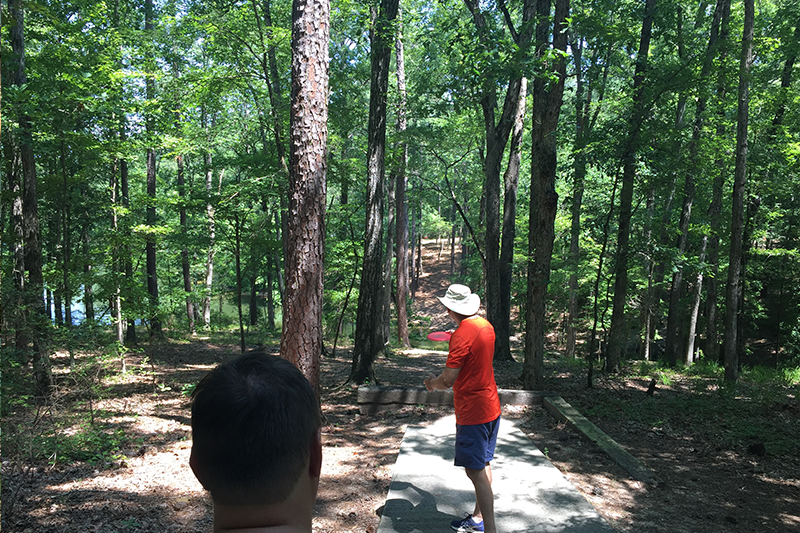 Disc golf courses are usually set in city and state parks embedded in the natural terrain of the location. Disc golf courses often, though not always, utilize wooded parts of a park with paths cut through the woods for gameplay. Courses can be found on all types of terrain, from mountains, hills, flat land, and around bodies of water.
Playing disc golf immerses you in nature, so take a deep breath and enjoy the refreshing environment.
A sport in the woods? What about ticks, spiders, and snakes? While you may encounter these creatures, you don't need to be overly concerned. Most disc golf courses are highly trafficked, so our little friends usually keep their distance, but applying some bug spray before your round doesn't hurt. Before playing a course for the first time, you can learn about it and read reviews left by others through a popular app called UDisc.
2. The beauty of the flight of the disc
There is just something special about flight that appeals to the earth-bound man. Like the birds soaring high above and airplanes traversing the skies, the flight of the disc is captivating and a joy to watch.
Check out these throws made by Kara Lee!
As you develop skills in disc golf, you will gain more and more control and mastery over the disc's flight. With the combination of many ways to throw the discs, the various discs to choose from, and the endless number of unique situations you find yourself in during a round of disc golf, the fun in the game comes from shaping different throws to get the disc to the basket.
3. It's good for the mind and the body
Disc golf is refreshing for the mind – Like traditional golf, disc golf is a tactical sport requiring focus, decision-making, and athletic execution. With those elements combined, disc golf is a mental and physical sport requiring you to make calculated decisions for each throw. Various factors affect your throws, such as the distance you are trying to accomplish, the shape of the throw, the wind, the angle of release, and the amount of power you put into the shot. When taking all of those factors into account, it's easy to enjoy the moment and forget about your to-do list at home or work as you craft your next shot through the fairway.
Disc golf is easy on the body – Unlike more vigorous sports, enjoying a round of disc golf does not call for stressing your body to max physical exertion. While the game does offer opportunities for full-body athletic movement, those moments are sparse and compacted into quick bursts of energy. Disc golf is literally a walk in the park and a breath of fresh air. Ok, depending on the terrain, it might feel more like a hike than a walk, but trust me, that only makes the game more fun.
4. Disc golf is inexpensive
Outside of purchasing a few discs to play with, disc golf is usually free as it is often set in public parks. Privately owned disc golf courses are on the rise, but even those courses usually keep fees to play relatively low or donation-based. Buying individual discs usually costs between $10-20, and you can fully enjoy the sport with as few as three discs. Check out an online retailer like www.discgolfcenter.com to choose from a vast selection.
5. Disc golf is social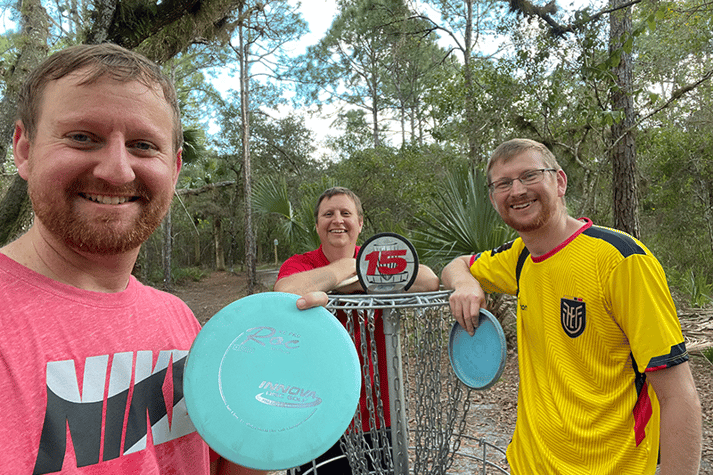 While you can play disc golf individually, I find the sport more enjoyable when playing it with friends or even total strangers. It is easy to get to know people and chat throughout a round of disc golf as you walk to your next throw or the next hole on the course. Two to four people playing together makes for great camaraderie and competition while not slowing down the round too much. It's a blast seeing others pull off a great throw or sink a long putt, and when the magic of a rare hole-in-one strikes, it's best enjoyed in the company of others!
If you need more than casual play to satisfy your competitive nature, organized tournaments allow you to compete in multiple-round events for the best score against other athletes. If you want to play a lot of organized disc golf and establish an official player rating, consider becoming an official PDGA (Professional Disc Golf Association) member.
Tips for Getting Started
Watch a tutorial on how to throw a disc
There is plenty of free content on YouTube to learn about disc golf.
Learn about proper form for throwing well and safely through a channel like Overthrow Disc Golf.
Have fun tagging along with one of the world's most beloved disc golf pros, Simon Lizotte, through his vlog content.
Or enjoy free coverage of professional disc golf tournaments neatly packaged into 40-minute videos on JomezPro.
Buy a Starter Set of Discs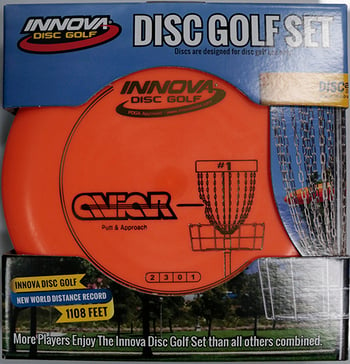 A starter set of discs is an excellent place to start for someone new to the sport. A set like the DX Disc Golf Set comes with three discs - a fairway driver, a mid-range, and a putter. These discs are especially suited for newer players and will give you enough options to make various types of shots throughout a round of disc golf.
As you grow as a disc golfer, you will want to expand the number of discs you carry with you through a round to match the demands of your next throw with the unique characteristics of a particular disc.
One of my favorite online retailers is www.discgolfcenter.com
Prices are reasonable and competitive

A large inventory across manufacturers

You can choose the color, weight, and plastic type of the discs

Pictures, charts, and flight ratings help you pick the best disc for you
Download the UDisc App
UDisc is the leading app for all things disc golf. With a free and paid version available, UDisc brings everything you need to know into one place.
Find courses to play: UDisc helps you easily identify courses near you or in other destinations. It incorporates a user-based rating system and filters to help you find the best courses for your next disc golf adventure.
Track your score: You and your friends can track your score and navigate the course you are playing through GPS using the scorecard feature of the app.
Measure your throw: Through GPS tracking, the app gives you a rough measurement of how far your throw went. Simply hit "Start" and "Stop" to measure your latest bomb of a throw!

Discover these features and more on the UDisc app!
Connect with a local disc golf club
If you don't have a friend to show you the ropes and enjoy the game with, look for a local disc golf club to find other disc golf enthusiasts. You can often find these groups on a platform like Facebook or www.meetup.com. Disc golfers are usually very friendly and more than willing to introduce someone to the sport.
What are you waiting for?!
There are parks to explore, discs to throw, and courses to master. Grab a buddy and a few starter discs, and try disc golf!
Questions? If you have any questions about disc golf, please leave them in the comments. I'd be glad to help you learn and enjoy the sport that I've come to love!
Have a tip? Do you have a tip or suggestion for someone exploring the sport? If so, please post it in the comment section as well.
Go play disc golf!