[As appeared on Star Tribune] Feel better and improve health by increasing your vegetable intake. Getting your 5+ servings a day of vegetables can lower blood pressure and blood sugar levels, reduce the risk of heart disease and stroke, prevent some types of cancer, give you feelings of well-being, and curb your appetite.
That's a lot of benefits!
If you have not made a habit of eating vegetables, the idea of consuming a plate full of broccoli may not be something you feel motivated to do.
The truth is, the more veggies you eat the more your body will enjoy the taste and how you feel after consuming them. But for now, consider these 5 tips to up your veggie intake while enjoying your meals each day.
Veggie noodles—zucchini, squash, carrots, or beets—if you can spiral it, you can make veggie noodles. Some flavors and colors will feel more like a traditional noodle, but sometimes adding color is fun too. Check out this article on how to make Veggie noodles.
Add veggies to soups—purée in broth. If you don't like big chunks of veggies in your soup, no problem. Try roasting vegetables then putting them in a blender or food processor. Add the puréed vegetables to your soup broth. It will add flavor and thickness to your soup, making it satisfying and healthy.

Smoothies—this is one of the easiest ways to get leafy greens in your diet each day. A hand full of spinach or baby kale will blend right in. Allow your greens and water to blend a bit longer before adding other ingredients to help them chop up nicely. Then add in a few fruits as well as an avocado or other boosters. Smoothies are cool and refreshing ways to sneak greens into your diet.
Experiment with Cauliflower—before you turn your nose up at cauliflower just being "white broccoli," hear me out. Cauliflower is booming in popularity lately because people have experimented with the possibilities. If made correctly, most cauliflower recipes don't taste like the vegetable but the flavors they are made with. What makes cauliflower so great is the great texture you get from it—from rice to pizza crust to a whole roasted cauliflower. Numerous times my family didn't even know they were eating a vegetable version of a beloved carb and, in some cases, preferred it. Season it well and you will be surprised at the taste.
Savory oatmeal—oatmeal gets rave reviews for its fiber-packed goodness, but it does not need to be eaten sweet. Try a savory version for breakfast, lunch, or dinner. My sister introduced me to a kale and mushroom steel-cut version last year. Instead of cooking the oatmeal in water, cook it in vegetable broth then add in mushrooms and kale. This recipe is delicious and will change the way you think of oatmeal forever.
Incorporate a few of these into your routine and soon you'll feel more energized and healthy. As you start to eat these foods and introduce them to your family, kids will start to acquire the taste of vegetables early and you will all benefit some these small changes.
For additional health resources check out Medi-Share's Wellness Library.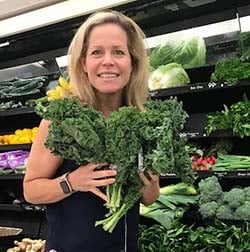 Debbie Ryan is a Public Relations Specialist with Medi-Share. In addition to being a wife and mom, Debbie is passionate about health and wellness, and encourages others in healthy living every chance she gets.