June is National Zoo and Aquarium Month, making it the perfect time to get out and explore a zoo or aquarium of your choice. With over 200 nationally accredited institutions (and about ten times that figure in general), you should have no problem finding a zoo or aquarium to visit this summer — but you may have trouble deciding which one! We'll round up some of the coolest zoos and aquariums below to help make your choice a little easier.
But first, let's take a look at why you and your family should consider a zoo or aquarium visit this summer.
Zoos help animals. According to the Association of Zoos and Aquariums (AZA), their facilities have helped care for and protect "over 800 vulnerable, endangered, critically endangered, and extinct in-the-wild species." The care that these animals receive at zoos and aquariums helps to prevent them from becoming extinct in the natural ecosystem.


Zoos help people. A study conducted at the St. Louis Zoo found that a trip to the zoo is scientifically proven to reduce stress levels. Researchers measured participants' blood pressure, salivary cortisol, and psychological markers and found significant improvement after walking through an immersive zoo environment.


Zoos help communities. AZA zoos and aquariums are responsible for $22.5 billion in national economic contribution. They add more than 198,000 full-time employment opportunities and serve more than 183 million guests each year.
Conservation, health, and community involvement are certainly some great reasons to plan a trip to a zoo or aquarium this month. But beyond that, zoos are just plain fun! Watching an otter dive underwater or a monkey swing through its habitat is sure to bring on the summer smiles. So let's get zoo it!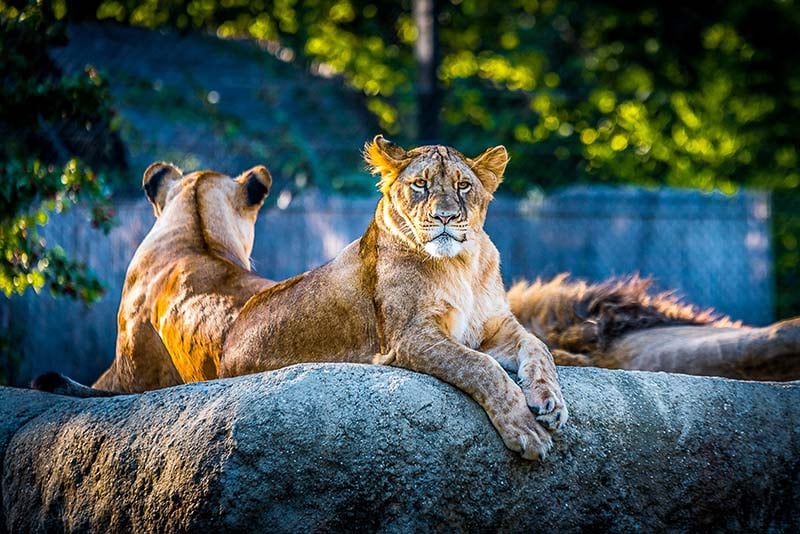 Photo by Goran Vrakela


Local Zoos and Aquariums (And Beyond!)
As you're thinking through a zoo or aquarium visit, it's great to start with the closest facility to your home. That way, you're supporting your local community and also spending less on travel expenses.
Depending on where you live, your zoo or aquarium may be small or large; tickets may be free to the public or represent a significant "day trip" kind of expense. As such, you'll need to research your own local facility's times, prices, and exhibits before planning your visit.
If you intend to make a few trips to your local zoo or aquarium this summer, a family membership might be a good option, financially speaking. Plus, if your zoo or aquarium is accredited by the Association of Zoos and Aquariums (AZA), you may be able to enjoy reciprocal benefits, such as free or discounted admission to other AZA institutions across the country.
When my kids were young, their grandparents gave them a membership to our local zoo as a gift. Our Brevard Zoo provided dozens of outings for us to feed the giraffes and watch the kangaroos hop. We thoroughly enjoyed the splash pad, playground, and air-conditioned vet imagination station on hot summer days. That zoo pass got a lot of use, for sure!
Then, when our family planned a couple of vacations — both across the state and across the country — our zoo membership got even more use through the AZA reciprocal program. Check out this AZA link which details all the participating zoos and aquariums across the nation.
10 Unique Zoos and Aquariums Across the United States
As you consider vacationing near zoos and aquariums this summer, there are several resources across the internet that will highlight top nationwide facilities. No doubt all of them would be a great destination choice! So instead of focusing on the "biggest and best," below we'll showcase a few zoos and aquariums that offer something unique for your family to see or do.
Omaha Henry Doorly Zoo and Aquarium: This Nebraskan establishment is notable because of its dual status as both zoo and aquarium. But what makes it stand out even more is the impressive five-acre children's area, complete with a prairie dog building station, water play area, and treehouse structure where kids can climb alongside monkeys.
National Aviary: Located in Pittsburg, this facility is mostly known for interactive bird exhibits. In addition, they offer a sloth painting experience! That's right, a resident sloth will make a masterpiece for you as part of a hands-on small group presentation.
San Diego Zoo: I can tell you from experience that the San Diego Zoo lives up to its hype! Animals like koalas and red pandas call this place home, while nearby experiences like zip lines and truck tours at the zoo's Safari Park take adventure to the next level. You can even schedule a safari sleepover!
Georgia Aquarium: If you're headed to Atlanta, don't miss the incredible Georgia Aquarium, with dolphins, sharks, and even penguins that go on a daily walk through the main atrium! To enhance your experience, you can book personal encounters for an additional cost.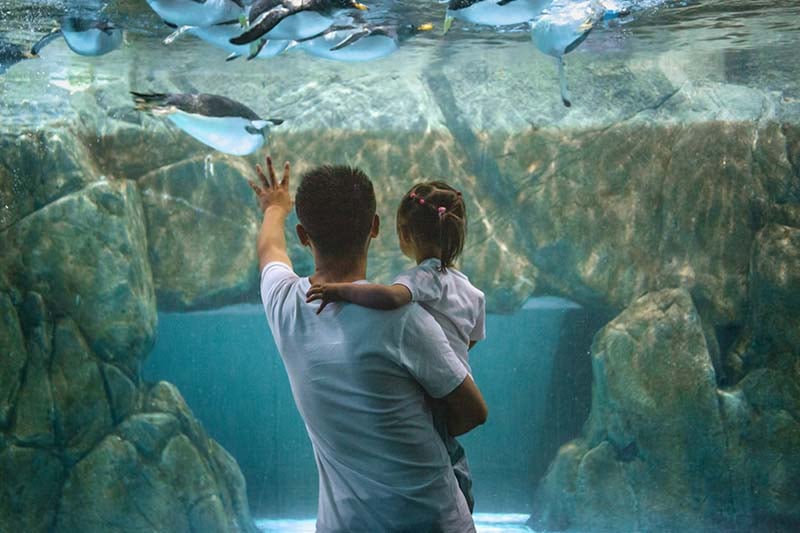 National Mississippi River Museum and Aquarium: Located off the beaten path in Iowa, this unique facility is one part aquarium—with river fish, otters, and birds—and one part historical museum with a blacksmith exhibit, riverboat tour, hands-on splash area, and much more.
Cincinnati Zoo: A train, a carousel, a massive climbing structure, and a botanical garden? Yes, please! I've also had the privilege of visiting this zoo; my personal favorite was the up-close-and-personal elephant exhibit.
St. Louis Zoo: The best part about this zoo? It's free! However, if you want to plus your experience, you can opt for paid tickets to bird shows, a 4D theater, the "Dinoroarus" attraction, a stingray cove, and more.
Museum of Life + Science: Part zoo, part science museum, entirely fun! This zoo-seum in Durham, NC, houses wolves, lemurs, bears, and more. In addition, it also contains aerospace, building, math, weather, and health exhibits. A must-do for kids, and an unexpected part of the AZA participation program!
Bronx Zoo: One of the most fascinating things about the Bronx Zoo is certainly its location. Since it's just a hop away from downtown New York City, it'd be easy to imagine this zoo losing real estate over the years. But at 265 acres, this metropolitan zoo has plenty of space to explore penguins, sea lions, and even big cats.
Shedd Aquarium: In the heart of Chicago lies one of the country's best-known aquariums, the palatial Shedd. Here guests have the opportunity to interact with numerous touch tanks and view the rare white-sided dolphin, all from an idyllic Lake Michigan setting.
That's a lot of choices for one celebratory Zoo and Aquarium Month! No matter where you decide to visit, you're bound to have a healthy dose of fun with both the animals and the ones you love.