I love those times I open my Bible and everything I read seems so clear and breathes life into my day. It is a satisfyingly peaceful feeling, kind of like being with an old friend who, despite having known you on your worst of days, finds no uncomfortable barrier but only pleasure in your friendship.
In those times, I find what is spoken of in Romans 12:12, "transformation of my thoughts and attitude" or an answer to something that will bring healing or health to my spirit, a difficult situation, or erroneous mindset.
There are also the days when I lay my head down on my pillow and wonder whether I spent any measurable time in the Word on that day. I own up to skimming Nehemiah's registration of the people but also to reading the gospels and Acts innumerable times, each time finding the fabric of my faith tightly woven as I read the familiar accounts.
I am currently studying the book of Revelation and going through a workplace study in Genesis. Note to reader: working in a Christian environment definitely has advantages.
Oh, the paradox between the simplicity in the Bible's message and the depth of the riches, wisdom, and knowledge of God. Both are made available to humankind, and the majority of readers have almost unlimited access to a written or audio form of what we firmly believe to be the Word of God.
We have been instructed in 2 Timothy to avoid quarreling over words and instead become more than acquainted with the Word by "studying it, presenting ourselves approved to God, an unashamed workman who accurately handles the word of truth."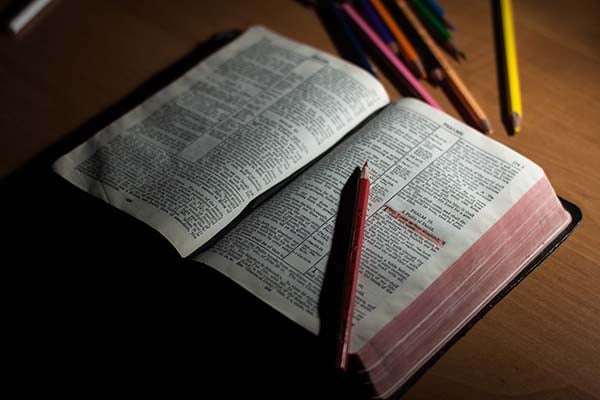 As I am writing on my laptop, I pulled up the 2 Timothy 2:15 Scripture reference in one of my favorite and frequently used tools, Bible Hub. There, I generally use the Berean Standard Bible version, and I simply clicked on the word "handles" and immediately was taken to the Strong's Concordance definition of that word and could clearly understand that accurately handles means "to cut straight" or "rightly divide."
Studying to show myself as an unashamed and approved Christ-follower who is experienced at rightly dividing the Word of God is exactly what I want to practice in my life.
Psalm 119 offers an excellent discourse on the benefits of becoming intimately acquainted with and obeying God's Word. There is an exhaustive list of reasons to study the Bible, but each takes one action: start.
I'm inviting and encouraging each reader to either begin, begin afresh, or continue to read or listen to the Bible this year. The God-breathed Scripture contains the message of a life worth living. It "teaches, rebukes, corrects, and trains in righteousness so that we may be thoroughly equipped for every good work."
Along with this invitation is a sincere prayer that the Spirit of God will cause each of us to hunger and thirst for righteousness and pursue it with loving devotion.
Want resources to begin? Check out Medi-Share's January blog, "How do you Bible?"
Share what has worked for you in the chat below. We always love to hear from you!
Additional Resources:
How to Read the Bible for All It's Worth: Fourth edition by Gordon Fee, Douglas Stuart
Strong's Exhaustive Concordance – Bible Study Tools
SOAP Bible Study method developed by Pastor Wayne Cordeiro