There's a good chance you have a couple of credit cards in your wallet that you use for in-store and online purchases. But when was the last time you thought about whether your credit cards are the "right" cards for your spending habits?
It's time to revisit the credit cards you use if you need help remembering when you opened them, whether you are paying an annual fee, or what perks they offer.
You should also keep reading if you have a limited credit history, an adult child ready to get their first credit card, or you want to learn more about earning sign-up bonuses and points or miles with credit cards.
A Word of Caution
While using credit cards makes sense for many people, some should avoid or limit their use. With average credit card interest rates over 20%, failure to pay off monthly balances can create significant financial hardship.
Paying for your expenses in cash is the best move if you are struggling with credit card debt or have in the past. You should also reconsider credit card use if you need help sticking to your budget. The "cash envelope" system is a great way to help rein your everyday spending and get your finances back on track.
If you're using a credit card to cover expenses you can't pay for immediately, consider a different source of funds. A personal loan may be a better option (even with fair to poor credit) because they generally offer lower interest rates with fixed payments.
You should also rethink your strategy if you're using a credit card to earn points or miles even though you can't pay the statement balance in full at the end of the month. The credit card rewards you earn (1-5% on spending) are likely wiped out by the 15-30% interest you're charged on unpaid balances.
Related Reading: Credit Score, Credit Report, Credit Check - What's the Difference?
Types of Credit Cards
When you decide you're ready to start using credit cards or expand your use of them, you should take time to better understand your options. You might be surprised to learn about all the distinct types of credit cards available.
This is also an excellent time to review your credit score and report. Credit card applications require a "hard inquiry" of your credit, temporarily lowering your score by a few points.
You want to carefully choose the card(s) that best meets your needs and avoid applying for ones you may not qualify for or those that don't fit your spending patterns.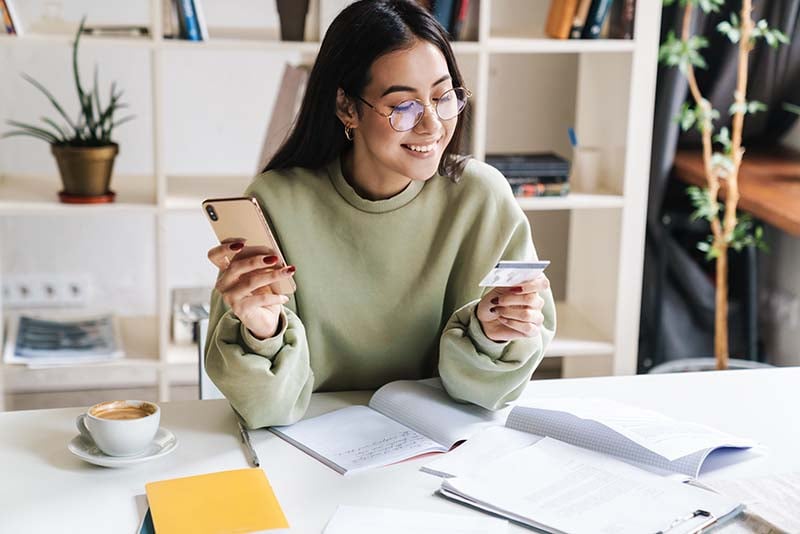 Student Credit Cards
If you're 18 or older, attend college (at least part-time), and have proof of sufficient income, you may qualify for a student credit card. These unsecured credit cards do not require a security deposit and are a good option for college students with little to no credit history.
Most student credit cards come with no annual fee and low spending limits, which helps students avoid taking on too much debt as they start their credit journey. Some student cards come with cashback rewards and additional benefits such as small sign-up bonuses and free credit score monitoring.
Another option for parents is adding their student as an authorized user on a credit card. This gives the student credit access and helps build their credit and payment history. But keep in mind that the cardholder is responsible for all charges. If that is a concern, consider a card from an issuer that allows you to limit the spending ability for authorized users.
Examples of student credit cards with no annual fee include the Discover It Student Cash Back card and the Capital One Quicksilver Rewards for Students card.
Secured Credit Cards
When you're new to credit or have had credit issues, consider applying for a secured credit card. While these cards require a security deposit, they don't need a credit check.
They are a helpful credit tool because you generally can only spend what you have on account. This allows you to build your credit history or repair a bad credit score with on-time payments and without overspending. Still, you must remember card issuers may report overdue payments to credit bureaus and keep your security funds if you fall behind.
Some issuers return your security deposit after some time (usually 6-8 months) with responsible card use and may upgrade you to an unsecured card. Other lenders return the guarantee when you close an account in good standing.
Many secured cards don't charge an annual fee, and you may even find ones that offer cash-back rewards and other perks.
Examples of secured credit cards include the Chime Credit Builder Secured Visa credit card and the Discover It Secured card.
Store Credit Cards
You may already have a "store" credit card from a favorite department store or gas station that offers discounts or rewards for spending money with the merchant or those in its network.
Merchants offer two distinct kinds of credit cards. If you can only use the card at the retailer or chain of stores, it's called one of three names - a store credit card, a private label card, or a closed-loop card.
Co-branded or open-loop cards are backed by a payment network (i.e., Mastercard or Visa) and can be used at the retailer listed on the card and anywhere else the card is accepted.
Store cards are typically easier to qualify for, have no annual or application fee, and offer customers bonuses, discounts, and the ability to earn rewards at their preferred retailers.
Just keep in mind that these credit cards may have high interest rates, low limits, and less overall utility than other lender-issued cards.
Examples of store credit card issuers include Exxon Mobile Smart Card+ and the Gap Good Rewards Mastercard.
Cash Back Credit Cards
A cashback credit card may be a smart choice if you're looking for a simple lender-issued card that offers rewards on your everyday purchases.
There are two main types of cashback cards, flat rate, and tiered.
"Flat rate" cards offer the same reward rate - typically 1-2% - for all spending.

"Tiered" or "category-earn" cards provide a higher rewards rate (usually 2-6%) for eligible purchases in specific categories such as online grocery purchases, restaurant dining including carryout and qualified delivery services, wholesale clubs, popular streaming services, and more. Some cards also rotate reward categories each quarter or offer a bonus category.
Many cash-back credit cards have no annual fee. Yet a card with a higher rewards rate may require you to pay a fee yearly.
You can usually redeem your cash back (sometimes called "points") through a statement credit, bank account deposit, check, or on purchases through sites such as Amazon. Gift cards and other options may be available but redeeming your rewards for cash is usually a better value.
Examples of cash-back credit cards include the Citi Double Cash credit card and the Wells Fargo Active Cash card.
Travel Rewards Credit Cards
When you're interested in earning rewards from credit card purchases that you can use to help save on travel costs, there are two main types of cards to consider: co-branded and general travel rewards cards.
Co-branded Reward Cards
Co-branded travel rewards cards are issued by lenders who pair with a hotel or airline. Spending on the card earns points or miles you can redeem through their rewards programs. A co-branded card may save you money on travel purchases if you prefer a specific airline or hotel brand.
With co-branded cards, you generally earn more points on travel-related spending and a lower base rate on other purchases. Many offer travel-related benefits, including free checked bags, a companion pass, loyalty status, airport lounge access, annual travel credits, no foreign transaction fees, or discounted purchases with the merchant.
Depending on the card, you can redeem points or airline miles for discounted flights, hotel stays, car rentals, and more. While you may have the choice to redeem rewards as a statement credit, gift cards, and more - these are generally valued lower than redeeming earnings on travel purchases.
Examples of co-branded cards include the Amex Hilton Honors card and the Southwest Rapid Rewards Plus credit card, which is a Chase product.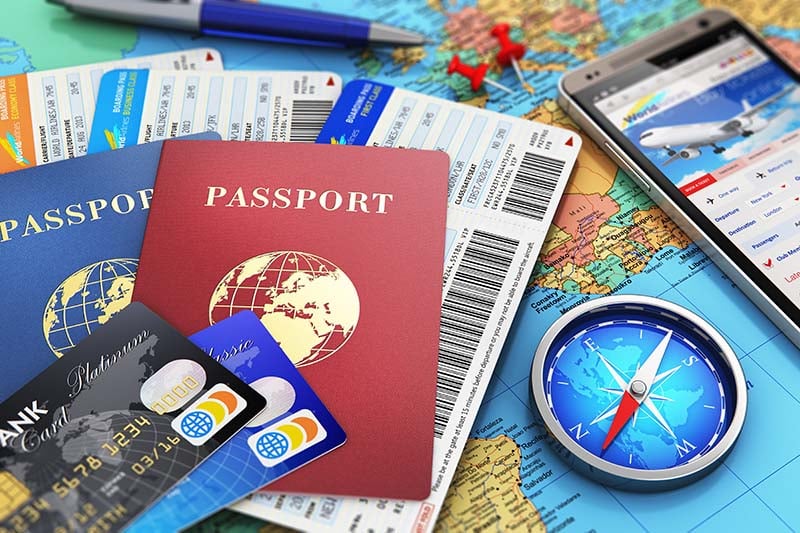 General Travel Reward Cards
If you'd rather have more flexibility in how you earn and spend your rewards, you may prefer a general travel rewards credit card over a specific airline or hotel credit card. When you earn points or miles per dollar spent on these cards, you can choose various valuable redemption options based on your travel preferences and not be tied to a specific brand.
Travel rewards cards come with annual fees ranging from $0 to $695.
Premium credit cards with the highest fees come with valuable welcome bonuses when you meet spending requirements and generous rewards for those who travel often, such as priority seating or boarding, lounge access, rental car coverage, travel insurance, trip cancellation protection, and points program transfer partners.
Still, you can find great travel rewards credit cards with annual costs of $95 or less, introductory bonuses, and many travel-related benefits.
Examples of general travel credit cards include the Capital One Venture Rewards card and the Chase Sapphire Preferred card.
0% APR Promotional Cards
If you use credit cards, you've likely received a 0% APR promotional offer for credit. With these, when you open a new account, you'll pay no interest on certain credit card transactions throughout the introductory period.
Depending on the offer, promotional APRs of 0% may apply to qualifying purchases, balance transfers, or both. Introductory periods may range from 6 - 21 months, depending on your chosen card. During this time, you won't have to pay any interest based on the terms and conditions of the card.
Standard card interest rates are applied to unpaid balances when the promotional APR ends.
Pros of these cards include paying for large purchases with no interest - if you can pay them off before the introductory period ends. You'll also save money if you can transfer higher interest debt to a 0% card and work to pay it off faster during the promotional period. Many of these cards also come with no annual fee.
Just be aware that most 0% promotional offers charge a balance transfer fee of 3-5% of the amount you want to transfer. You may also lose the 0% introductory rate if you miss a payment.
Examples of credit cards with 0% promotional offers include the U.S. Bank Visa Platinum card and the Bank Americard credit card.
Charge Cards
Charge cards are like typical credit cards in that they are used to make purchases and may have point systems and rewards. One of the most significant differences is that you must pay the balance in full on a charge card each month.
You won't pay interest on a charge card because you never carry a balance. Charge cards also have no spending limit, so you can use them to make large purchases.
Issuers may charge a hefty penalty fee if you fail to make a payment and close your account if you consistently don't pay your balance on time.
Charge cards may come with an annual fee, but it's often waived for the first year.
Examples of charge cards include the American Express Platinum and Gold Cards.
Business Credit Cards
If you're a small business owner or entrepreneur, using a business credit card is a convenient way to pay for company travel expenses, purchase inventory or supplies, or pay bills.
While you may experience the temptation to use a personal credit card for your business, consider keeping your business spending on a separate company card. It will be much easier to manage your business expenses and record keeping. Many lenders also allow you to assign employee cards with spending limits.
You may find business credit cards with large welcome bonuses, more rewards on business purchase categories (i.e., shipping, office supplies), and higher spending limits. Many business cards also offer similar purchase and travel protections as personal cards.
You can find company cards with no annual fee and ones costing hundreds of dollars annually. Take time to figure out which card would work best for you and your business before you apply. Also, keep in mind that you may have to provide a personal guarantee even though you'll be using your card for business expenses.
Popular business credit cards include the Spark 2% Cash Plus and Chase Ink Business Unlimited Credit Card.
Which Credit Card is Right for Me?
Choosing the right credit card(s) can be overwhelming. When considering which cards to have in your wallet, you'll want to consider your spending categories, what types of rewards you'd like (i.e., travel, cash back, etc.), the credit card perks that matter most to you, and how you'll be most likely to redeem your rewards.
Also, it's essential to consider the credit card company's interest rate and potential fees. An amazing welcome bonus on a card isn't likely worth it if you can't pay off your balance each month, do not earn enough valuable rewards to offset the annual fee, or can't use the benefits a credit card offers.
Many lenders offer comparison tools on their websites to help you decide what card will best fit your needs.
Additionally, there are other tools online to assist you, such as the Card Match Tool from CreditCards.com or CardMatch from a popular travel website, The Points Guy. (Lenders usually compensate the websites for credit card applications, but using the tool doesn't cost you anything.)
Final Thoughts on Choosing Credit Cards
While you may have opened a credit card with little thought in the past, you can see that there are many kinds of cards to choose from. Your lifestyle, spending habits, and credit profile are considerable considerations in what cards you should carry in your wallet.
With careful planning and understanding of all the card details, you can choose a card that helps you save money, earn cash back, bonus miles, or travel rewards on all your spending, and enjoy various other membership rewards and benefits, including purchase and travel protections. When you use a card responsibly and pay your credit card bills on time, having the right card can even help you improve your credit score.