By Guest Blogger, Traci Rhoades
There probably aren't too many people still around who would knowingly nod when I mentioned the Bennett sisters. Back in the day, however, in a tiny rural town in northwest Missouri, they were famous.
Being from a family of seven children brings a certain notoriety to it. Plus, they were beauties and, on occasion, would in fact be announced as the Bennett sisters before taking the stage to sing. I heard them sing a song or two myself a few times.
As for me, I knew one of them as Mom and her sisters as aunts. The majority of my childhood memories include them and their offspring, my cousins.
Aunt Betty lived in town. The doors to their home remained unlocked and I never had to announce my arrival. It was like a second home to me in that way. Even if I showed up and no one was home, I let myself in, helped myself to a snack, and settled in to read a book. Exactly like my own home.
I never met Aunt Norma Jean, who was killed in an automobile accident before she met any of her nieces or nephews. Her memory lived on in the stories we shared as a family, though.
Aunt Mary Lou lived just a few miles from Grandma's place in the country, so if we went to visit either of their houses, we'd likely end up seeing everyone. Grandma, granddad, aunts, uncles, and cousins filled my social calendar.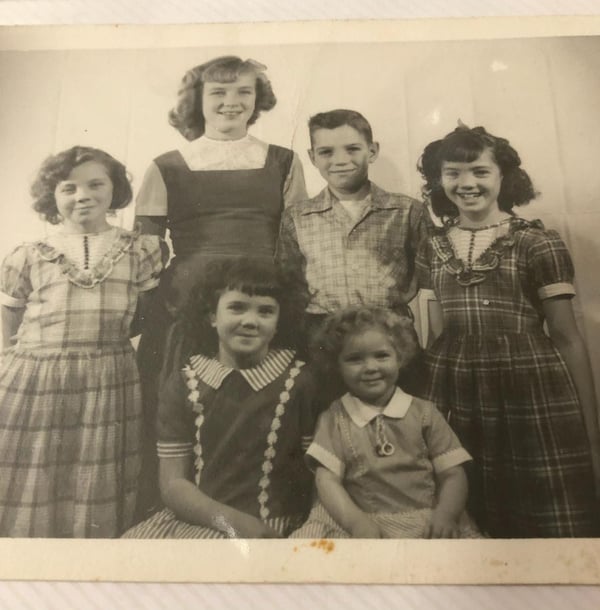 Traci's mother, Nancy (bottom right) pictured with six of her seven siblings.
We saw Aunt Mary Lou in town, too, at her hair salon. For the first 20-some years of my life, she was the only person who cut my hair. She even gave me those tight spiral perms so popular in my junior high years. In high school, perhaps a tip or two on how to get my bangs as high as possible, or at the very least she was my hairspray supplier. Years later she gave my own daughter her first haircut.
Aunt Lois lived about an hour away and we'd often caravan to her house all together. I have memories of all of us going to the circus, the zoo, the swimming pool, and amusement parks in numbers of 20 or more.
It was these memories that helped me understand the Bible story we find in the later verses of Luke chapter two, a far-from-comprehensive telling of the first 12 years of Jesus's life.
"Now it was the practice of his parents to go to Jerusalem every year for the Passover festival" (Luke 2:41).
After the festival ended, the travelers headed back to the region of Galilee. Friends and family made their way home for an entire day before Jesus's parents realized he was not with the group. They checked with everyone (I'm convinced they started with his aunts) and he was nowhere to be found.
How could this happen, we ask. When you're raised by a big, tight-knit family, you don't have to ask that question at all. You've entrusted your children to loved ones and they could easily be with any one of them at any given time.
Of course, we know the result of Joseph and Mary's frantic return to Jerusalem in search of Jesus; he was found safe and sound in the temple. What beautiful words he offered when they asked how he could have scared them so: "Why did you search for me? Did you not know that I was bound to be in my Father's house?" (Luke 2:49)
As an adult, I have moved away from that small northwest Missouri town. Certainly, no one around here knows the Bennett sisters. They know of them, though, for their influence surely rubbed off on me.
My faith―a fervent love for the Lord and his church―I learned from them.
My mothering skills―a deep desire to raise not just a daughter but a friend―I learned from them.
My strength as a woman―the certainty that life will not break me or my family―I learned from them.
My small town kindness―the ability to be decent to everyone I meet―I learned from them.
My singing voice―now reserved for concerts in the car, our own backyards, and among our church congregations―I got from them.
The bond has grown from aunts to friends. When we interact on social media from a distance, and those precious times when we can see one another face to face, I am thankful to visit with these beautiful women who have known me full well for so long.
Mother's Day―it's about honoring so much more than one biological mother, even though mine is wonderful and worthy of praise. But to my aunties, my girlfriends, my neighbors, and my own mother-in-law, thank you, too, for investing in me.
Who are the mother figures that have invested in your lives? Share in the comments!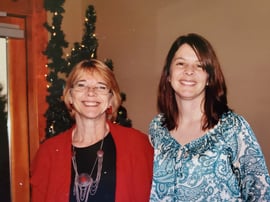 Traci writes on her blog, tracesoffaith.com, from her kitchen table in rural Michigan, not far at all from Lake Michigan's shoreline. Her debut book, Not All Who Wander (Spiritually) Are Lost, comes out May 17th and has received a positive review from "Publisher's Weekly." They wrote the following, "[Rhoades] emphasizes that by listening and approaching others with an open heart, one can find new opportunities for experiencing Christ. Christians looking for community will relish this memoir of embracing differences."
Her book can be found at a local bookstore near you and also on Amazon.