Peter's response to anniversary reaction.
The spring of 2021 was filled with reminders of firsts from one year ago. The first day my child's school remained closed. The first time I donned a mask, following the arrow stickers placed on the floor to go up and down the aisle of my local grocery store in an orderly fashion. The first church service we attended at home on our couch. The year Holy Week and Easter services went virtual.
In an article for Psychology Today, Dr. Ellen Hendricksen writes about "anniversary reaction," which she defines as "the annual echo of a trauma or loss." It's a time when the body remembers what it has endured, emotionally, spiritually, and physically.
Looking back and remembering a lent, Holy Week, and resurrection Sunday like no other, I find myself reflecting on the life of Simon Peter. Of all the apostles, we know the most about him. A fisherman who lived with his brother, his wife, and mother-in-law along the coast of Galilee. We don't know for sure how Peter was hard-wired initially; did he throw the fishing net in frustration after a long night with few results? Did Andrew go around town cleaning up his messes?
The stories we do know seem to point to an emotionally charged individual. Facing the crucifixion, death, burial, and resurrection of Jesus, Peter would be reminded of his own trauma and loss, not only as those tragic events occurred, but every year after, during Passover. For as predicted, he had denied our Lord.
Peter's life was forever changed the day his brother Andrew went to find him so he could introduce him to the Messiah (that is, The Christ). That day, Jesus looked intently (more on this later) at him saying, "'You are Simon son of John. You will be called Cephas' (which, then translated, is Peter)" (John 1:42).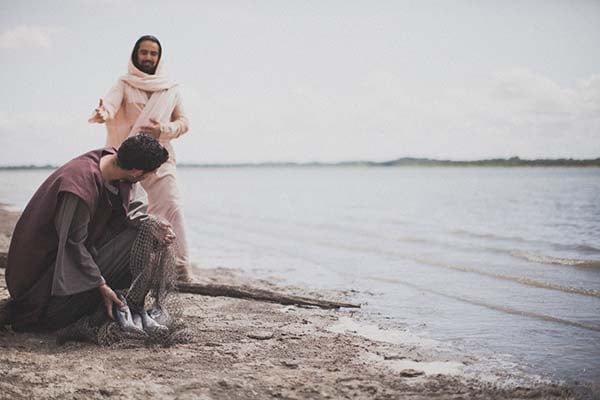 Jesus saw this man as he was in that moment, and he saw whom he would become. "His was a passion that could murderously lash out, single-handed, against two hundred armed men. Or it could smolder, still white-hot, for the decades during which he left home and family again and again to speak Jesus' word and do his work," writes Michael Card in A Fragile Stone: The Emotional Life of Simon Peter.
Peter's humanity endears him to us. His spontaneous responses, emotionally all over the place, feel all too familiar, especially as we experience our own anniversary reactions to a world changed by Covid-19. Although he did not write the words, Peter certainly would have heard Paul's letter to the Romans. He likely nodded his head in agreement at this verse, for when you're a passionate individual you know full well, "I do not understand what I do. For what I want to do, I do not do, but what I hate I do" (Romans 7:15).
What Peter Wanted To Do
He wanted to join Jesus and fish for people.
I am not the expert fisherman that Peter was. The closest I have come to catching fish out of a sea is casting a line along the edge of a small pond on midwestern farmland. However, like Peter, I'm called to fish for people. We are all called to be evangelists, ready to tell others about Jesus. Also, as in Christ's final instruction to Peter, to feed his sheep. I long to serve up the bread of life to God's people.
He wanted to have the kind of faith that could walk on water.
When reading this story, all too often we skip to the part when Peter looked down and started to sink. Don't miss the fact that, among the 11 men in the boat, only one stepped out of it into the water. Peter wanted that kind of faith, and he was willing to take action to find it. That's my prayer, too. Lord, give me the courage to take the first few steps out of the boat, even in the midst of a storm.
He wanted to build shelters for Jesus, Elijah, and Moses on the mount of transfiguration.
I'm with Peter on this one. Peter recognized Jesus as the Messiah. I don't know for sure how the men recognized Moses and Elijah but the whole scene would have had me falling prostrate to the ground. It's understandable Peter would have wanted to hold onto this monumental event a while longer. We, too, catch but glimpses of this depth of communion, and it can leave us wanting to capture the moment.
He wanted to follow Jesus, even if it led to prison or death.
First-century Palestine knew a tumultuous political climate. Toward the end of Jesus' life, as he shared what was about to happen to him, Peter again asserts his unwavering allegiance. If Jesus must wash his feet, then Peter asked the Lord to wash his hands and head as well. He would go to prison or be put to death. Peter was ready. With my words, I tell Jesus the same thing; I will go anywhere and do anything. For a true disciple of Jesus, this is the cry of our hearts.
What Peter Hated To Do
He didn't want to witness Jesus' death.
In the upper room, Jesus tried one last time to inform his disciples about what was going to happen. Later in the garden of Gethsamane, Jesus would ask Peter, James, and John to stay with him and to keep watch. Words Peter took to heart, after he woke up from slumber, just in time to cut off the ear of a soldier taking Jesus into custody. Emotions ran high that evening, and Peter must have thought on this night often in later years. Sometimes, in our zeal to serve, we get things desperately wrong. We look to Jesus to make things right.
He didn't want to deny Christ; not once, not twice, but three times.
We've had chickens for a few years now. I always thought a rooster crowed at dawn, signifying a new day. In actuality, a rooster crows any time he feels like it. No doubt Peter heard this sounding call for the remainder of his days and heard a condemning voice trying to convince him of who he really was—a coward who was not there for Christ in his hour of need. We all hear that voice from time to time. We shouldn't look at our successes, or listen to that voice quick to point out our failures, but we must turn again to our savior who loves us.
He didn't want to face the empty tomb.
After Mary told Peter and John what she had seen at the tomb, they ran to see for themselves. Would he think often of the moment he bent over and looked in to see the discarded strips of linen, the cloth once wrapped around Jesus' head? But what to make of all this? I picture the various scenes the apostles had going through their minds as they encountered their risen Lord. One can imagine their grief-stricken minds trying to piece together what is happening based on all they had seen and heard. Peter did this as well, with a healthy dose of guilt in the mix. I've encountered the tomb like this, most unworthy, trying to piece together how this could possibly be God working all things together for good.
He didn't want to look into the eyes of the resurrected Christ, knowing he had let him down.
These are perhaps our most tender moments. Peter standing before the resurrected Christ. Moved with conviction, we face him too. He knows we have failed him, and we carry that guilt and shame. He reminds us, the focus isn't on our individual actions. We are called to give God glory (and sometimes that looks like repentance) and to move forward.
Of course, nothing Peter did took Jesus by surprise. I believe he saw the work he would do in Peter's life from the moment he met him. Twice, when he first meets Peter and near the hour of his death, we are told of the gaze Jesus casts upon him. The Greek word for looking at someone intently (emblepo) is used in John's record of Jesus' initial encounter with Peter, and again in the high priest's courtyard after Peter denied Christ three times. Ours is a savior who looks at us intently and knows our inner thoughts.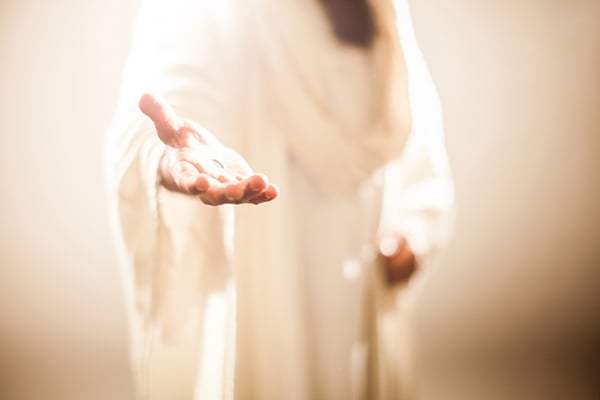 Later in scripture, we read about Peter being restored. It's Luke who tells us Jesus knew the path Peter would walk. Satan had asked to sift him. What was Jesus' response? "But I have prayed for you, Simon, that your faith may not fail. And when you have turned back, strengthen your brothers" (Luke 22:32). A savior who knows, who prays for us, who admonishes us to turn back and share what God has done.
We have lived in a pandemic world, in a polarizing political climate, for more than a year now. Emotions still run high. We have weathered this social storm the best we could, speculating about what God might be up to. We know we want to live for Christ, but often end up not doing it well. Like Peter, we hate that.
But, also like Peter, we can internalize the lessons God is teaching us and let him form us. This time, from Peter's own pen, "And after you have suffered a little while, the God of all grace, who has called you to his eternal glory in Christ, will himself restore, confirm, strengthen, and establish you" (I Peter 5:10). Peter's passion did not go away, it took on a new purpose.
No matter our external circumstances, may we turn an intense gaze to the cross, the empty tomb, our risen Lord, and may we ask him to keep making us a passionate people, becoming our truest selves for God's glory.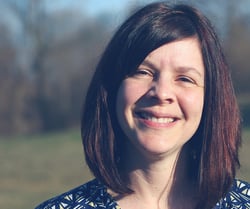 After growing up in a small town in northern Missouri, Traci Rhoades now lives in rural Michigan with her husband and their beautiful-inside-and-out daughter. At home, they grow things like pigs, tomatoes, and chickens. Reading and writing are her passion, and Traci's first book, Not All Who Wander (Spiritually) Are Lost, is now available through Church Publishing Incorporated. She also enjoys cooking, supporting small-town businesses, and all. things. Bible. study. In her downtime, she also enjoys watching movies, football, baseball, and college basketball.