As we head into the Father's Day weekend, Christian Care Ministry employee Chris Goettig was asked to share a bit about his life and testimony during a recent employee chapel service. We pray you are as blessed by his testimony as we were as employees.



For those of you who don't know me, I'm commonly referred to as "the guy with two sets of twins". People who know me call me that. Friends of my wife who I barely know me call me that. People who I've never met but went to college with my mother-in-law call me that as I'm shopping at Publix. I usually just wave and smile.



I'm obviously more than that. I'm a believer, an employee, a husband, a son, a creative, a servant. But to many these days, I'm "the guy with two sets of twins". I certainly didn't set out to be that guy.


My wife, Marianne, and I got married here in Florida in March of 2013. We moved here permanently in early July of the same year after living in Wisconsin for "way too long" as she puts it to establish roots and immediately tried to start our family. We quickly found out that my wife had Polycystic ovarian syndrome, impacting her ability to become pregnant. So we started a cycle of fertility drugs locally in hopes it would help our dream of starting a family. One turned into two which quickly turned into abdominal injections and progressively more invasive treatment options. We quickly exhausted our options locally and were referred to the Center for Reproductive Medicine in Orlando. Medication quickly evolved into multiple rounds of IUI which turned into multiple rounds of egg retrievals, transfers, and failed IVF attempts.



We had been on this path for 2 ½ years. We were out of money. We were exhausted. Some months it seemed like we were in Orlando twice a week. I would get mad sometimes when I would see how quickly or easy it was for people around me to get pregnant. I couldn't understand why this was so difficult. Even worse I couldn't help my wife. I couldn't control this situation. I couldn't fix it. I couldn't give her the thing she wanted most. I didn't know the right words to say sometimes and I struggled to encourage her to keep going. I felt broken some days.



Our medical team agreed to undergo another round of IVF in the Spring of 2016. We had a few embryos remaining that were graded high enough quality for them to feel optimistic about being successful. Against their initial wishes, we persuaded them to allow us to transfer 2 embryos this attempt to increase our chances of success. Because of the fertility medications required for these treatments, it's generally not advised to transfer multiple embryos because of the risk of splitting and having a higher risk pregnancy.



But, our prayers were answered and both transfers were successful. We were elated and on December 12, 2016, at 35 weeks, we welcomed Gunnar James and Gage Richard into the world.



Everything changed in an instant. All of those books we read, classes we attended, novel gifts people gave us that seemed practical in theory… much of it didn't apply in the real world, especially with twins. I wasn't prepared for the double diaper blowouts, double hunger strikes, double bath time, or double snuggles. But we figured it out because our hearts were full and we were mom and dad. God was faithful to us even when I didn't feel we deserved it.



18 months went by and there was a lot of testosterone flying around in our house. We basically have 4 kids at this point if you count me and the dog. My wife and I decided we were ready to try to have another child, specifically, a girl to help strike some balance within our household.



So back to Orlando and the Center for Reproductive Medicine it was. But this round of IVF was different. It's almost as if God reset her body with the previous pregnancy and following the procedure, we quickly found out that the embryo we transferred had successfully implanted. My wife was pregnant and we were having another child. Or so we thought.



It's now December of 2018 and my parents had been in town visiting for an early Christmas. We had our first ultrasound scheduled the day they were leaving for Wisconsin to listen to the heartbeat and make sure everything was progressing as expected. I vividly remember dropping them off at the airport and my mom joking as she grabbed her luggage out of the trunk, "we'll have to move down here if you guys have another set of twins". We all laughed as we said our goodbyes.



An hour and a half later I called my mom as she waited at the Orlando airport for her flight to board. "Mom, were you serious about moving down here?" Then a long pause. "We're having another set of twins. Identical twins."



We were shocked and couldn't believe the news. I was excited but a part of me was scared. Could I do this? All this time waiting and now more than we asked for. I remembered how trying to control the narrative myself hasn't ever worked. So on December 17th, 2018, I let go and trusted God to guide us through this journey.



A few weeks later we found out we were having 2 more boys. I was over the moon. Our neighborhood joked I was on my way to starting my own basketball team. I could tell my wife was a bit disappointed by the news but we were excited to be adding to our family and quickly turned our attention to doing whatever we could to ensure a smooth and safe pregnancy.



Anyone who has gone through a high-risk pregnancy knows how many medical appointments you end up needing and they seem to grow exponentially as you approach the later stages. We were having weekly ultrasounds and check-ins and at 26 weeks, something wasn't right. I still thank God to this day that we had such a skilled, local medical team around us. After some breathing and processing, we were informed that what we were seeing was most likely Twin to Twin Transfusion Syndrome. Because our twins shared a placenta, abnormal blood vessel connections formed which weren't allowing blood to flow evenly between the 2 babies. The donor twin becomes dehydrated, produces low urine which results in low amniotic fluid and poor fetal growth.



The recipient twin, whose system is overwhelmed by too much fluid, produces more urine than usual which leads to an enlarged bladder and excessive amniotic fluid. The excess fluid puts a strain on the heart and can eventually lead to heart failure.



It seemed like before I could process what I was being told, we were informed that we needed to make decisions quickly. Time was of the essence and if we did not act quickly, we would most likely lose both of the boys.



But God was already busy orchestrating. It just so happened there was a facility in Miami that was one of a handful of places in the world that was capable of providing viable treatment options to the advanced stage TTTS we were dealing with. I remember they were able to squeeze us in for a consultation the following day immediately after a couple from Italy who was flying in after being informed of a similar diagnosis. They didn't offer these treatment options in their home country and I would later find out that termination of the pregnancy was often the recommendation in these cases. I felt terrified and fortunate all at the same time. We packed a few bags and left for Miami the following morning.



Our consultation confirmed our worst suspicions. Our case was advanced and we had to act quickly. They weren't going to make it on their own so under the guidance of Dr. Ruben Quintero, we scheduled surgery the next day. We would attempt laser surgery within the uterus to identify all of the abnormal blood vessel connections and seal them off permanently as well as drain the excessive amniotic fluid. We had a neonatal medical team for each twin waiting in the operating room. In the event something went wrong, we had to be ok attempting to deliver the twins at 26 weeks.



Scheduling that surgery was the most difficult decision I've ever had to make. It didn't seem like there was any other option but the risk was also extremely high. I had to remind myself in the waiting room as my wife was being operated on that I wasn't going to white-knuckle this experience. I had made a commitment to let go and trust. I could feel God's presence as I prayed in that room. This cold and sterile environment felt warm and peaceful. I instantly felt hopeful. I could feel him grabbing ahold of my heart as our relationship deepened.



The surgery was a success and the remainder of the pregnancy progressed relatively smoothly. On July 2nd, 2019, once again at 35 weeks, we welcomed Hunter Fritz and Hayes Richard into the world. My little fighters.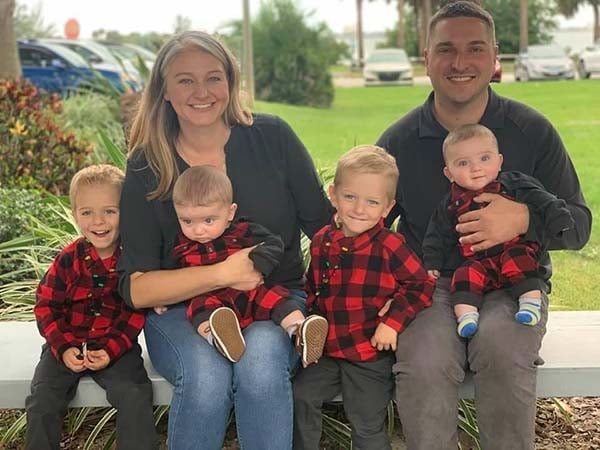 It wasn't until God blessed me with the privilege, honor, and responsibility of being a father that my purpose in this life became cemented at my core. My father passed away in 2018 after a lifelong battle with addiction. I had this chip on my shoulder that I was going to right the ship for the Goettig name, something we could be proud of. I was going to pour everything into those kids, love them as hard as I could, provide for their every need. Surely that will make me feel purposed, valued.


The experience has been quite the opposite though. Those 4 boys have poured more into me and filled my cup more than I could ever reciprocate. They love me unconditionally and see me with intense value and purpose. Not because they were told to, or society has projected that on them, or some feeling of obligation or guilt. They do so because they see me as I truly am. They see what I am unable to see in myself at times. They don't see the worry, the self-doubt, the negative self-talk. They see me as God sees me. As he designed me.


"The guy with two sets of twins".


Happy Father's Day to all the Dads out there.
About Chris: He is the Scrum Master for Christian Care Ministry's IT Team and has been with the ministry for eight years. He currently lives in beautiful Indialantic, FL with his wife and four growing boys, though he's originally from Wisconsin. He enjoys hunting, fishing, camping (anything outdoors), art, home renovations, and football.